Knowing how much are new kitchen cabinets are is the first step in planning your kitchen remodeling. Whether you're moving to a new house or updating your kitchen, kitchen cabinets play a focal point in your home.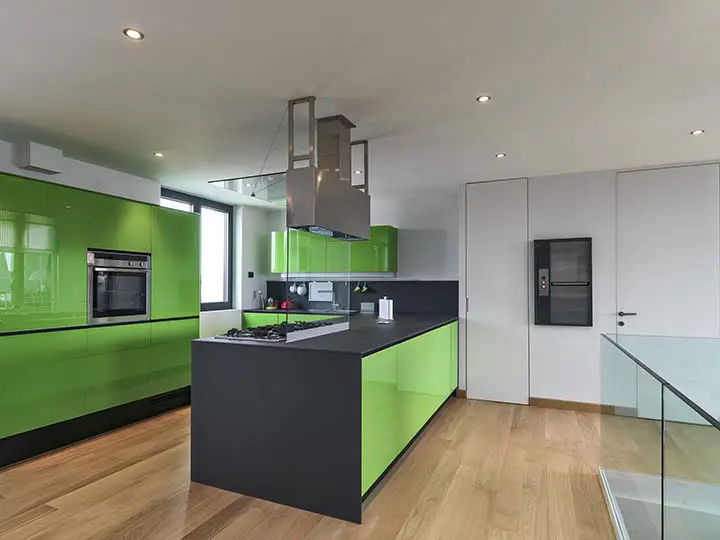 The kitchen is the most important room in your home. It's where you prepare food, spend time with family and friends, and entertain guests.
Your kitchen design says a lot about who you are as an individual or what kind of person lives in your house. New cabinets can make all the difference for any space, new or old.
The best part is that there are so many options to choose from when it comes to selecting new kitchens.
However, with so many choices, it's crucial to have a guide on the factors determining how much you need to spend.
How Much Are New Kitchen Cabinets
To get an idea of how much is new kitchen cabinets, the first thing to look at is the construction. Different homeowners would have varying styles and needs.
Are you going for a stock cabinet, a semi-custom cabinet, or a full-on custom cabinet? What type of material are you eyeing?
How much for new cabinets will highly depend on your personal preferences. With that, here's an estimate on the average cost of how much is new kitchen cabinets:
What Is The Average Cost of Kitchen Cabinets Per Linear Foot
The average linear foot pricing of how much is new kitchen cabinets range from $100 to $1,200. Here is the average cost of how much for new cabinets depending on the cabinet type.
Preassembled Stock Cabinets Cost
Preassembled stock kitchen cabinets are the most affordable option. While you have limited options, the price you'll need to pay is relatively less than semi-custom and custom cabinets.
Most stock cabinets cost $50 to $100 per linear foot or $100 to $300 for each linear foot installed. How much for new kitchen cabinets of this type range from $200 to $650 and up if you're buying per unit.
Here are the pros and cons of stock kitchen cabinets:
Pros
Cons
Limited design options
Uncertain quality
Measurement issues
The general advice for purchasing stock cabinets is to ensure careful measurement of your kitchen beforehand. It would help to hire a pro for the job to ensure the right fit.
Semi-Custom Cabinets Costs
Meanwhile, semi-custom kitchen cabinets offer more options when it comes to measurement and construction. Thus, how much for new cabinets that are semi-custom is an excellent choice if you have more budget.
The average cost of semi-custom cabinets ranges from $75 to $400 per linear foot or $150 to $650 each linear foot installed. It translates to an average cost of $250 to $800 and up if you're buying per unit.
Here are the pros and cons of semi-custom kitchen cabinets:
Pros
More design options
Allows for accurate measurement
Reasonable price
Cons
Limited options for exotic materials
Custom Cabinets
Custom kitchen cabinets are just how its name is like. It provides you with unlimited options to personalize your cabinet.
It's perfect for homeowners with specific designs in mind or has particular needs like an oddly-shaped space. However, this ability to meet precise specifications translates to more costs.
How much for new cabinets that are fully customized averages $300 and $750 per linear foot or $500 to $1,200 for each linear foot installed. If you're buying per unit, expect to pay around $500 and up.
Here are the pros and cons of custom kitchen cabinets:
Pros
Sky's the limit to design choices
Cons
Kitchen Cabinet Material Price Comparison
Aside from the construction, how much for new cabinets also varies depending on the material. The material used is a determining factor of the cabinet's durability and performance in the long run.
With that, here is a price comparison of how much is new kitchen cabinets made of popular materials.
Wood
The average cost of how much for new kitchen cabinets made of wood is around $5,000 to $25,000. Generally, there is a $5 difference per linear foot between different wood varieties.
To help you choose, here are the most common wood species used for constructing kitchen cabinets:
Wood Veneer
Meanwhile, how much for new cabinets made of wood veneer ranges from $2,000 to $15,000. What exactly are wood veneers?
These are wood strips applied to either particleboard or plywood. It offers a similar appearance and feel as with wood but costs relatively less.
Furthermore, unlike real wood, wood veneers offer resistance to moisture and humidity plus an excellent surface for staining.
Stainless Steel
Stainless steel is a high-end material option for kitchen cabinets. With its combination of sleek look, durability, and long-lastingness, it's becoming a top choice for homeowners.
At the same time, because of these features, how much is new kitchen cabinets made of stainless steel are highly costly. On average, can expect to spend around $25,000 to $38,000.
Laminate
Laminate is a type of synthetic material that you adhere to particleboard. It can either be through the use of high or low-pressure procedures.
While it costs less than wood, it is highly durable and is not susceptible to wear and tear. How much for new cabinets made of laminate ranges from $4,000 to $15,000.
What are The Cost Factors When Installing New Kitchen Cabinets
Several pricing factors determine how much are new kitchen cabinets. To round up all the things you need to consider, take a look below:
Kitchen Size and Number of Cabinets
First and most important, you have to factor in the size of your kitchen. It will also determine the number of cabinets you will need for your space.
It's a no-brainer that the more cabinets, the higher the project will cost. For this reason, you'll hear the importance of exact fitting in kitchen cabinet projects over and over again.
As mentioned earlier, calculating how much are new kitchen cabinets are often based on linear foot measurement. If you're not sure how to measure it, you can hire a professional to do the job.
Type of Cabinet
As also explained above, the three cabinet types are stock, semi-custom, and custom kitchen cabinets. Depending on your budget and preference, how much are new kitchen cabinets will vary.
Make sure to evaluate the features of each type to ensure that the cabinet you'll buy will address your needs.
Material and Hardware
Some materials for constructing kitchen cabinets are more expensive than the others. Depending on the material used, how much are new kitchen cabinets can cost more or less.
Generally, the two classifications of kitchen cabinet materials are:
Engineered materials: Medium-density fiberboard (MDF), particleboard, plywood, and solid wood combination

Natural materials: Hardwood
Additionally, the hardware that comprises the entire cabinet also adds to the total cost. These includes:
Hinges
Pulls
Soft-close drawer tracks
Contractor
If you opt to hire a contractor for the job, you'll also have to include the labor cost. After all, the total cost how much are new kitchen cabinets doesn't stop at buying the cabinets themselves.
Hiring a pro for installing your kitchen cabinets will help you ensure the right estimates for the job. You can also save a lot of time since they're well-trained for the job.
Make sure to compare these estimates of at least two contractors for the job. It's also a great route to ask your acquaintances for referrals to ensure the value they will give.
Extra Features
There are many extra features you can incorporate with your kitchen cabinets. These features elevate both the appearance and function of your kitchen cabinets.
But as you may expect, it will also increase the total cost of how much are new kitchen cabinets. Here are some of them:
Self-closing feature
Roll out islands
Pull out shelf
Ironing board pullout
Vertical dividers
Lazy susan
Wine rack
Undercabinet lighting
The prices of these extra features vary dramatically depending on type, materials, size, and manufacturer.
How to Avoid Overspending on a Kitchen Remodel
Kitchen remodeling can cost a significant amount of money, with kitchen cabinets representing a majority of its costs. While this is true, there are ways to avoid overspending on your kitchen remodeling project.
Here are some of them:
RTA cabinets refer to ready-to-assemble cabinets that come flat-packed. Since you're the one responsible for assembling its parts and putting them up, RTA cabinets come at reasonable prices.
However, you can also have the option to have it pre-assembled from the factory for a fee.
Since it comes with instructions and pre-drilled holes, the assembly process is made easy. Furthermore, if you buy online, you'll find that most manufacturers offer free shipping for RTA cabinets.
Like RTA cabinets, a unique feature of IKEA cabinets is that they require self-assembly. What's good about IKEA is that they offer affordable kitchen cabinets without compromising style and quality.
Most of their kitchen cabinets have particleboard material in a contemporary design. You can also have outside contractors assemble your kitchen cabinets at a fee.
Unlike IKEA cabinets, Costco's kitchen cabinets have natural wood material. Furthermore, they also offer more design varieties, including contemporary, traditional, and Euro-modern.
If you're a Costco member, you can save a lot from their discounts and generally affordable kitchen cabinets.
Why Choose Quality Material for Kitchen Cabinets
It goes without saying, but choosing quality material early on will help you avoid overspending in the long run. Durable and well-constructed material will ensure that the cabinet can withstand the wear and tear of a busy kitchen.
Aside from replacement, it will also help you save money from frequent repairs. You will thank yourself for making this decision as choosing a cheap material will likely cost you more.
Is it Advisable to Reface Kitchen Cabinets?
If your kitchen cabinets are still in good condition but it's already out of style, refacing may be your best choice. This option is cheaper than total replacement but you will be satisfied with its final result.
In fact, it will cost you just half of a total cabinet replacement. The process requires replacing old kitchen cabinet doors and drawer fronts.
While the insides are not included, it typically involves veneering the fronts and sides.
Planning for New Kitchen Cabinet Requires Proper Budgeting
The cost for new kitchen cabinets can be quite expensive if you're planning to buy them from a store or online. There are many factors that will determine the price such as quality and size.
You need to make sure that your budget is enough to cover this big expense before making any decision.
Now that you have a guide on how much are new kitchen cabinets, you can shop wiser and smarter. Kitchen cabinets are crucial elements for both kitchen aesthetic and function.
Depending on what you value most, how much you'll need to spend will vary.
For instance, opting for custom kitchen cabinets will significantly cost you more than off-the-shelf cabinets.
Make sure to evaluate your needs and your style to determine which cabinet suits you.
We hope this article provided you with all the information you need. Good luck!