The time will come that we have to renovate our homes, especially our kitchen cabinets. Whether it may be minimal or a major overhaul, a kitchen renovation is an expensive project for your home.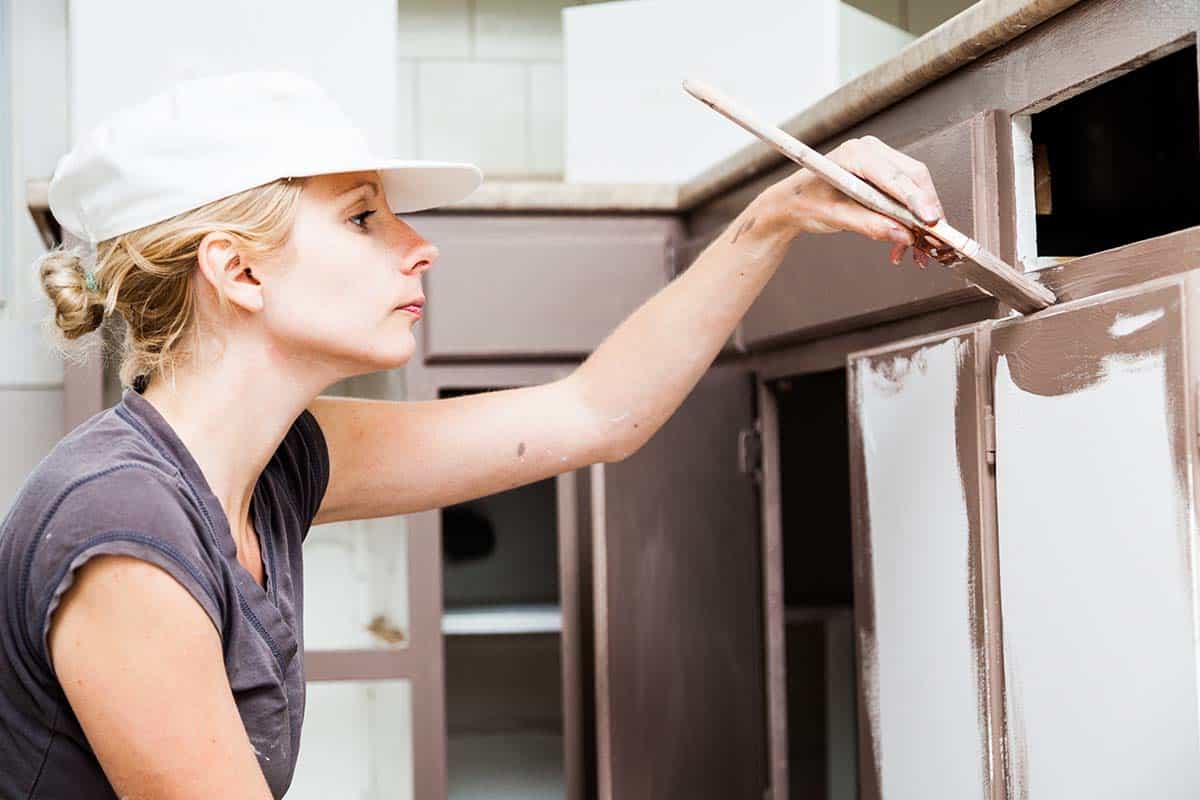 But did you know you can make your kitchen and kitchen cabinets look brand new and posh without breaking the bank? It now begs the question: What is the best way to paint kitchen cabinets?
Continue reading our article to find out about the different ways to paint kitchen cabinets!
Best Way To Paint Kitchen Cabinets
Before determining the best way to paint kitchen cabinets, you must know when it is high time to refurbish or replace your kitchen cabinets.
If your kitchen cabinets are already frail, loose, or slowly chipping off, then it would be better to replace your kitchen cabinets.
Because even if it is painted with quality paint, you may not get good results when your kitchen cabinets are not in good condition.
On the other hand, if your kitchen cabinets are still in top shape and only need a little revamp, then you can proceed to the next step.
Choose The Right Type of Paint
There are different ways to paint kitchen cabinets. As mentioned earlier, it will still depend on their condition if they can be revived or not.
In choosing the perfect paint for your kitchen cabinets, here are some types you can consider:
Oil-based paints are widely used in kitchen cabinet refinishing as it provides a better finish than most paints.
They give a hard and durable paint film and have a high resistance to stains, making them ideal paint for kitchen cabinets.
Some downsides of using this type of paint include the difficulty of cleaning up the residue from the brushes or rollers used. They are also harmful to the environment, so they must be disposed of immediately.
Oil-based paints also tend to become yellow over time, and they also have a strong smell that may be dangerous, especially to those who have allergic rhinitis.
Some painters say that using latex paint is the best way to paint kitchen cabinets because of its accessibility and affordability in the market.
Latex paints are also best for beginners or for doing DIY paintings at home. Unlike oil-based paints, latex paints are water-based. They quickly dry and can be easily cleaned.
There are also several disadvantages when using latex paints. Wooden surfaces must be thoroughly cleaned or prepped before applying this paint as it would swell if done otherwise.
Latex paints are also sensitive to temperature. Hence, they will cause shrinkage over time.
So, what is the best way to paint these for your home? It will depend on your experience. If you have enough experience, you can go on with oil-based paint.
But if it is your first time, then latex or water-based paint is recommended.
It may be ironic that this article is about being thrifty, but best to believe that buying quality paint is cheaper than inexpensive paint.
The logic behind this idea is that quality paint leaves results and better coverage than cheap ones.
While a single coat of paint looks thick enough to you, remember that you need two coats for a kitchen cabinet.
Painting Style: Brush or Spray Paint
Questions are still going around on what is the best way to paint kitchen cabinets to make them look sleek and brand new?
Brush paint or spray paint are the two different ways to paint kitchen cabinets. If you want to speed up the painting process, spray paint may be the option.
However, consider other expenses such as spray paint equipment, and you may need additional work like covering other parts of the kitchen area to prevent them from getting sprayed accidentally.
Because of possible mishaps and additional expenses, most painters recommend investing in a high-quality brush instead.
It's a cheaper option, and brushes last longer than they should. Note that you must use synthetic brushes for latex paint, and natural-bristle brushes for oil-based paints.
Learn the Process of Painting
Now that you checked and bought paint, the best way is by learning well the steps of painting. While there are different ways to paint kitchen cabinets, it is essential to know even only the basics of painting surfaces.
This way, it will be time-efficient, and it will save you a lot of money from painting and cleaning repeatedly.
Steps in Painting Kitchen Cabinets
Going back to the first question what is the best way to paint kitchen cabinets? Here it is! Follow these simple steps and start revamping your kitchen cabinets.
The first step is to empty the cabinets by removing any items and appliances. It may also be recommended to put kitchen tables and furniture in a different area of your home to prevent them from getting stained by paint.

Next, remove the hinges, knobs, pulls, latches, and other hardware from the cabinets. It's highly suggested to put numbers on each door and their corresponding locations after removing to prevent your hardware from getting mixed up.

You may notice that there are some leftover paints on your drawer. What is the best way to paint kitchen cabinets that have old paint, then? It's better to strip the old coat off before applying a new one.
After stripping them off, it's time to clean the surface to prevent any bumps or mishaps.

Since the kitchen is full of grease and grime, you can clean by using mixed trisodium phosphate (TSP) with water. Soak your sponge into the mixture and apply it on both sides of the cabinet.
Wipe them off with a clean cloth afterward. You may also need to sand the surface and repair some areas, so be sure to check them before priming.

Priming is the next and the most crucial step. This step is considered the best way to paint kitchen cabinets, making them look brand new. In buying primers, painters recommend oil primers.
But since most oils are restricted in some states, the best option you can get is to use water-soluble waterborne paint.

Once you're done priming, you're now ready to paint! Start painting the inside edges of the cabinet, then work your way to the outer cabinet sides. This technique is helpful so you can paint quickly in other areas.

Next is to paint the cabinet doors and drawers. A painter's tripod comes in handy to lift them from the painting surface. This helps paint the edges of the drawers and doors more easily.

Apply a second coating to the kitchen cabinets. This step is also known as the finish coating. Wait for all the materials to be dry completely before applying a second coat.
Also, don't assemble all the pieces immediately until the paint has completely cured.
If you're using old hardware, you can paint them for a new look.
Here's a pro-tip: work on your kitchen cabinet's hardware in between coats, so you save time and energy.
What kind of finish is better?
Some don't find it necessary to choose what kind of finish they prefer for their kitchen cabinets. They only want them to look spick and span.
For the simple and minimalists, the regular finish will do the trick. But what is the best way to paint kitchen cabinets to be aesthetically pleasing?
Faux finishes are the best way to spice up your kitchen cabinet's look. Some paints, such as crackling glaze, can be easily found in stores.
The application is also easy – simply apply the glaze to the dry base coat. Brush in one direction, let it dry, and voila! Your kitchen cabinet looks chic.
Proper Choices & Better Results
Be sure to ventilate the kitchen area while you are painting, and wear masks. These paint masks are available at stores.
When painting, always apply in thin and light coats but also ensure that you cover all areas.
The steps mentioned earlier are suitable for those who want to DIY painting your kitchen cabinets.
Do note that this is not the absolute best way to paint kitchen cabinets. It saves money, you have control of your time, and you have the skill to paint them properly.
However, there are still different ways to paint kitchen cabinets that may be even more useful, so do what works for you.
But if you feel that you may not get the best results by DIY painting, or you don't have the time, hire a professional instead.