Knowing a thing or two about the best kitchen cabinet colors is necessary when planning to remodel your kitchen. Many believe that painting is the easiest solution to revamping your property for a fraction of the cost.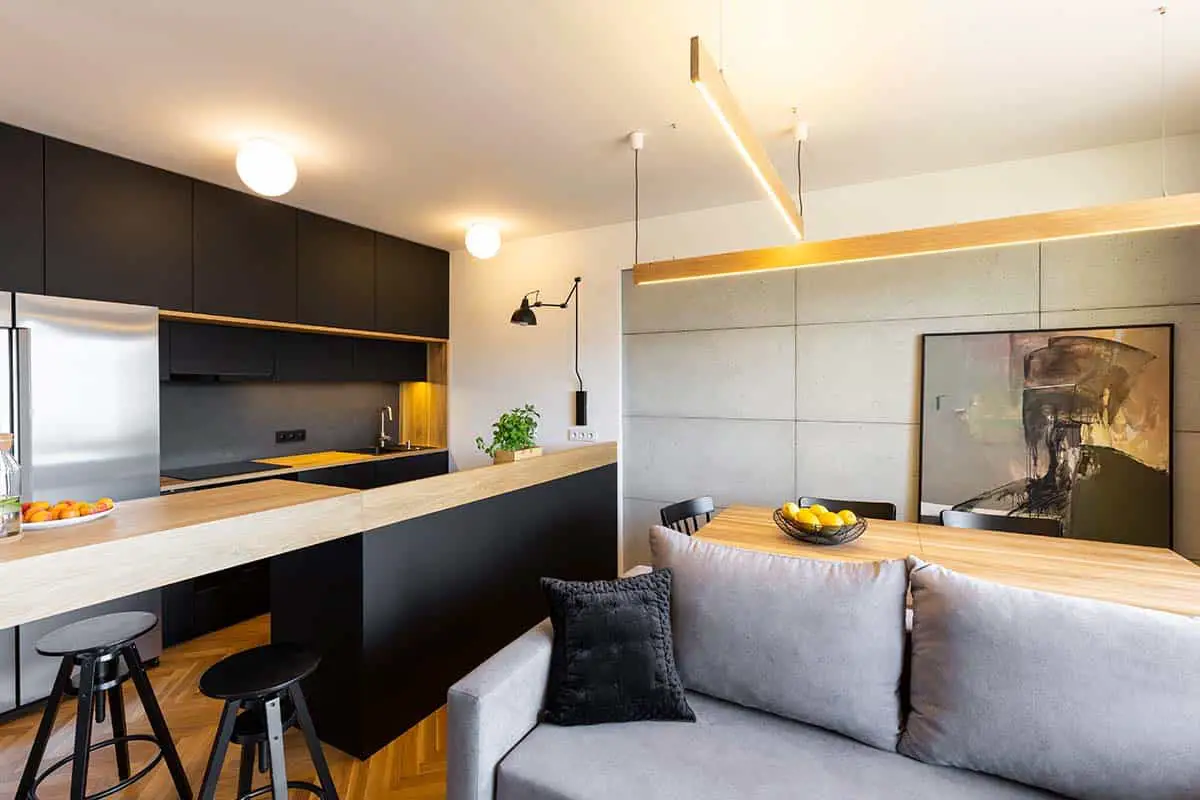 However, pursuing the process without knowing what colors match your cabinetry can knock you up a bit. In this article, we collated the best kitchen cabinet colors to help you revamp your kitchen space.
What are The Best Kitchen Cabinet Colors
An all-white kitchen remains one of the most sought-after kitchen layouts over the years. It looks neat, and so many homeowners are fond of its minimalistic design.
Nevertheless, many interior designers also consider a wide range of hues when it comes to kitchen cabinets.
Cabinetry is one of our crown jewels. Not only can you tuck away most of your essentials on it, but it also makes a lot of difference.
Kitchen cabinets can help establish the ambiance and vibe of your home. Hence, you should carefully decide what colors to put on them.
While it might seem easy, finding the right hue for your cabinetry is a challenging task.
You have to consider factors like style, amount of natural light your cabinetry receives, specific color shade, and more.
Fortunately, we can help you look for the perfect color for your kitchen cabinetry.
Here are the best kitchen cabinet colors that you should not miss checking out.
If you want an edgy but classic-looking kitchen area, painting your cabinets black is the best option. It perfectly matches crisp white backsplashes and warm wood shelves.
Black can make your kitchen look more elegant, but you should also know that it has some drawbacks. It is not the most maintenance-friendly.
Unlike other colors, it cannot camouflage kitchen mishaps like stains, sauces, flour, and more. Nevertheless, it remains one of the best kitchen cabinet colors.
Because beyond its limitation in covering stains, it can add depth to the whole kitchen area. It might seem harsh, but it can look chic if done correctly.
Many interior designers suggest using pitch black, but you may choose toned-down shades if it is too intense for you.
A perfect shade for those people who want a softer tone is off-black. It can add extra drama to your kitchen layout without being too rough.
The second on the list of best kitchen cabinet colors is mixed wood tones. It is a trend where you combine natural wood with painted cabinets to create texture and depth.
Painting upper and lower cabinets with different shades were already popular decades ago. It is what inspired interior designers to go for mixed wood tones.
You only need to have lower wood cabinets and pair them with painted ones using complementary colors.
Many homeowners choose this color because it makes the kitchen area more appealing. It is perfect for homes with a minimalistic design.
Choosing mixed wood tones is also smart because it does not reveal what's beneath the paint.
If you want to make your kitchen a moody masterpiece, try using dark navy in your kitchen cabinetry. The delicate shade introduces a cozy and intimate ambiance.
Pair it with wooden counters and backsplash to maintain the depth and warmth of the room.
Another reason why dark navy makes it to the list of best kitchen cabinet colors is its versatility.
The shade can look dark blue in specific lights, but it can also appear black. You can say that it is a trend that never goes out of style.
Finding the right tone for kitchen cabinets can be frustrating. Fortunately, some options mostly work for any kitchen layout, so you do not have to stress yourself too much.
A color choice that never leaves the list of best kitchen cabinet colors is peacock blue. Jewel tones are undoubtedly stealing the spotlight when it comes to cabinetry.
Not only can they add a dramatic statement, but they can also introduce a colorful flair to your kitchen area. Just make sure not to overdo and know when to stop.
A tone that many interior designers recommend is peacock blue. It is a deeper shade of turquoise that is quite pleasing to the eyes.
Adding this color to your cabinetry can make the room more lively yet soothing.
We all know that many homeowners go for a monochromatic kitchen because of its elegance.
While you may think bright white is the way to go, trend experts suggest that soft grays would soon dominate the market. Into the bargain, it might serve as the best neutral color option.
The growing popularity of moodier hues contributes to the rising support for gray tones in kitchen cabinets.
If you want your kitchen to have just the right amount of personality, go with light gray. Not only does it make your cabinets look neat, but it is also easy to pull off.
What are Top Kitchen Cabinet Colors that are Trending
While the options included above are timeless, we also have a list of top colors for kitchen cabinets in 2021. If you wish to follow the latest market trends, here is what trend experts have to say.
Choosing blush pink never goes wrong. If you want to make your kitchen area look fresh, it is the perfect color for you. Indeed, it is one of the top kitchen cabinet colors because of its flexibility.
You can pair your blush pink kitchen cabinetry with modern geometric pieces. It can be anything like walls, tiles, or others.
When a light palette makes up your home's interior, blush pink is an even better choice.
The combination makes your kitchen area look more modern or contemporary, which is a good accent if you are going for a gentle kitchen personality.
No wonder it is one of the top colors for kitchen cabinets in 2021.
Another entry for top kitchen cabinet colors this year is sage green. It can help saturate the interior. The kitchen space can already pop with just a small dose of this color.
Sage green offers a calming personality, making it a perfect choice for your kitchen cabinetry. However, the color is rather hard to pull off.
Painting all your cabinets with sage green would make your room a little dull.
To add just the right amount of character to your kitchen space, you should use a statement cabinet wall. Paint it and leave the others with a complementary shade.
Make it pop to make your kitchen more appealing.
If you want a kitchen that looks beautiful regardless of the amount of light it receives, go for beige.
It is one of the top colors for kitchen cabinets in 2021. Beige is an interesting choice because of its versatility. The color works well with or without natural light.
It can either look cozy and intimate or fresh and modern. If your kitchen space is sun-drenched, it would appear as greige-tinged white paint color.
But if it is the opposite, your kitchen cabinets would look like beige with undertone gray. The paint comes in matte, satin sheens, and eggshells.
Just select what best matches your walls at home.
The list of top kitchen cabinet colors in 2021 would not be complete with this juicy citrus hue. Zesty orange can add so much depth and glamour to your kitchen space.
Pair it with crisp black kitchen countertops and white backsplashes to see a brilliant contrast.
You may also try using variations of gray or muted and charcoal tones to complement your kitchen cabinets.
Zesty orange paired with them can help you make a vibrant and shiny statement with maximum elegance. It can also make the room less stark, which is a plus point.
The shade would undoubtedly be part of the top kitchen cabinet colors for a few years more. It is a perfect choice for those homeowners who want to cook in a more cheerful environment.
Tips on Choosing the Right Color for Kitchen Cabinets
Knowing the top colors for kitchen cabinets is not sufficient to successfully revamp the space. Just because the shade makes it to the list does not mean it would already do your kitchen justice.
Consider the size of your kitchen
The color of your cabinets can either boost the appearance of your kitchen or oppress it. You should know that lighter paint works well with cabinets in a small or underlit kitchen space.
Just because black is one of the top colors of kitchen cabinets does not mean it is perfect for a small kitchen. Darker colors work way better in well-lit and bigger kitchen spaces.
Knowing how size affects the appearance of your kitchen cabinets is necessary. It can help you make the right decision.
Going with a single color is sometimes not enough to make your kitchen more appealing. Know how to create contrast. Pair darker cabinets with light kitchen designs.
A good example is black kitchen cabinets with white countertops. The color combination makes space look more minimalistic, all while elegant.
Play with multiple colors
If you are bold, playing with two paint colors can make your kitchen area look more inviting. You can go with vibrant colors.
But if you want to play it safe, pair a bold paint color with a neutral kitchen cabinet. Try a single color with different shades.
You can try using a single color in your kitchen cabinets if neutral and bold paint does not impress you.
Use dark shades on upper kitchen cabinets, and go light on lower ones. This technique helps keep the combination neutral, so you would not go overboard.
While aesthetics is necessary when choosing the right kitchen cabinet color, you should also think about kitchen mishaps.
Most of the time, they dictate if a cabinet color is high-maintenance or not. If the shade that you want cannot cover stains and sauces, ask yourself if you can handle extra work.
Such choices can be a nuisance in the long-run. But if you think you can deal with it, then it should not be a problem.
Remodeling with The Best Kitchen Cabinet Colors
The best kitchen cabinet colors are a mixture of bold and soft colors. Which is essential in creating a stylish, functional, and comfortable space that adds a personality to your kitchen space.
You only have to consider factors like kitchen size, amount of natural light, and more to find the perfect paint for your kitchen cabinets.
Hopefully, our guide will help you choose the right color for your remodeling project.