If you need kitchen cabinet ideas for storage, you are on the right page. We see eye to eye when we say that the kitchen is the busiest area in our homes.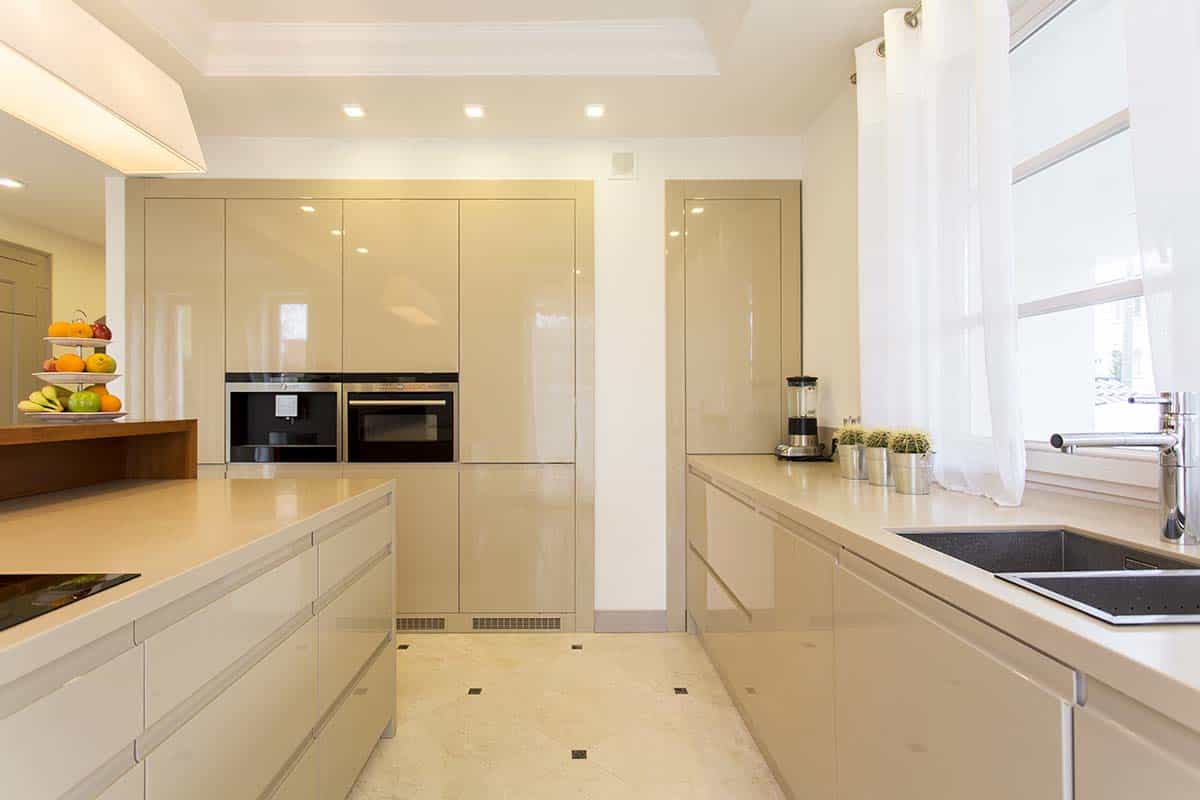 A disorganized kitchen can be a nightmare in terms of efficiency and productivity. Nonetheless, knowing how to arrange your kitchen cabinets can help make the room less packed.
Of course, you would not want to start cooking with accessories like metal lids and pots crashing together.
In this article, we will discuss several kitchen cabinet ideas, so look no further.
Brilliant Kitchen Cabinet Ideas for Storage
Oftentimes, the main issue in the kitchen area is crowdedness. It is difficult to organize the room since we store plenty of items there like pans, plates, and other utensils.
If we can maximize the space, regardless of the size of our kitchen, we can better enjoy cooking.
Here are some kitchen cabinets storage ideas that we have collated from different sources. Check out to see if you want to have them as inspiration when you revamp your kitchen.
Install Pull-Out Cabinets
Many of us are guilty of just tossing everything inside the cabinet. We think that when we hide our mess, it would completely solve our problem.
However, it is not entirely effective since we only create another kitchen dilemma. When we loosely toss items (like bottles and glasses) in our kitchen cabinets, they would quickly fill up.
Before you know it, there is no more space to put that extra glass of chili garlic. Among others, it would be difficult to find specific items when they piled up.
Fortunately, pull-out cabinets were invented to help us better store our spices and other cooking essentials.
Arranging them this way can help you tuck away your kitchen items while also providing easy access. Just make sure to organize them by type so that it does not defeat the purpose of a pull-out "pantry".
When people cannot see cleaning materials right away, they get demotivated to clean the kitchen area.
We often struggle between hiding them (for a better kitchen layout) and making them more accessible. Fortunately, we can now hit two birds with one stone using the lazy susan cabinets.
They can hold spray bottles and other cleaning products such as sponges, towels, and more.
Many homeowners look for this kind of cabinet because it satisfies both functional and aesthetic considerations.
Install one in your kitchen now if you want to store your items more neatly. It does not only work on cleaning materials but also other kitchen items.
The sky's the limit since you can store whatever fits the cabinet.
Alternate Exposed and Closed Cabinets
Another point in our list of kitchen cabinet storage ideas is the alternate use of exposed and closed cabinets. If you want to make the room more pleasing to the eyes, you may follow this tip.
Put the most beautiful kitchen items in the open cabinet type and the less appealing ones to the closed cabinets.
When you arrange your kitchen utensils this way, the room can have a fresher vibe. The goal is to make you love going to the kitchen more.
You can also use a color-coding system to make the arrangement more interesting.
But more than the aesthetics, using these types of cabinets can also make cooking more convenient. You just have to make sure you know where you store your spices.
If your memory is not that strong anymore, you should make some labels.
Design Cabinets with Vertical Separators
Kitchen cabinets with vertical separators are one of the most genius suggestions on our kitchen cabinet ideas for storage.
Not many people are aware of how smart this idea is. Such a type of cabinet takes item organization to the next level.
The problem with cabinets with horizontal separators is that we cannot always maximize their space. Into the bargain, they sometimes make our items look like a complete mess because of gaps.
Fortunately, cabinets with vertical separators can prevent your kitchen materials from piling up.
When we use them instead of those with horizontal separators, we can use even the nooks and crannies of the container.
They are specifically designed for chopping boards, but you may also use them for other kitchen items. Just make sure to customize the size of the cabinets so that it serves its purpose.
One of the most common kitchen cabinets storage ideas that people overlook is the use of under-sink space.
No matter how many cabinets we have in the room, they are still not enough for our kitchen items sometimes. Hence, we must know how to fully maximize the use of kitchen space.
Installing containers under the sink is one of the easiest solutions on our list of kitchen cabinet ideas for storage.
You may put a sliding organizer at this spot to make it more useful. Under-sink cabinets often appear like a bottomless pit since you can put almost anything in it.
What are the Best Kitchen Storage Cabinets
Apart from the abovementioned kitchen cabinet storage ideas, here are some more item organizers that you should. Complete your set of containers for cleaning products, cooking essentials, and dining utensils.
Kitchen Cabinets With Slide-Out Prep Stations
If there are kitchen cabinets storage ideas that are gaining popularity in the market, this would be one of them.
When installing kitchen cabinets, you should also consider making them multi-purpose. Storage cabinets with slide-out prep stations are dominating the list of kitchen must-haves in 2021.
Not only are these cabinets capable of holding your cooking essentials, but they can also be used for food preparation.
Would it not be fun to slice onions and garlic in a multi-purpose tool like this type of cabinet?
But of course, it also helps in managing space, especially in smaller kitchens.
Kitchen Cabinets With Peg Systems
Another part of genius kitchen cabinet storage ideas is the use of peg systems in kitchen drawers. It is quite useful in storing all kinds of plates that you have at home.
What this organizer does is allow you to easily move your kitchen ceramic sets.
Moving plates and bowls from high-up cabinets to down-low drawers is more convenient with peg systems. You can put them away and pull them out more quickly.
No wonder it is on one of the top spots in kitchen cabinet ideas for storage.
Kitchen Cabinets With Built-In Knife Organizers
Of course, our list of kitchen cabinet ideas for storage would not be complete without drawers with built-in knife organizers.
One of the reasons why many people want this cabinet is because of its safety purposes. If you have kids at home, you would know how important it is to keep sharp utensils out of their reach.
However, accidents may still happen sometimes even if we try our best to make sure they would not reach it.
So if you do not have kitchen cabinets with built-in knife organizers, we suggest you install one now. It can better guarantee that no one in your family would accidentally put their hands in harm's way.
Kitchen Cabinets With Organizing Bins
One of the reasons why the kitchen area looks jam-packed is the unnecessary use of the counter space. You often see vegetables, fruits, and other unrefrigerated ingredients in this area.
For this reason, drawers with organizing bins make it to the list of kitchen cabinet ideas for storage.
Pack some produce bowls and plastic bins in the drawer. You can put as much as you want but maximizing all spaces is highly recommended.
Not only would it allow you to store more items, but it is also more aesthetically pleasing.
Kitchen Cabinets With Charging Ports
Although this kind of cabinet is not necessary, some people want to incorporate a charging port in their kitchen drawers.
Having a charging port in one of your kitchen cabinets is a preference. Some people like this part of kitchen cabinet ideas for storage because of how sockets are designed in their kitchen.
It can sometimes be a nuisance, especially if the cord of your appliances does not reach it. Fortunately, kitchen cabinets with charging ports were invented.
Discover creative kitchen cabinet ideas for storage
Knowing kitchen cabinet ideas for storage is helpful to determine how to solve your specific kitchen problems. Many people, including us, believe that the kitchen is the heart of our homes.
When we fail to maintain the order in this room, it can be a total disaster. One of the solutions in organizing the kitchen is our procedures in terms of storage.
If you cannot prevent your knives from knocking down, get a drawer with a built-in knife organizer.
You must install the type of cabinet that best addresses your problem. What works with other people might not work for you.
So before purchasing or customizing any kitchen drawer, make sure to evaluate the condition of your kitchen first.
You must also list the kinds of kitchen essentials that you want to store.