Choosing the best hardware, such as kitchen cabinets door knobs, is as crucial as picking out the cabinet door style. Keep in mind that the tiniest details can make or break the whole vibe of your kitchen.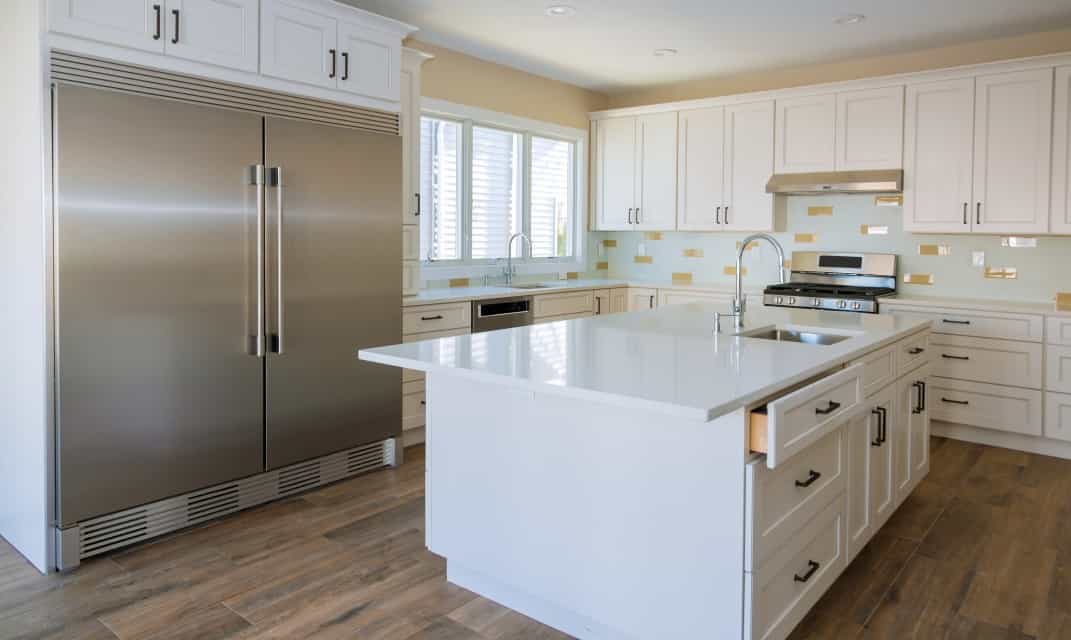 Read on to know how cabinet knobs can elevate the mood of your kitchen!
Evoke the Mood in Your Kitchen with Kitchen Cabinets Door Knobs
Finally, you have successfully picked your kitchen cabinet doors' style, color, and finish! You may now sit back and relax, right? Well, you might be wrong there.
You still have some crucial decisions to make regarding your kitchen cabinets! Take a second or two to figure out what you might be missing.
If you have not realized yet, we will tell you now: you have to pick out cabinet hardware! You forgot all about the finishing touches of your remodeling projects.
Some may like their cabinets without hardware, but most homeowners treat hardware as accessories. They add hardware to incorporate their style and personality into their kitchens.
Aside from the added aesthetic, cabinet hardware is also very functional! These pieces can make your cabinet work better for you.
Kitchen cabinet hardware may add a pop of style to your cabinets while reducing cabinet wear and tear.
Since hardware is a minute detail, you may tend to choose them at the last minute. However, it would be wise to pick out the best hardware for you now!
Doing so will give you all the time you need to plan a cohesive look for your kitchen. Cramming the decision may put you at the risk of having out-of-place details.
What are kitchen cabinets door knobs?
Kitchen cabinets door knobs are the perfect accessories to your cabinets. They are a crowd favorite since they have a hassle-free installation.
Moreover, they add a pop of style to your kitchen cabinets while preventing cabinet damage!
Since you can hold onto the knobs while opening the cabinets, you would not have to use your bare hands anymore. Thus, you can avoid scratching and fingerprint staining.
When you think of cabinet knobs, the first thing that may come to mind is a traditional and plain round knob. These knobs seem too humdrum and, for the lack of a better word, ugly.
However, advancements in design made all types of details available! You may now purchase knobs in unexpected shapes such as squares and hexagons.
Kitchen cabinet door knobs come in various finishes for you to choose from, such as wood, metal, and leather.
Where should you place your kitchen cabinets door knobs?
Positioning the door knob is very easy! You have to remember to place your knob on the opposite side of the hinge, and you are good to go.
Place the knob approximately three inches from the bottom corner of the cabinet door for upper cabinets and position the knob at three inches from the upper corner of the door for base cabinets.
Since knobs are versatile, you can also install them on drawers. Center the knobs and place them in the absolute middle of the panel for drawers under 24 inches.
If you are going for a contemporary look, you may vary the positioning of the knobs per drawer.
If your drawer's width is greater than 24 inches, we suggest adding another knob for ease of opening.
To do this, divide the panel into three parts and install the knob on the thirds division lines.
What are the factors to be considered in selecting kitchen cabinets door knobs?
Now that you know the basics of cabinet door knobs, it is time to delve deeper. There several factors that you must consider to help you choose the perfect knob for your kitchen cabinets.
These are the finish, ease of use, and cost of the door knob.
The finish will contribute a lot to the overall look of the kitchen cabinets door knobs. You have to choose a knob that goes well with the other finishes in your kitchen, such as the faucet.
However, that does not necessarily mean that you have to adapt to the same finish! You may choose other finishes to spruce up your kitchen as long as the knob complements the present finishes.
You may go for bronze, satin brass, black matte, rust, or antique pewter to spice things up. Choose a knob finish that will go well with your cabinet style and color.
These suggestions are perfect if the other finishes in your kitchen are stainless or nickel, such as the sink faucet.
If your faucet is chrome, you may go for finishes such as dark bronze, black, white, or pewter. If you feel like going for something out of the ordinary, choose clear glass!
A glass knob will be a unique detail that will make your kitchen stand out from others.
Kitchen cabinets door knobs are supposed to make opening cabinets easier, aside from adding personality to your kitchen. In choosing knobs, it is necessary to try them out for yourself.
Touch the knob and try its feel on your hand. Moreover, you must be able to fit all four fingers around the knob for maximum comfort.
Watch out for sharp edges that may harm you or younger users. If the knob has ridges or edges that press on your fingers, grabbing them when in a hurry might be dangerous.
These areas may lead to cuts and other injuries.
At the end of the day, what you get is what you pay for—this also applies to cabinet knobs. Some kitchen cabinets door knobs may trick you into buying them with their affordable price tag.
However, these knobs tend to look cheap and sub-par upon closer inspection.
These knobs may also break after a couple of uses. This occurrence would be a hassle since you would inevitably have to reinstall new knobs in your cabinets.
On the other hand, you must also refrain from purchasing knobs that are beyond your budget. Going over the specified budget is an unwise decision usually made by newbies.
In-home renovation, sticking to your price range is necessary because your resources are limited. You do not need a 100 dollar kitchen cabinet knob if you cannot afford it.
Instead, try to keep the balance by purchasing high-quality knobs within your price range. There are many kitchen knobs available in the market, and you merely have to look for them!
Go to local hardware stores nearby and be patient in your search. You can also consult the internet and look for knobs available in the online market.
Complete Your Kitchen's Look with Kitchen Cabinets Door Knobs
Before leaving the house, what do you do? Aside from making sure that your outfit is in check, you accessorize. Your jewelry will tie your whole look together and complete your ensemble.
Kitchen Cabinet Door Knobs are the jewelry of your kitchen. Thus, just like in your outfit, your knobs must coordinate with the other details.
Moreover, they must be comfortable, and they should be within your price range.
We hope this article gave you everything you needed to know about kitchen cabinet door knobs!
Follow the pointers mentioned above to help you in your selection.
We wish you all the best in selecting the knob perfect for your kitchen cabinets. Finish that kitchen makeover!