In this article, we will show you where to buy used kitchen cabinets and how to find the perfect set of cabinets at an affordable price. You'll also learn about some tips that will help make your purchase easier and save you time in the process.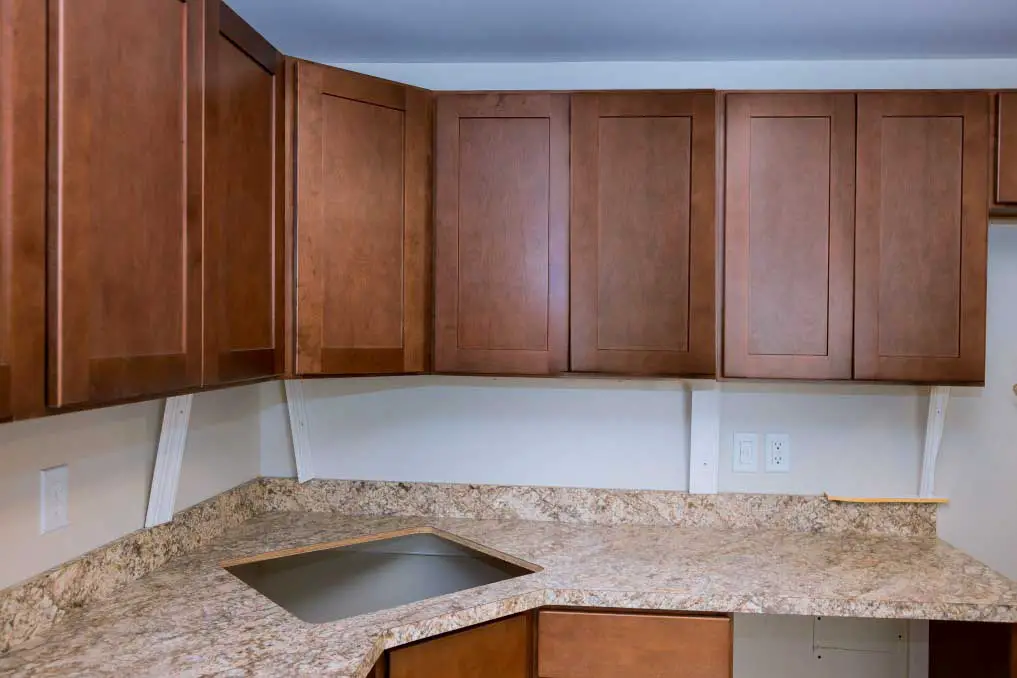 Buying new kitchen cabinets can be a costly investment. But, if you're on a budget and don't want to spend too much money, then buying used cabinets is the best option for you!
Where to Buy Used Kitchen Cabinets
If you're in the process of remodeling your kitchen or just want to update it, buying used cabinets can save you a significant amount of money. You can get high-quality oak wood cabinetry for 50% less than what it would cost if you bought new ones!
There are many ways of finding deals and there is no need to buy from a retail store.
Here's where to buy used kitchen cabinets and save:
Habitat ReStore is architectural salvage yards that donate profits to a worthy cause, Habitat for Humanity.
Goods often come as donations from large construction projects, and they're usually in good shape and of decent quality.
Habitat ReStore offers a variety and they're guaranteed to have something you like on their shelves, from cabinets in oak or maple wood finish for your cabinet installation project.
Prices vary depending on the store location but start at just $60 per linear foot (about 100 square feet).
There are architectural salvage yards in most large metropolitan areas, especially those with older housing stock.
The goods that are sold in these yards usually come from large construction projects and they're generally good quality items, though prices vary depending on the location you visit.
The best thing salvage yards have to offer is used kitchen cabinets of acceptable quality.
Architectural salvage is the reuse of previously used building materials and an eco-friendly option.
But for many people, it's also an opportunity to find more items at affordable prices such as furniture or woodwork.
One great source of used kitchen cabinets is IKEA. The company has a store in every major city and you can pick up inexpensive cabinets that have been returned at a heavily discounted price.
Ikea offers affordable cabinets in all types of styles: traditional Swedish design or more contemporary Scandinavian décor with clean lines and simple shapes.
Ikea kitchen cabinets that have been returned are sometimes come pre-assembled.
The downside, if it is available they sell very fast. So, you have to check constantly and make a quick decision if they do have any returned cabinets in stock.
Another affordable way of buying a used kitchen cabinet is from a Craigslist posting.
Craigslist is much more personal and you can talk to the seller directly before making any purchase decisions,
So it may be worth checking out if your area has listings for a used kitchen cabinet that are in good condition or at least still serviceable enough until they reach their end of the life cycle (which varies by material).
An advantage of buying from a local Craiglist listing is the cost of shipping. If you're willing to drive a few hours away then the cost of shipping is non-existent.
Buying these cabinets in person is usually the only option because many sellers will not even consider shipping them even if you offer to pay the shipping yourself.
After you've searched the internet for your dream kitchen cabinets, contacting a local kitchen showroom by phone or in-person would be the next step.
However, your chances of success will vary based on where you live and what type (or brand) cabinet doors have caught your interest.
When it comes to kitchen cabinets, the best deals are often found on display models.
If you're looking for a bargain and don't want something used or refurbished, speak to the manager and try asking if they have any showroom displays available that can be sold at an unbelievable discount price.
Sometimes local kitchen showrooms are more likely to accommodate an individual who can pick up the cabinets by themselves and even can afford to offer more discount.
What are the Benefits of Buying Used Kitchen Cabinets?
There are many benefits of buying used cabinets that you might not be aware of. One major benefit is the cost-effectiveness since they're usually sold at a significantly lower price than their new counterparts.
Another benefit of buying used kitchen cabinets is saving money on materials and labor, as they can often be done without the need for new doors.
Also, an important consideration that it is an eco-friendly option since we are recycling items. Recycling items is a great way to help the environment because it lessens the demand for resources.
What should I consider before going for a used kitchen cabinet?
Before buying a used kitchen cabinet, ask yourself the following questions:
Do I have enough space in my house to accommodate the size of this cabinetry?

Do they come with a countertop or do you need one as well and if so how much does it cost per square foot?

What about installation costs for your "new setup"?

Are there any scratches or dents in the cabinetry? These will have to be fixed and that can have an additional cost.

Most importantly, how much is it worth your while if you calculate all those costs together (including time spent) when compared with buying new kitchen cabinets for 50% less than what they would normally be.
More Ideas on How to Find Used Kitchen Cabinets
To find a used kitchen cabinet, there are some important things to consider and be aware of before deciding if using a used kitchen cabinet is the way to go.
Bear in mind that the whole process of finding and installing used kitchen cabinets can take some time, effort, and a lot of money…so you might want to consider other cost-saving choices instead.
As part of your kitchen remodelling plan, make sure to consider the additional ideas I outlined below:
Discontinued Kitchen Cabinets
In the same way that companies like to constantly update their products, display kitchen cabinets are a continual cycle. When one company stops selling them, they typically get discounted because no one else is buying the items.
These discontinued cabinets that still carry their original tags are not in perfect condition.
Compared with new cabinets, discontinued kitchen cabinets may have noticeable signs of wear and tear. However, compared to old cabinets, the condition will be much better.
A good way to find discontinued display cabinets is by visiting a home improvement store in person or contacting showrooms on the phone.
If you find a discontinued kitchen cabinet, it usually has a sale price tag discounted up to 75% or more depending on the condition.
Because the design of the kitchen cabinet is relatively current, this is a good option for those who are looking to spend less and still get the up-to-date look that you desire.
Used Display Kitchen Cabinets
A great place to find display kitchen cabinets is in a home improvement store or kitchen remodeling showroom. Imagine your kitchen being remodeled in an instant.
You can find a number of home improvement stores that have kitchens on display with modern, updated designs to get you thinking about what could be done for yours.
Display cabinets are not a permanent fixture in many stores.
If the store needs more space, wants to remove an unpopular line, or goes out of business then these pieces will be removed from the showroom floor and sometimes sold at discounted prices.
These kinds of kitchen cabinets are a great option for those looking to save money, but who also want an authentic design.
You can find these in used condition and they will have the same charm as any other cabinet that comes from your own home.
You have a great chance to find high-end products at a discount when it comes to used display cabinets.
Used Kitchen Cabinets For Sale by Owner
Check classified ads for owners that are selling their kitchen cabinets because they are moving the family or might be renovating their kitchen.
Be sure to take into account the condition of any cabinet that you're considering buying because it might even cost fixing up the cabinets compared to buying a new one.
Generally speaking, a previously owned cabinet can beat up dirty or even unattractive.
Sometimes this kind of cheap kitchen cabinet comes at a very inexpensive price tag or they may not cost anything at all. They might even include the kitchen sink!
Most Cost-Effective Way of Fulfilling Your Dream Kitchen Renovation
In most cases, people who buy new kitchens are in the market for expensive items that they do not need. They may think that because it's new it must be better than anything else out there. However, this is not always true!
The solution to your problem is simple – buy used kitchen cabinets at an affordable price! There are many benefits compared to purchasing brand new ones.
At first, glance, finding these types of products might seem like a difficult task but as have we have showed you how easy it really is.
Just follow our tips and advice and soon enough you'll find yourself looking at some great deals on used kitchen cabinets.