Our kitchen cabinets hold the most important items in our kitchen, thus it's crucial to discover kitchen cabinet organization ideas. These tips and secrets will help you design the perfect system for keeping your kitchen cabinets orderly.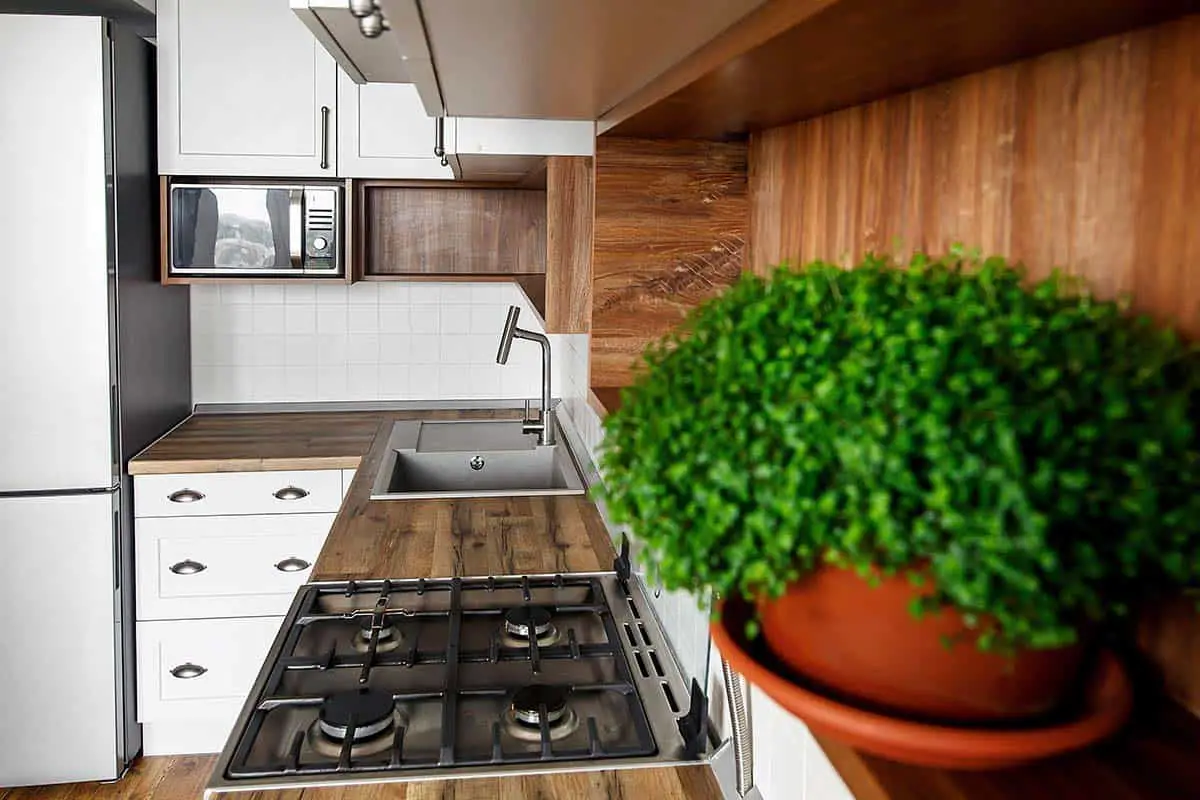 What are the Best Kitchen Cabinet Organization Ideas
Have you ever looked at what's inside of your kitchen cabinet and just sighed. Everything's all over the place, and it's difficult to grab ingredients and cooking utensils when you need them.
If you have the same problem, then it's time to apply some kitchen cabinet organization ideas to your space. Doing so will help you get rid of the clutter and boost your efficiency in your kitchen workstation.
Here are some of the best kitchen cabinet organization ideas:
Utilize Cabinet and Drawer Organizers
The common issue in storing kitchen items in cabinets and drawers is unorganized piling up. When you merely toss and throw everything in a hurry, it will eat up your time once you need to find them.
As such, one of the smartest kitchen cabinet organization ideas is to utilize cabinet and drawer organizers.
With organizers, you can group similar items in specific areas. Not only will this save you space, but it will also speed up the pulling out and putting back process.
Vertical separators are also one of the genius kitchen cabinet organization ideas. Using these, you can organize trays, cutting boards, pans, etc. to avoid a messy piling up.
This method makes it easier for you to pull what you need instead of having to pull from a horizontal pile.
Consider Installing Pull-Out Cabinets
Pull-out cabinets address the issue of limited cabinet storage space. It maximizes the space where you can place items and make the task of pulling them out easier as well.
Pull-out cabinets are best for storing dry goods, spices, pans, and other cooking essentials. You can build your own pull-outs or have them installed by a professional.
For smaller items and similar items, you can use bins, containers, and stack and pull boxes to keep them organized.
This is best for baking tools, ingredients, and utensils that you usually use at once. These bins and containers can either be opaque or clear depending on your preference.
Label All Your Containers
Regardless of whether you have an opaque or clear container, it's vital to label all of them. You can simply use masking tape and write out the labels.
Or, if you want to be creative, you can also print out symbols for each container. The latter will make them more aesthetically pleasing inside your cabinet.
Dinnerware Go in the Drawers
Never store your dinnerware in the cabinets. It makes it more difficult to pull them out since there are many other things inside.
Instead, store your dinnerware in drawers where they're the only ones occupying the space, making it more accessible.
Part of the organization process is to make sure that you're keeping your cabinets clean and in good condition.
Using a liner helps protect the cabinet's interior from scratches and potential spills. They can also elevate the look of your cabinet once you open it.
Kitchen cleaning supplies are usually in spray bottle forms. Typically stored under the sink, the can topple over when you pull out one thing inside.
One of the helpful kitchen cabinet organization ideas for this issue is to install a tension rod on the door. Here, you can hang the spray bottles and keep them upright while saving a lot of space.
Utilize all the nooks and crannies of your kitchen cabinets. Some kitchen cabinet organization ideas for this are adding hooks on the door and wire racks overhead.
You can hang ladles and other cooking utensils using the hook. Meanwhile, installing wire dividers can help you save space by hanging pans, pots, and cutting boards upright.
The best way to store bowls that will help you save space is by nesting. Make sure to stack bowls of the same sizes to make sure that it's easier to grab them.
Install a Chalkboard or a Cork Board
To take the organizing project even further, you can install a chalkboard on one of the cabinet doors. Here, you can write down your grocery lists without any hassle.
Or, you can also install a corkboard to keep all your grocery coupons, receipts, and recipes. Expandable Shelves
Make a Plastic Bag Holder
Get rid of the habit of tossing plastic bags inside cabinets. You can easily make a plastic bag holder using empty tissue boxes and attach it to a cabinet door.
This will help you find a plastic bag easily whenever you need them.
Which Goes Where? Kitchen Cabinet Organization Tips
Now, if it's your first time re-organizing your kitchen cabinet, it may be overwhelming to identify which goes where.
Having a smart layout of where each item goes will help you know where to find them anytime.
You also have to know which things you should store inside cabinets and which are best for outside the cabinet.
It makes it easier to explain to family members where they can find specific items, making it time-efficient.
Plus, definitely help you become more efficient and functional while working in your space. Here are some of the best kitchen cabinet organization tips on which item goes where.
Inside Top Drawers and Cabinets
Here are some kitchen cabinet organization tips on which items should go inside top drawers and cabinets:
Serving platters
Serving bowls
Baking ingredients (like flour, baking soda, baking powder, sugar, salt, extracts, flavorings, etc.)
Pantry items (like pasta, rice, cereal, canned goods, bottled items, oils, dressings, snacks, etc.)
Infrequently-used light appliances and items (like a salad spinner, boxes, and large Tupperware, etc.)
Cans and cartons
Inside Bottom Drawers and Cabinets
Here are some kitchen cabinet organization tips on which items should go inside bottom drawers and cabinets:
Casserole dishes
Baking pans
Heavy saucepans
Heavy skillets
Stacking pots
Dutch ovens
Heavy appliances (These are usually appliances to you rarely use.)
Near the Sink or Dishwasher
Here are the items that should go near the sink or dishwasher:
Tupperware
Colanders
Cleaning supplies (Ideally, you should place them under the sink.)
Drying rack
Dishtowel
Paper towel
Plates
Glasses
Mugs
Serving bowls
Near the Stove
Here are some kitchen cabinet organization tips on which items should go near the stove:
Essential Spices and herbs (like salt, pepper, garlic powder, cinnamon, cayenne pepper, ground cumin, etc.)
Oil, soy sauce, vinegar, and other condiments
Spatulas
Wooden spoons
Oven mitts
Trivets
Near the Counter
Here are the items that should go near the counter:
Silverware (spoon, fork, and knife)
Mixing bowls
Measuring spoons and cups
Baking utensils (like a whisk, mixer, rubber spatula, rolling pin, strainer, parchment paper, etc.)
Can opener
On the Counter
Here are some kitchen cabinet organization tips on which items should go on top of the counter:
Frequently-used appliances (like a toaster, microwave, coffee maker, blender)
Fruit and vegetable bowls
Condiments
Cutting boards
Knife block
What Not to Store in Kitchen Cabinets
Now that you know what to store in kitchen cabinets, then what are time things you should NOT store? Knowing what these things are will help you save your cabinets from looking too stuffy and cluttered.
Usually, the things you should not store in kitchen cabinets are those items that are too heavy. These may also be items you frequently use or not frequently used.
That said, here are some kitchen cabinet organization ideas on the things you should not store in kitchen cabinets:
Serving Trays
Serving trays are generally too bulky and take up too much space to fit into kitchen cabinets. As such, it makes more sense to place them in areas that are easily accessible.
You must be able to easily pull them out and put them back without breaking a sweat. So where should you put them? Ideally, you should put serving trays on storage bins that you can pull out anytime.
Open Food Containers
There are more apt spaces for storing open food containers. Generally, it's best to store your food in the pantry and refrigerator depending on the food type.
If you do choose to keep them inside the cabinets, they will take up space that other kitchen essentials can occupy. If inevitable, the tip is to put them on food storage containers to keep them accessible and to limit their space.
Some of the food items that you can store in cabinets are:
It makes them more accessible for you when you need them for cooking.
Appliances You Always Use
For appliances that you frequently use (almost on a daily basis), the best thing to do is place them on countertops.
If you keep them inside the cabinet, you will have to pull them and put them back every time. This eats up too much space and effort on your part.
On the other hand, if you place them on countertops, you can use them readily without all the hassle.
Appliances You Rarely Use
Meanwhile, there are kitchen appliances that you rarely use or have used only one time. These are usually appliances like waffle irons, ice cream makers, popcorn makers, etc.
If you're not ready to give them up just yet, then consider storing them in the attic or basement. Make sure to organize them in a bin so that they don't get damaged.
You can also opt to donate or sell these appliances if you think they will not serve you anymore.
Linens
Instead of placing linens and tablecloths in the cabinet, it's better to designate a linen closet for these. Otherwise, they may be put at risk for accidental spills and drips.
They also take up unnecessary space you can reserve for other kitchen essentials.
Outdoor Serving Items
You will only use outdoor serving items and party decors once in a while. Hence, it's best to move them to the kitchen storage area instead of letting them take up your cabinet space.
Creativity is the Key
Applying the kitchen cabinet organization ideas above to your kitchen will do wonders in your space. Not only do they help keep your kitchen items organized, but it also helps keep your space more functional and beautiful.
You don't have to spend a lot of money to do this; you only need creativity and innovativeness.
What follows after that is prompt and regular maintenance to keep your kitchen neat and organized.