There are a lot of things to know if you're thinking of buying kitchen cabinet hardware at Lowe's. With so much hardware available, it's important to identify and understand their distinct uses.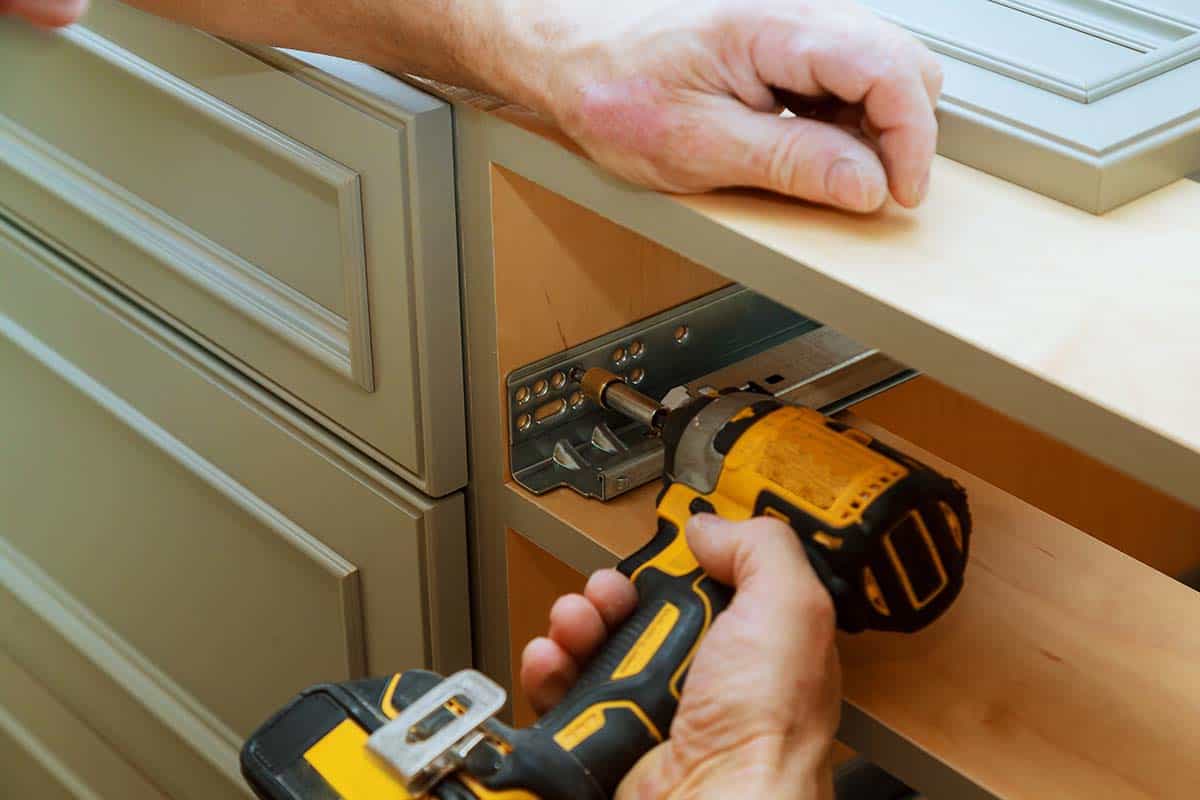 Furthermore, you must make sure to match these elements by style and finish for a uniform look.
Available Kitchen Cabinet Hardware at Lowe's
There are many available kitchen cabinet hardware at Lowe's that caters to all homeowners looking to update their kitchen's look.
It is a cost-effective and creative way to upgrade your kitchen cabinets. With a variety of styles, shapes, and finishes, you can completely customize your cabinetry in no time!
This kitchen cabinet hardware has different functions and features. Hence, it is important to understand which part goes where.
Below are the available kitchen cabinet hardware at Lowe's and their features:
Knobs
We refer to the mounted handles on the door and drawer exteriors as knobs. The mounting process can either be through the use of a single screw or bolt.
Some knobs have built-in screws, making it effortless to install. Furthermore, you can incorporate it with a backplate or leave it as it is.
You have different knob options to choose from for kitchen cabinet hardware at Lowe's by finish and style.
By finish:
Black
Clear
Brushed nickel
Bronze
Oil-brushed
Chrome
By style:
Round
Square
Rectangular
Novelty
Oval
Bar
Glass
Dual-finish
Traditional
Modern
Unique
Coastal
Drawer Pulls
Drawer pulls have similar functions as knobs. However, since they have a horizontal shape, they tend to occupy more space in the drawer.
As such, they also have a greater influence on your cabinet's appearance. The length of the screw for installing drawer pulls varies on the drawer box's and front's width.
There are various drawer pull options to choose from for kitchen cabinet hardware at Lowe's by finish and style.
By finish:
Black
Satin nickel
Brushed nickel
Copper
Oil-rubbed bronze
Gold
By style:
Handle/bar
Cup
Finger
Bail/Drop
Ring
Birdcage
Mixed-material
Traditional
Modern
Modern farmhouse
Rustic
Dual-finish
Cabinet Backplate
The cabinet backplate is a metal piece with a finish that you put between the hardware and the door.
What this hardware does is protect the cabinet's surface from scratches. It's also meant to cover holes in the door and drawers for an elevated look.
Cabinet Door Catches
The function of kitchen cabinet door catches is for doors to secure against the frame without self-closing hinges.
There are three types of cabinet door latches:
Magnetic catches: This is the most popular among kitchen cabinet catches. It works best with doors with mounted backplates as the magnet adheres to that part of the frame.

Spring roller catches: It utilizes one or two rollers on the frame with a mounted catch on the door. When the rollers hook on the intended strike plate, the door will automatically close.

Cabinet door latches: This type of cabinet door catch holds the cabinet door until your release the latch.
Hinges
The door hinges are the ones that secure the cabinet door to the frame. As such, it is crucial to ensure you get high-quality hinges for your kitchen cabinets.
Note that the number of hinges for kitchen cabinets varies depending on the door's weight and dimensions.
Hinges have four parts:
Frame wing: for attaching to the frame

Door wing: for attaching to the door

Knuckle: for connecting the two

Pin: to hold the entire piece together.
Here are types of cabinet hinges and kitchen cabinet hardware at Lowe's:
Magnetic cabinet catches
Soft-close hinges
Piano hinges
Cabinet bumpers
Cabinet lid supports
Mounting templates
Drawer Slides
Drawer slides help facilitate the smooth opening and closing of your kitchen cabinet drawers. Depending on your drawer's weight, you can either get light, medium and heavy, designations.
Here are the different types of drawer slides:
Mini-ball-bearing
Self-closing, side-mount
Full-extension, self-closing
Basic side-mount
Style
For the style, it's best to choose something that matches the rest of your kitchen designs. Otherwise, your kitchen will look mismatched and unappealing to the eyes.
Here are the most common style options of kitchen cabinet hardware at Lowe's:
Traditional: This style has a classic look with detailed embellishments. It includes an antique, farmhouse, and rustic kitchen cabinet hardware.

Contemporary: Contemporary style for kitchen cabinet hardware has a simple and minimalist look. The most common finish for this style is stainless steel.

Transitional: This style combines both the features of traditional and contemporary kitchen cabinet hardware.

Eclectic: This style offers a unique look for kitchen cabinet hardware and caters to customization projects.
Lowe's Cabinet Hardware Sample Box
Lowe's offers a sample box for their cabinet hardware. This is best for customers and homeowners who are having a hard time choosing the specific style they want.
Since there is a myriad of kitchen cabinet hardware at Lowe's, this sample box will help you narrow down your choices.
The Lowe's Cabinet Hardware Sample Box combines all the brand's best-selling and trending styles and finishes.
These curated boxes were arranged to provide customers a variety of options to choose from. You can have your sample box delivered right to your doorstep and try them before purchasing.
Here's how the Lowe's Cabinet Hardware Sample Box works:
Choose among the six different sample boxes. These boxes consist of varying knobs and pull with the best-selling Lowe's finish. Furthermore, each of these sample boxes comes with free coupons that you can use once you buy in the store.

Lowe's will ship your sample box right to your home. You can then try them out and compare and contrast their look in your kitchen to see which fits your style. You don't have to return the boxes and you can use them however you want to.

After choosing your favorite style, you can order your preferred kitchen cabinet at Lowe's. Note that the coupon is only valid for in-store purchases and not for online orders.
Here are some of the themes of the Lowe's Cabinet Hardware Sample Box:
Cool Tones
This style is best for creating a simple and subtle statement on your kitchen cabinet.
The color and finish of this tone make it versatile to pair with various cabinet colors. It works well with kitchens with classic, modern, and casual styles.
Warm Tones
Meanwhile, this box highlights the bronze tones with copper accents. This tone complements cabinets with lighter colors and kitchens with traditional, rustic, or farmhouse style.
Trendy Finishes
These boxes offer an assortment of trendy and specialty kitchen cabinet finishes. Each of the finishes featured in these boxes is highly-versatile and works on most kitchen styles.
Some of the featured finishes in this variety are:
Flat black
Brushed brass
Golden bronze
Dark silver iron
Polished chrome
Kitchen Cabinet Doors at Lowe's
Aside from the hardware, you can also find a variety of kitchen cabinet doors at Lowe's.
These kitchen cabinet doors vary in type, style, wood species, and panel. Because of these wide varieties, you can choose one that will match not only your hardware but your entire kitchen space.
Here are the features of kitchen cabinet hardware at Lowe's you can find:
Type
The type of kitchen cabinet doors at Lowe's vary depending on where you will install them.
Base Cabinet Drawer Fronts
Base Cabinet Door
Wall Cabinet Door
Door Style
The door style of your kitchen cabinet will determine the theme of your hardware and your entire space.
The styles of kitchen cabinet doors at Lowe's are:
Square
This is the traditional style of kitchen cabinet doors. It has a raised panel that mimics the cabinet's shape. Because of their simple structure, square kitchen cabinet doors are highly flexible in different kitchen themes.
Shaker
Shaker kitchen cabinets have a feature that highlights its recessed center panel and unbeveled rails. It is one of the most popular kitchen cabinet door styles with its simplicity, versatility, durability.
Slab Beadboard
This combination of slab and beadboard styles offers a wider scope for kitchen cabinet adornment. The slab style has a variety of colors and sheen and is often used in metropolitan interiors.
Meanwhile, the beadboard style offers a country look with its unique pattern design. Together, the slab beadboard style provides a cabinet door framework that is like no other.
Wood Species
The types of wood species that make up the majority of kitchen cabinet doors at Lowe's are:
Engineered Wood
Maple
Cherry
Oak
Panel
Here are the different types of panels utilized for kitchen cabinet doors at Lowe's:
Recessed panel: It has a flat center with a lower outer frame than raised panels, making a sleek and clean silhouette.

Raised panel: It has a raised center that features a grooved framework, providing depth and texture to the door's profile.

Flat-panel: It has a flat center with raised outer frames, making it clean and minimal.
Finish
Lowe's offers two finishes for their kitchen cabinet doors: unfinished and thermofoil.
The unfinished option is basically bare wood that offers a classic look. Meanwhile, thermofoil uses a laminate material fused to the particle board's surface.
Upgrade Your Kitchen Cabinet Hardware
Upgrading your kitchen cabinet hardware can completely change the aesthetic of your kitchen. You have a lot of options for kitchen cabinet hardware at Lowe's.
In the end, it will mainly depend on your personal preference in selecting your hardware.
It's best to take your time and try different styles and finishes to see how it changes the look of your kitchen space.