Giving your kitchen a makeover is one of the best investments you could ever make. Not only does this make your space more lively, but it also boosts your house's value and aesthetic.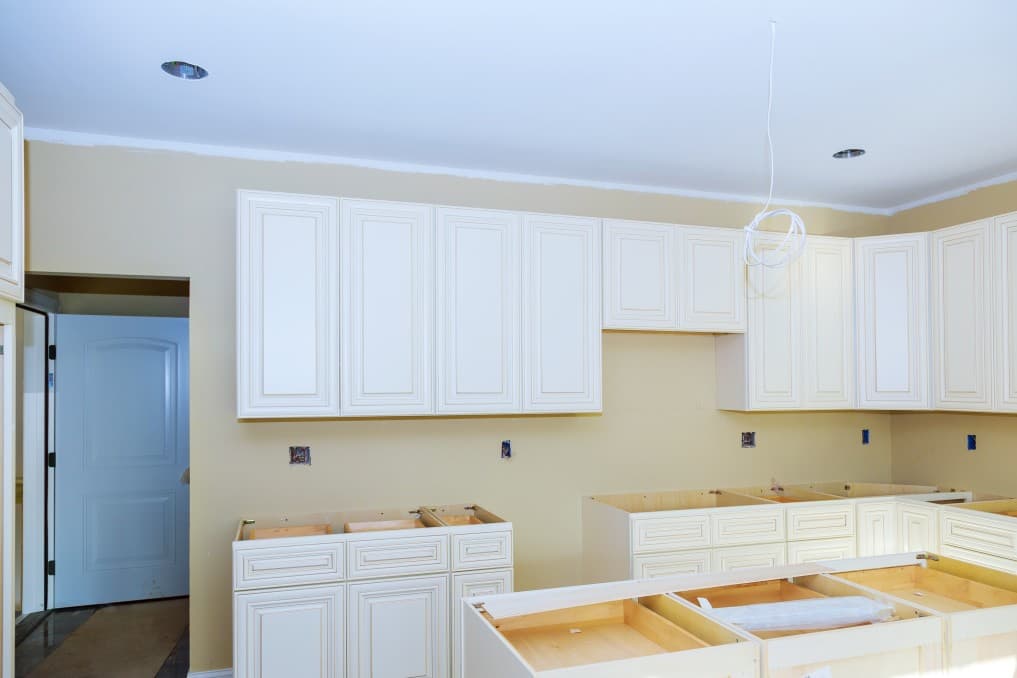 But how to do kitchen cabinet refacing without spending too much money?
An efficient yet affordable way to spruce up your space is by refacing your kitchen cabinets. Don't worry because this procedure is quick and easy.
Even non-experienced homeowners can try it out on their own.  So if you're considering refacing your kitchen cabinets, then you're in for a treat today.
We will also give you a step-by-step tutorial on how to do it and share some reminders you should consider before refacing your kitchen cabinets.
How to Do Kitchen Cabinet Refacing & How it Works
Refacing your kitchen cabinet allows you to boost its aesthetic without needing to clean up after. It's also a non-invasive procedure to make your old and worn-out cabinets look brand new.
But besides these pros, you can save more money and time with this technique.
Kitchen cabinet refacing is generally revamping your cabinet drawers and doors. But instead of replacing them completely, you can place high-quality material over the frames.
People usually use ultra-thin veneer when doing this technique.
Kitchen cabinet refacing saves you two-thirds the price compared to replacing your hardware completely. You can also save over $1000 or more if you do it yourself.
But take note that doing this technique requires extra effort, time, and energy.
Don't rush things because you might cause damages to your cabinets. Remember that doing the following steps slowly and carefully will make your cabinets look more appealing.
So if you're ready, here's how to do kitchen cabinet refacing.
Step 1 – Prepare your tools
The first step in all tutorials is to prepare your tools and materials. After all, it'll be entirely impossible to get the job done without these essentials.
So when refacing your kitchen cabinets, here are what you need:
Hammer and nails
Utility knife
Sandpaper
Drill
Veneer
But besides these tools, you'll also need some protective clothing to prevent injuries. Typically, you'll need a mask and safety goggles before proceeding to the next step.
Apart from this, having steady hands also gives an added advantage when refacing your kitchen cabinets.
Step 2 – Remove old hardware
Once you've prepared your tools and protective clothing, the next step is to remove your old hardware. Make sure to detach cabinet doors, drawers, and trims.
Apart from this, ensure that you've unfastened your hinges.
Step 3 – Examine damages
The third step on how to do kitchen cabinet refacing involves examining your hardware closely for damages. If you see holes or dents on your cabinets, make sure to fill them up with wood putty.
But if you don't have scratches on the surface, move on to the next step.
Step 4 – Sand your cabinet
If you've added wood putty on your cabinet, let it dry for a few minutes. Next, use sandpaper and sand your hardware gently.
You can start with the frames and then proceed to the sides of your cabinet. Doing this measure ensures that your new veneer will attach to the surface.
Using a sanding block is also a nice move to prevent dents and holes because it can distribute the pressure evenly on the surface. The next step is to wipe your cabinet clean using a damp sponge.
Wait for a few more minutes to allow the area to dry up completely.
Step 5 – Reface your cabinet
Next on our how to do kitchen cabinet refacing tutorial is the most vital step – refacing your hardware. For this method, you'll need to attach peel-to-stick wood veneer on your cabinet fronts.
If you don't have this material, you can also put a thin layer of contact cement between it and the cabinet's surface.
Remember to start horizontally and on the rails when applying the wood veneer.
Next, trim off the extra material and proceed with attaching it vertically onto the surface. Once you've covered the fronts, trim the excess again.
Reface the kitchen cabinet doors next. Start horizontally again, then vertically. You can also use veneer tape on the edges.
But you'll need a hot clothing iron when applying this material on your cabinet's surface.
Step 6 – Stain and finish your cabinet
If you're using raw wood veneer, you'll need to stain your cabinets. You can use a piece of cloth or a paintbrush to stain your hardware.
Apply a layer of coating on your cloth and start rubbing the edges of your cabinet followed by its openings and cabinet fronts.
Do this procedure again for the final coat.
Step 7 – Reattach hardware
Finally, attach the cabinet door and drawer back in place. You can also trim the excess veneer or install new drawers and hinges.
Considerations on How Do You Reface Kitchen Cabinets
The steps on how do you reface kitchen cabinets are quick and easy to follow. But there are other things you need to remember when doing this technique.
We've listed these essential must-knows before refacing your cabinets below.
Refacing needs careful attention to detail
Just like replacing your kitchen cabinets completely, you also need careful attention to detail when refacing. You'll also need a prior background in handling tools.
But don't worry because you don't have to be a master carpenter to get things done correctly. Even beginners can learn how to do kitchen cabinet refacing successfully.
Reface your cabinets only if you're already happy with your kitchen space
You should only reface your cabinets if you already like your current kitchen space. Apart from this, your hardware must be in good condition with only minimal scratches and dents.
So if your cabinets are in good shape, follow our how do you reface kitchen cabinets tutorial in the previous section. Otherwise, you'll need to replace your cabinets.
You can choose from various refacing materials
If you've wondered how do you reface kitchen cabinets, it's crucial to remember that you can choose from various types of veneers. You can get them raw or pre-finished.
Here are some of the usual materials you can purchase in the market:
Non-adhesive veneer
Peel-to-stick veneer
Plywood sheets
Non-adhesive veneers require contact cement to attach to your cabinet's surface. It can be quite messy, but we promise that it won't degrade quickly.
Meanwhile, the peel-to-stick veneer may not always adhere to your cabinet.
Lastly, plywood sheets compatible with wood glue are the strongest and most durable among the possible choices. But they're also the most expensive.
Do some research before purchasing materials
When you've asked yourself how do you reface kitchen cabinets, you need to remember that refacing takes some time.
You'll need to do some research, especially when it comes to your choice of wood veneer.
Apart from this, we also suggest purchasing your materials from one supplier only. Make sure to get precise measurements of your hardware to prevent issues later on.
Facelifting Your Kitchen Cabinets!
Kitchen cabinet refacing is an excellent way to make the most of what you already have. For those who are looking for a cost-effective renovation, this may be the perfect solution.
The problem with most cabinets is that they get old and dated over time. This means that if you want to make the most out of them, you have to replace them entirely.
In our guide on how to do kitchen cabinet refacing, you learned how you can undeniably make your space look more fresh and appealing.
It's also non-invasive, easy, and more affordable than replacing your kitchen cabinets.
With only a few tools, you can get the job done in a few days.
Good Luck with your kitchen renovation project!