If you wish to give your kitchen an instant facelift, learning how to make kitchen cabinet doors is quite necessary. You can update the overall condition of your kitchen space with this knowledge alone.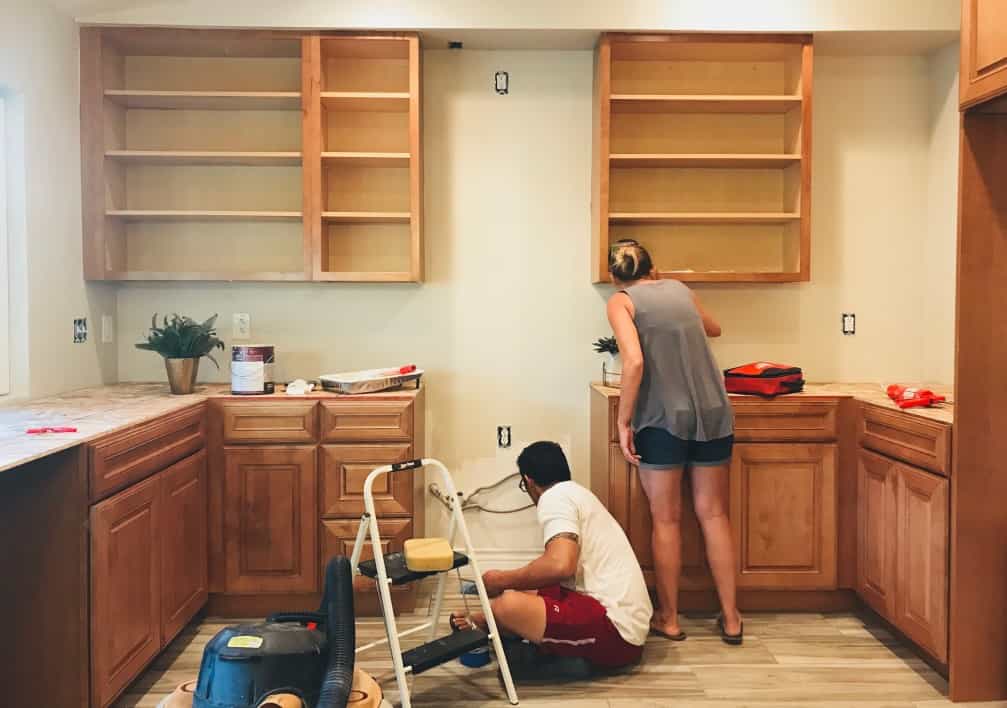 Not only can do-it-yourself kitchen cabinet doors save you money, but they can also better match your taste in design.
In this article, we will tackle the step-by-step guide on how to make kitchen cabinet doors.
Read the whole post and see if you can build one by yourself.
Step-by-Step Guide on How to Make Kitchen Cabinet Doors
Hiring professional builders to produce kitchen cabinet doors for you can be expensive. Labor costs usually reach up to 75 percent of the total expenses. Hence, learning how to make kitchen cabinet doors is quite rewarding.
The steps on how to make kitchen cabinet doors start with measuring your opening for the cabinet front.
Allowing a 1/8 inch gap on all sides is the proper way. If you find it difficult to imagine, visiting hardware stores can be useful.
Look at the displayed cabinet doors. You can also search online on how to measure the material correctly. Studying other people's work is one of the best ways to learn how to make kitchen cabinet doors.
Making sure that the woods are straight and flat is essential, regardless if you purchased them pre-milled or not.
When it has warped spots, you would not be able to make it flat. And so, you might not be able to hang your finished product properly.
Mill the wood about 3/4 inch thick. Cutting them to length and ripping them to width is next. When you crosscut the rails, make sure to check the measurement of both tongues as well.
Another step on how to make kitchen cabinet doors is to know precisely how wide grooves will be.
If you are constructing a tongue and groove cabinet door, cutting the grooves comes first. Just make them wide enough so that the plywood fits the panel of your cabinet door.
To do so, you should know the exact thickness of the plywood that you intend to use.
In case you are not aware, 1/4 inch plywood is not precisely 1/4 inch. It is mostly thinner, but it may vary from sheet to sheet.
You can determine how thick your plywood is by cutting it an inch wider and longer than the exact measurement you need for the door panel.
After that, remove at least 1/4 inch from the factory edges since plywoods are mostly extra thin in those spots. Once completed, measure it with a caliper.
Place your groove bit in your router table and fix them on the collet. On top of the bit, remove the nut using a wrench. After that, you should remove the bearing, stack of washers, and the top cutter.
The next step is placing more washers on top of the lower cutter. The thickness of your plywood will dictate how many spacers you need.
Referring to a router bit chart online can help you figure this out. When you finish placing spacers, reassemble the groove bit.
The lower cutter should be at least 1/4 inch above the router table when you position it.
Construct rails and stiles
Marking the wood is necessary to reduce the risks of committing errors.
Making the face of the piece distinct is a must to avoid accidentally turning it upside down. Doing so can also help you recognize the right from the left stile.
Many cabinet makers follow a standard technique. What they do is mark each piece of wood with a portion of a triangle. These marks extend up to the inside edge of the wood.
Rout the tongues and grooves
Mastering the process of cutting the grooves and tongues is necessary. If you cannot do it straight, it would be challenging to build fully-functional cabinet doors.
Beginners may use a feather board to tighten the wood in the router table. Your grooves' face should be down, while the inside edges should be against the fence.
You may use a test piece first to make sure you can pull it off. As for the tongues, you should place the same amount of spacers you use in your grooves.
It can help guarantee that the pieces will fit. You have to use a coping sled for the tounges, so you either buy or make them yourself.
You can measure the door panel by measuring the distance between the rails and stiles. Adding the depth of the grooves comes next, and subtracting 1/16 inch for clearance follows.
This step can be quite tricky. So to align the joints correctly, glue one of the stiles to the rails first. Once done, put the other one in place and measure from corner to corner.
Doing so can help you check if you did the process accurately. The measurements should be identical so the final result would appear like a square.
Once done, glue the door panel to the stiles and let it dry overnight.
How to Adjust Kitchen Cabinet Doors
Misaligned, bumping, and scraping kitchen cabinet doors can be vexing sometimes. Fortunately, easy and cheap adjustment solutions are available to eliminate these nuisances.
Here is a detailed step on how to adjust kitchen cabinet doors.
Check the mounting screws
Most of the time, cabinet doors do not function properly because of their mounting screws.
Checking them is the first step on how to adjust kitchen cabinet doors. You should open the cabinet front and assess the hinged attached to it.
If the mounting screws are loose, you should tighten it, and it would properly work again. To do so, you only need to turn the screws clockwise.
Make an up or down adjustment
Tightening the mounting screws often solves the problem with misaligned cabinet doors. However, if it does not work, the next step on how to adjust kitchen cabinet doors is to find another screw.
Look for the tool that controls the up or down adjustment of your kitchen cabinet doors.
In case you do not find anything, you should loosen the mounting screws on the hinges instead. After that, adjust the kitchen cabinet doors to your desired height, and tighten the screws again.
Make a left or right adjustment
If the step on how to adjust kitchen cabinet doors fails, make a left or right adjustment. Align the cabinet doors with adjacent cabinet fronts or cabinet box edges. You can also tweak the placement of the hinges.
Make an in or out adjustment
The step on how to adjust kitchen cabinet doors does not end on left or right adjustment.
If it does not work, you should consider modifying it from inside and out. A depth adjustment screw will do the trick.
Use it to move the door in and out of the cabinet box. You should know that wood doors tend to warp a little due to changes in humidity.
Hence, they might pull away from the cabinet box instead of meeting it when you close the doors.
If this happens, adjust the top or bottom hinges. It will depend on what part the doors do not meet. If it is the top, modify from the top.
Otherwise, do the complete opposite.
Test the kitchen cabinet doors
Of course, the final step on how to adjust kitchen cabinet doors is testing them.
When you make minor adjustments, assess them to see if you are heading in the right direction. If you tweak it without checking every once in a while, you might go in circles.
In other words, ways on how to adjust kitchen cabinet doors are a trial-and-error process.
You have to master the art of fine-tuning. Once you do, altering kitchen cabinet doors or any other materials would be a no-brainer to you.
Upgrade Your Kitchen Cabinet Doors
The techniques on how to make kitchen cabinet doors are easy to follow. As long as you incorporate every step, you can never go wrong. Just make sure not to rush the measurement process so the cabinet doors can fit in your kitchen.
The design does not matter if your measurements are not precise. It is not all about aesthetics but also the functionality.
To avoid wasting your time and resources, studying others' woodworks before carrying on is a smart choice.
Although do-it-yourself kitchen cabinet doors are cheaper, they can also be expensive.
If you do not decide what cabinet door you want beforehand, you might repeat the process.
Find one that fits both your criteria and your home's interior.