The color of your kitchen cabinet paint can dictate the overall theme of your kitchen. Hence, it is important to choose a paint shade that goes well with other kitchen elements.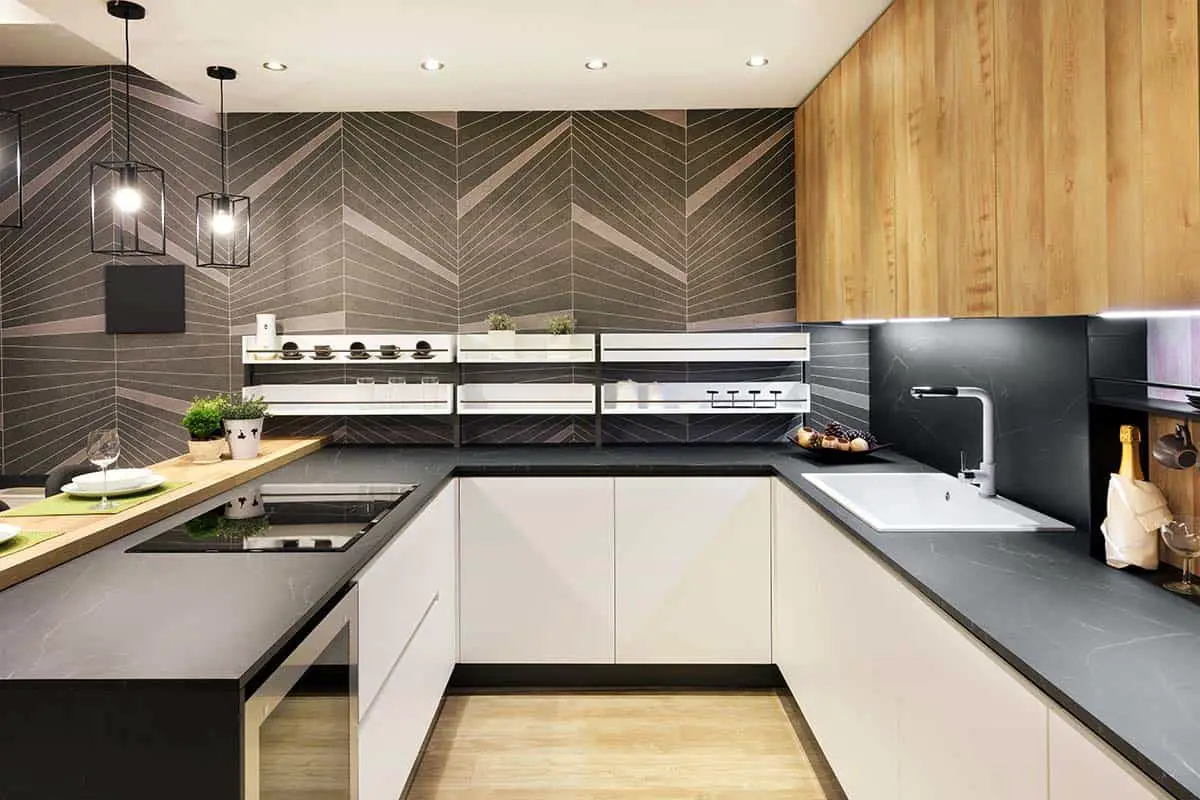 Top Kitchen Cabinet Paint Colors
Revamping your kitchen is all about creating an atmosphere that boosts comfort and relaxation in the workspace. One of the most important elements that impacts the kitchen's mood is your choice of kitchen cabinets paint.
While there is a myriad of things to consider, having an excellent color choice can save you from future headaches. Different colors have different effects.
If you're not sure where to start,
here are some kitchen cabinets paint colors for some inspiration:
Because of the classically contemporary look it offers, gray remains a favorite kitchen cabinet color for many homeowners.
It's also a highly versatile color that goes well with many other colors. Depending on the look you're going for, you can choose between a cool and warm undertone.
White is a classic color that gives a crisp and clean appearance. It also never goes out of style and can elevate your kitchen's style effortlessly.
You can create a multitude of looks with this color, along with contrasting elements as a perfect accent.
If you're going for a joyful and vibrant kitchen atmosphere, the best choice is a sunny yellow hue.
Depending on the shade, you can create both a modern and vintage look with this color. Regardless, the yellow hue uplifts a welcoming and cozy kitchen that will boost your mood.
Add a touch of glamour to your kitchen cabinets paint with a combination of gray and beige. Greige is a popular neutral color for kitchen cabinets.
Its undertones go well with warm hues and kitchen features with vibrant colors.
Wood and white is the best color combination if you're going for a two-tone kitchen cabinets paint color.
Unlike the common course of the way to choose bold colors, this subtle contrast creates a dynamic appearance. It also creates a timeless appeal that goes perfectly with the typical kitchen elements.
For a bold and sophisticated look, you can opt for charcoal gray. It has a sleek finish that creates a deep and mysterious vibe.
It's perfect to match with stainless steel appliances and crisp white walls, adding depth to the kitchen's overall look.
The classic blue kitchen cabinets paint takes the focus in the kitchen without being overwhelming. You can match it with a plethora of colors such as white, cream, black, gray, yellow, etc.
Depending on the color combination, you can create a coastal look, modern look, and vintage-wise look. The color offers a cool comfort that is an eye-candy.
Earthy green offers a sandy neutral look that enhances other elements' hues in the kitchen. It provides a delicate vibe that offers comfort and solace to the eyes.
Its mild shade will undoubtedly boost your relaxation while working in the kitchen.
Warm Taupe is a blend of brown and gray with various undertones.
With its mellow look, it is a timeless and versatile color for the kitchen. It's best to combine warm backsplash and countertop colors to amplify its neutral hue.
You can never go wrong with pastel for kitchen cabinets paint. This charming shade brightens and softens the strong elements in the kitchen.
You can combine it with bronze hardware and fixtures to create a vintage look.
Go for an inviting charm with eggshell kitchen cabinets. This shade is best to combine with rustic accents of aged metal and wood.
You can also add some touch of vibrant colors to other kitchen elements for a distinct kitchen personality.
The deep purple shade offers a royal look that is best for displaying vintage silverware. Aside from its regal aesthetic, it also creates a calm and relaxing atmosphere in the kitchen.
Finally, we can't leave out the black color when we talk about kitchen cabinets paint. It creates a modern and sleek appearance without seeming boring.
With the right color combination, black will add the perfect touch of elegance to your kitchen.
Kitchen Cabinets Stain vs Paint: What's the Difference?
Aside from the color, another important element of painting kitchen cabinets is the finish. As early as now, you must have an idea of the difference between kitchen cabinets stain vs paint.
If you're not aware of the difference between the two, this guide will help you become an expert on identifying them.
Here are the primary differences between kitchen cabinets stain vs paint:
Stain
Here are the main features of stain:
Natural look

Low-cost supplies

Easy-to-apply

Non-resistant to water

Shows less dirt, more dust

Lasts 20 to 30 years

Washable and not prone to crack
Here are the pros and cons of stain in kitchen cabinets stain vs paint:
Using stain, you will be able to showcase the wood features of your cabinet with its texture. It seeps deeply into the cabinet surface, elevating its distinctive features.
Moreover, you can easily touch it up since there are available stain touch-up markers, even for grained wood. The stain also costs less than the paint.
Because it seeps into the cabinet surface, it shows all the blemishes and imperfections of the wood. The stain also doesn't go well with MDF exteriors because it doesn't give an authentic wood look.
Paint
Here are the main features of paint:
Modern look

High-cost supplies

Less forgiving

Water-resistant

Shows more dirt, less dust

Lasts up to 10 years

Non-washable and crack prone
Here are the pros and cons of paint in kitchen cabinets stain vs paint:
Unlike stain, using kitchen cabinet paint offers a crisp and clean kitchen aesthetic.
As a result, it provides a smooth and flawless finish to your kitchen cabinet. You also have more color choices to customize depending on your preference.
Furthermore, paint adheres excellently to MDF. It is great news since MDF is the common material used for kitchen cabinets.
Since you're masking the entire cabinet surface, paint hides the wood's distinct features and character.
Hence, if you want to see distinctive grains on your painted kitchen cabinets, you're in for a disappointment. It's also more challenging to touch up since different paint hues and shades differ.
Finally, pain costs significantly more than the stain.
About Kitchen Cabinet Stain and Paint
Now that you have an idea of the difference between stain and paint, let's look at some common concerns around them.
Here are some answers to the frequently asked questions about kitchen cabinet stain and paint:
Which is best for MDF?
Kitchen cabinet paint is best for refinishing MDF cabinet surfaces. Since it is paint-grade and non-wood material, it's not advisable to use stain for its surface.
Which is best for hardwoods?
For making the wood grain stand out, it's best to use stain for refinishing hardwoods like oak. You can also use paint but note that it will hide the features of the wood.
Which is best for softwoods?
Standard cabinetry that uses softwood like Cedar looks best when you paint them. Just make sure to use a high-quality primer to prevent the paint from bleeding through the wood.
Which is best when refacing cabinets?
You can use both paint and stain for refacing the existing wood of your kitchen cabinets. But often, the material used for refacing is a wood veneer that comes in different colors and grains.
So it will be up to you if you still want to paint or stain its surface.
Can I paint over stained cabinets?
Yes, you can paint over stained cabinets with the apt preparation process. It would include a thorough cleaning, sanding, and priming.
You may also need to strip the varnish off, depending on its condition. These procedures will ensure that the paint will adhere to the surface of the cabinet.
Can I remove kitchen cabinet paint to stain?
Yes, you can remove the kitchen cabinet paint to transition to stain. Removing the entire paint involves stripping and sanding the surface down to its bare wood.
After accomplishing this, you can proceed to the staining process.
Are stain and varnish the same thing?
It's common to confuse these two products. However, stain and varnish are two different products.
Here are their distinctive differences:
Stain
Enhances the features of the grain and hue

Seeps into the surface
Varnish
Lessens grainy appearance

Sits on top of the surface

Can either be glossy or flat
Choose the Right Kitchen Cabinet Paint
Your kitchen cabinets take a huge space in your kitchen. As such, it's crucial to recognize kitchen cabinet paint colors that will complement the theme of your kitchen space.
Depending on your personal preference, you can either go for a vintage, modern, or vibrant look.
By carefully identifying the impacts of different colors, you can choose a paint color that goes perfectly for your home.