Looking for ways to renovate your kitchen? The easy way to transform the kitchen quickly is by painting it with new color or finish.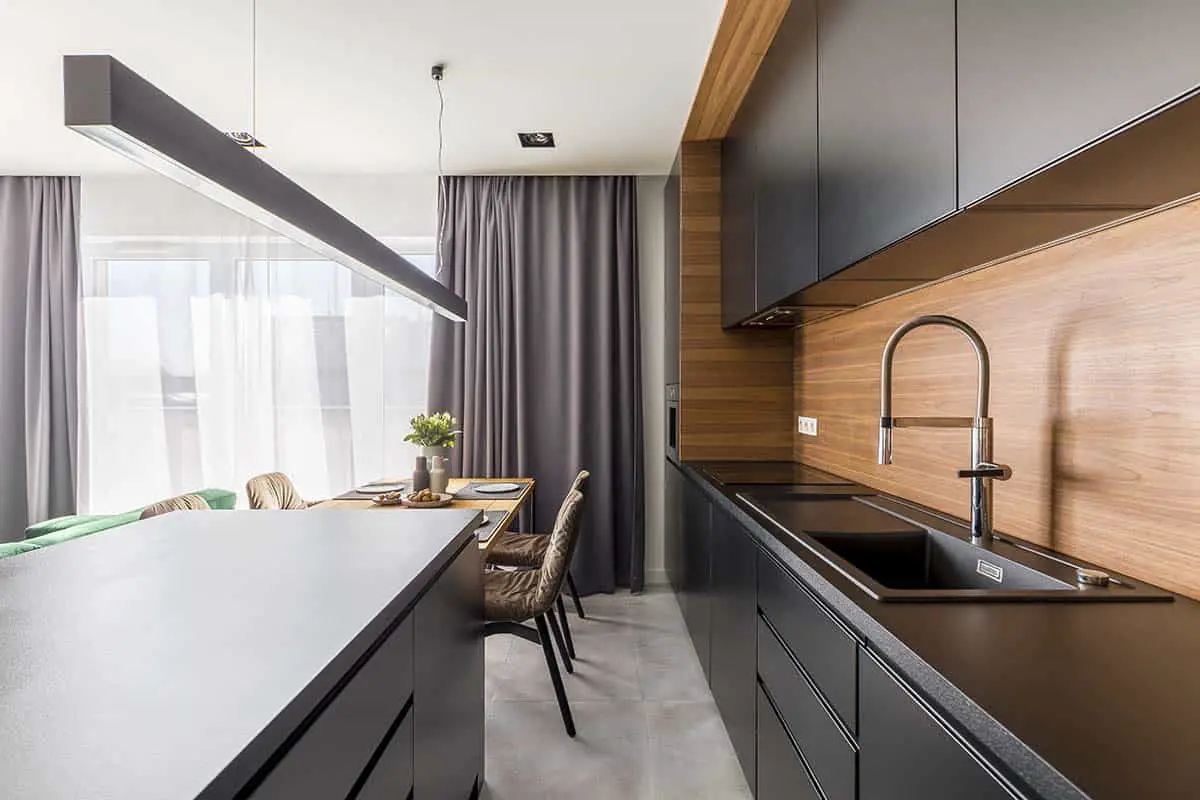 Instead of buying a new cabinet, it would be best to do a DIY project. If you want a cost-effective method of kitchen transformation, then painting is the way to go.
This article will guide you in deciding what is the best kitchen cabinet paint.
What Is The Best Kitchen Cabinet Paint
Painting the kitchen cabinets is one of the most cost-efficient ways to do a kitchen makeover. Before we dive into which paint is best for kitchen cabinets, let us know first what type of paints must be used for cabinets.
You will also learn what is the best kitchen cabinet paint that suits your cabinets or furniture.
Type of Paints for Your Kitchen Cabinets
Before painting your cabinets with new coats, the different options of paints can be overwhelming. Besides that, there are different sheen of paints, which is the level of shininess.
To help you in selecting what is the best kitchen cabinet paint. Learn these types of stains suitable for your cabinets.
What is the best kitchen cabinet paint? This paint is one of the most accessible dyes for your cabinets.
You can quickly find this in local stores. Besides, this paint is highly recommended to be utilized for furniture and wooden decorations.
However, the con of this paint is it is not suitable for cabinets that are frequently used due to its low scratch-resistance.
What is the best kitchen cabinet paint for small DIY projects? Acrylic paint is a water-based tint that gives a lively color and smooth finish.
Plus, it is water-resistant and easy to clean. Acrylic also has a high permanence and can dry quickly.
Which paint is best for kitchen cabinets with antique style? If you want to make your vintage cabinets more unique, chalky paint works the best for this furniture.
It is a combination of water and latex in one tint. In using this dye, you can quickly build up the texture and color.
It can also stick in your cabinets without priming or sanding and has a matte finish. However, it is not that accessible compared to other paints.
Of all types of paint, an oil-based dye is the most reliable and durable. It can even cover a kitchen cabinet with one layer.
This paint can offer a nice-looking finish and can protect the cabinets. However, this stain is more expensive than other dyes.
If you opt to utilize a non-toxic stain for your cabinets, then go for milk paint. It is made from milk protein and has a thin texture.
Nowadays, people are into eco-friendly dyes because they have no chemicals.
Different Type of Cabinet Finishes
Through the last application of paint or laminate, you can achieve the finish you want for your kitchen cabinets. It may also rely on the material of your cabinets, but layering the paints can help.
Here are some choices you might opt to try on your cabinets to discover what is the best kitchen cabinet paint.
If you are looking for which paint is best for kitchen cabinets, search for paints with high durability. This type of finish can provide durability for areas with higher traffic.
This includes front doors, trim, and kitchen cabinets. High gloss finish paints are ideal on the interior and exterior of your home.
Before purchasing this type of paint, imperfections of surfaces can be more visible in this finish.
Which paint is best for kitchen cabinets? Semi-gloss finish paints are suitable for areas with moisture, such as the bathroom and kitchen.
The illuminating factor in this type of finish is convenient in multiple spaces.
Although it can slightly show imperfections of walls or furniture, this dye is easy to clean.
What is the best paint for kitchen cabinets with less shine? If you are into matte and velvety types of paint, a satin finish is for you.
This is strongly recommended in places for activities, such as playrooms, laundry rooms, bedrooms, and kitchen.
It is also long-lasting and durable, which is suitable for high-moisture environments.
If you want to conceal the imperfections, find what is the best paint for kitchen cabinets that can hide flaws. This type of finish can be useful for hiding imperfections with a smooth and subtle look.
This has a lower-reflectivity and illuminating effect while delivering elegant sheen. However, it cannot be easily clean like glossier finishes.
In this kind of finish, there is no shine or sheen. You cannot even notice the fingerprints and scratches in the flat finish.
This paint is suitable for ceilings or offices. But cleaning a flat finish can be daunting and challenging.
Top Picks for The Best Kitchen Cabinet Paints
Choosing paint for kitchen cabinets can be a daunting task. To help you in selecting, we are here to provide what is the best paint for kitchen cabinets.
Insl-Cabinet X's Coat is known as a trim- and cabinet-only coating, excellent for treating surfaces with adhesion issues.
The urethane-acrylic composition of the Insul-X Cabinet Coat facilitates more fantastic sticking properties compared to other paints.
What is the best paint for kitchen cabinets that can easily dry? This coating can also dry quickly, even on a hard surface.
Besides that, it can lay excellently on challenging and rough surfaces such as melamine and Formica. In a white enamel that is primed, the Cabinet Coat comes in.
The proper thin coating and self-leveling properties make it look excellent. Finish when the kitchen and bathroom cabinets, shelving, chairs, trim, and crown molding are refurbished.
Johnstone's One Coat Quick Dry Satin Paint
This not-quite-matt Johnstone's One Coat Fast Dry Satin Paint is somewhere between the shabby chic finish of Upcycler's preferred chalk paint and the typical white gloss finish.
People who have tried and used this satin dye were impressed by its performance, noticing that it can cover evenly in one layer of coating.
It looks a bit like silk, too, as luck would have it, with what the DIYers said was a lovely sheen and a perfect finish.
The wash-clean, non-smudging finish, also was recognized by longer-term users. If you want a satin finish for your kitchen cabinets, this is the most appropriate paint.
Behr Alkyd Semi-Gloss Enamel Paint
Are you looking what is the best paint to paint kitchen cabinets that is scratch resistant?
This dye is designed for surfaces that require durability, resiliency, and washability, similar to the Valspar Cabinet Enamel.
The consistency and durability of an oil-based paint blend BEHR Urethane Alkyd Semi-Gloss Enamel with water-based paint's simplicity and comfort.
With quick water clean-up, this professional-quality finish provides excellent flow and leveling.
Conventional alkyd paints dry to a hard, glossy finish in approximately five days by solvent evaporation and oxidation cure unmatched by latex paints.
This makes alkyds ideal for interior trims, doors, cabinets, and other areas requiring smooth durability.
Behr Alkyd Semi-Gloss Enamel is a reliable, durable cabinet paint found at all Home Depot stores and is self-leveling.
When you want to manage project costs, this painting is a good option but ensures quality.
Discover what is the best paint to paint kitchen cabinets by learning the finish you want for your cabinets.
This Dulux Fast Dry Satinwood Paint is available in 20 colors and accessible in different hardware stores. It would be a pleasant kitchen transformation for anyone who wants to achieve a clear and glossy finish.
According to recent studies, its advanced water-based formula continues in a thin consistency. Search for what is the best paint to paint kitchen cabinets by researching advanced formulation.
It has high-coverage coats. And consumers definitely loved its smooth, illuminating, and slightly lustrous finish with a tough coating that can resist the adversity of life inside a bustling kitchen.
On that front, the properly fast-dry formula of this Dulux cupboard paint is also a blessing, ensuring that after painting your kitchen cupboards, you can get on with life as quickly as possible.
Valspar Cabinet Enamel Semi-Gloss Latex Interior Paint
What is the best paint for kitchen cabinets that can produce a visually-appealing finish?
The Cabinet Enamel of Valspar is a cabinet-specific latex paint that acts like a paint based on oil. Valspar Cabinet Enamel is an oil-enriched latex interior color.
Oil is one of the most fantastic ingredients in paints that have long produced streak-free surfaces.
Most oil-based paints can still be bought, but in small, one-quarter quantities only. This paint does not need petroleum products, such as turpentine for clean-up.
What you need to use in this product in warm water and soap.
Shabby Chic Chalk Based Furniture Paint
Do you want the most excellent paint for an old-fashioned and chalky finish in the kitchen cupboard?
The diverse appearance of this stain is known more than ever because of its finish delivery.
The shabby chic look is best achieved using furniture pieces and a few coats of Rust-Oleum Chalky Finish furniture paint.
People seemed stirred by its antique appearance. It also has almost velvet and a flat finish.
Despite the issues regarding its tin sizes, people noticed that a little amount of this paint can get for an extended period.
Metallic pink, Liquorice, Nautical Blue, and Antique Champagne Gold are some of the most recommended paints by other people as the ideal paint for kitchen cupboards.
Choosing The Right Kitchen Cabinet Paint
There are multiple paints available in the market, which confuses the consumers. This article aims to assist you in selecting the best paint for your kitchen cabinets.
Take note that there are different types of paint and finishes for your furniture or kitchen cabinets.
Transforming your kitchen should not only be cost-efficient but aesthetically-appealing. Before painting, do research on which paint is the best for kitchen cabinets.
Know what type of furniture or cabinet you need to paint before purchasing paint. And, choose a color or tint that suits the look you want for your kitchen.
Ensure to clean the working space or area before and after painting.