Do I need to hire somebody for a kitchen cabinet refacing near me? Nowadays, doing home makeovers yourself is a preferred choice. However, the help of a professional is sometimes necessary to ensure the best result.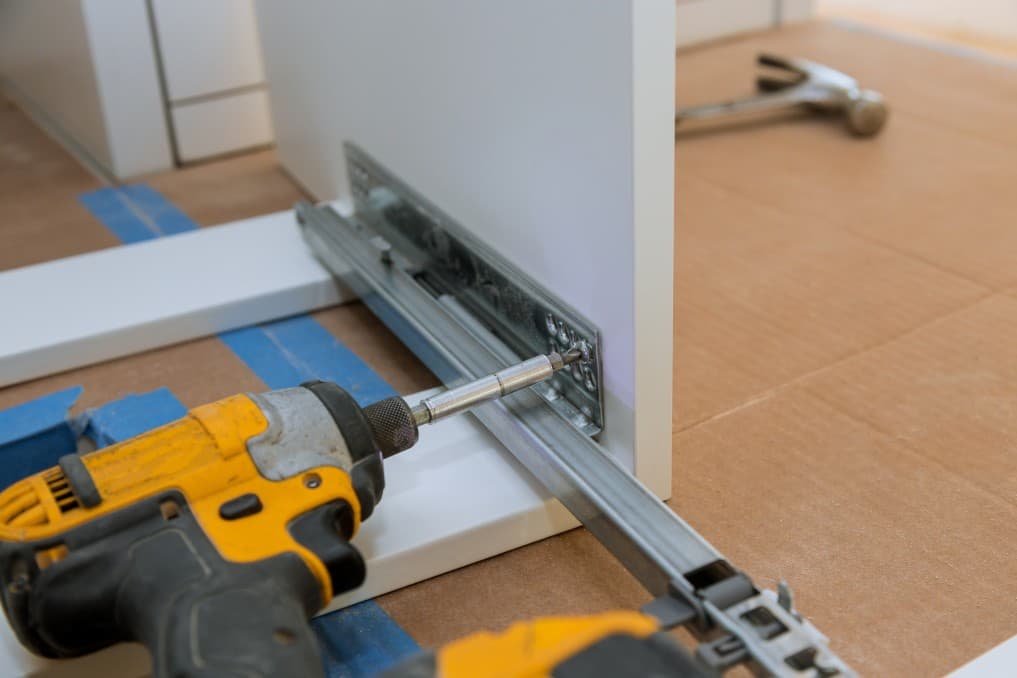 If you're looking for kitchen cabinet refacing near me, it can be difficult to find qualified professionals.
We all know that hiring the right professional for your home improvement project can be a challenge. It is important to get the best results and avoid costly mistakes.
There are many qualified professionals available, but finding one in your area can be difficult. You may have to call around and visit several companies before you find what you're looking for.
This process takes time that could be better spent on other aspects of your project.
The good news is that we have put together a list of tips and tricks to help you hire the right professional for your project.
Read on and get some ideas about how to streamline the process!
What is Kitchen Cabinet Refacing & How Does it Work?
Kitchen Cabinet refacing is also known as kitchen cabinet skin replacement. This process comprises removing the drawer and door fronts of a cabinet.
After which is the application of a new veneer to the existing surface of the cabinets.
Moreover, you may also replace the hardware of the cabinets during the process. These include the cabinet hinges, drawer pulls, handles, and knobs.
The process of cabinet refacing may vary, but these are the general steps of the process:
Remove cabinet doors and drawer fronts.

Cover the front portions of cabinet boxes with refacing materials such as rigid thermofoil or natural wood veneer.

Skin cabinet sides with laminate or wood veneer.

Add new door hinges. However, you may reuse hinges in good condition.

Install new drawer fronts and doors.

Install new fixtures such as knobs, drawer pulls and handles. However, you may reuse existing hardware.

Add optional accessories such as lighting, crown molding, glass panels, or storage accessories.
Why should I hire contractors for kitchen cabinet refacing near me?
Nowadays, homeowners have been getting into do-it-yourself home makeovers. DIY home improvements can help you save money. Furthermore, there are endless resources available for those who want to do the process themselves.
These resources include but are not limited to online how-to videos, step-by-step instructions, and books.
However, there are also a lot of reasons to hire professionals for kitchen cabinet refacing near me.
By hiring professional contractors, you can save time.
A professional kitchen cabinet refacing contractor may need two to four days to finish the refacing job. The required time depends on the size of the kitchen.
Their schedule will look most likely be:
On the first day, remove doors, drawer fronts, and hardware. Begin installing veneer.

On the second day, continue veneer installation.

On the third day, finish veneer installation. Install drawer fronts, new doors, and hardware.
Since they know what they are doing, they do not need extra time as room for error. However, a regular homeowner may take a week or more for the refacing job.
Because of that, you cannot use your kitchen cabinets for long periods.
Professionals in kitchen cabinet refacing near me have enough experience and the right knowledge.
Since these contractors are trained professionals, they developed the right skill set necessary to produce quality output.
These professionals possess the credentials to prove that they are the right people for the job. Most of these contractors have been in the business for years.
Thus, they know how to get the job done in the most efficient way possible.
Professional contractors for kitchen cabinet refacing near me have qualified team members to complete the job.
One thing most homeowners do not know is that support teams are necessary for a refacing job.
A professional cabinet refacing requires competency and the best performance from each team member.
You can ensure the best service delivery if every team member is well-trained and familiar with local building regulations.
Contractors for kitchen cabinet refacing near me have access to the appropriate equipment and materials.
Kitchen cabinet refacing requires not only paint and a hammer. Depending on your desired results, you will need a set of tools to achieve your goals.
Most of these tools are not readily available in your home, so you would have to purchase them. These tools are costly since contractors use them for professional job orders.
Thus, DIY kitchen cabinet refacing may cost you more than you think.
However, experienced and reputable contractors own all the tools you need. Established professionals for kitchen cabinet refacing have complete access to necessary materials and equipment.
Hiring them will ensure that your kitchen cabinets will look just as you want.
Cabinet professionals for kitchen cabinet refacing near me have access to a variety of options.
Experienced cabinet refacing contractors have handled numerous challenging situations. In most cases, they have encountered refacing jobs more difficult than yours.
Since they are very experienced in their field, they know the best route for every situation. Thus, you can rely on them when it comes to options regarding cabinet colors and finishes.
Furthermore, these professionals have seen countless kitchens. Thus, they know how to reface a cabinet that blends well with the rest of the room.
Their experience in the industry has gifted them an extra touch of creativity to meet your unique demands.
How do I choose the best contractor for kitchen cabinet refacing near me?
Now that we have convinced you that you need a professional contractor for your refacing job, it is time to choose one. There are hundreds of contractors in your area, and it is crucial to pick the best one for you.
Know the available options in your area.
You may ask your neighbors who their contractor was for their recent kitchen makeover. You may also read the local newspaper for some contractor listings.
You may also consult reputable websites for reviews of local contractors. Some of these websites are HomeAdvisor, Houzz, Amazon Home Services, Pro Referral, and Better Business Bureau.
Look for a contractor with financing plans.
Financing plans will be of big help if you have a tight budget for cabinet refacing. Some professional contractors offer no-interest financing to help you with the costs.
Ask potential contractors regarding their payment plans to know what they can offer.
Search for established contractor professionals with years of experience.
It is easier to trust a cabinet refacing professional if they have been in the business for a long time. Ask potential contractors how long they have been doing makeovers to gauge their capabilities.
Although young contractors may be as proficient, going for a veteran contractor will be the safer choice.
If you wish to go with a less experienced contractor, make sure to ask around and interview their past clients. Check if they were able to meet the past clients' demands.
If there were no problems with their past contracts, hiring them is then considered safe.
Set an interview before hiring.
Before hiring a contractor, set a meeting to talk to them. This interview will help you get to know them better.
Some questions to ask them are:
Do you take suggestions from clients?

Can you achieve my design concept?

Can you devise a plan according to my given timeframe?

Are you willing to work collaboratively?

Do you have a Plan B in case the first plan does not work out?
The right contractor will answer these concerns professionally. Knowing that the contractor will listen to your suggestions is a crucial thing to keep in mind.
Some contractors prefer doing things their way and tend to disregard the opinion of the homeowner.
By clarifying their willingness to work with you, you can prove that they can help you with your goals. This interview will ensure that both parties are on the same page.
Hire The Best Professional For Your Kitchen Cabinet Replacement
Do I need to hire somebody for a kitchen cabinet refacing near me? You may be thinking about hiring a contractor for your kitchen cabinet refacing project. But you aren't sure if it's the right decision for you.
Before deciding on whether or not to hire a professional, there are several things that should be considered carefully.
The best option depends on your needs and budget so make sure that you know what kind of kitchen remodel will meet your requirements before deciding who will do it.
If you wish to hire a professional contractor, follow the pointers listed above.
Doing so will ensure the best results for your kitchen makeover!