Kitchen remodeling is a big task for many homeowners. It can be expensive, time-consuming, and stressful to undertake a kitchen renovation project. Not every kitchen remodeling needs cabinet replacement.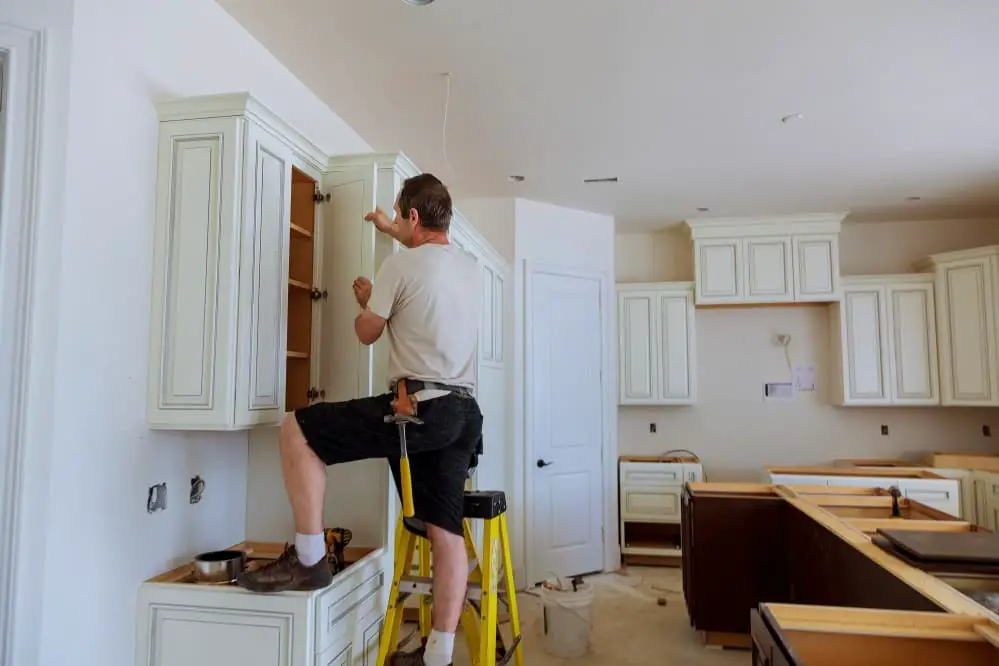 Often, the answer to switching up your kitchen is through kitchen cabinet refacing. If your cabinets are still in excellent shape, it would be a waste to scrap them up.
Fortunately, refacing can dramatically change your entire kitchen's vibe along with its many benefits. Kitchen Cabinet refacing will change the entire feel of your kitchen with minimal fuss or expense on your part.
You remove all of your old kitchen cabinet doors and drawers then replace them with new ones that match or complement each other perfectly!
You'll have brand new-looking kitchen cabinets without having to spend thousands on completely rebuilding everything from scratch!
The Ins and Outs of Kitchen Cabinet Refacing
To start, what exactly is the process of kitchen cabinets refacing? If it's a new term for you, it may be quite confusing to differentiate it from other cabinet remodeling processes.
Essentially, kitchen cabinets refacing is the process of replacing the "skin" of the kitchen cabinet's body.
Refacing kitchen cabinets often requires a professional since you need to have extensive knowledge and skill about its process.
From identifying different wood veneers to applying them, it can be a highly tedious project. As such, depending on your kitchen's size, it may take around three to five days to accomplish it.
It's best to give the whole procedure a full week of commitment if you choose to do it yourself.
To clear some questions in mind, here is the usual process of kitchen cabinets refacing:
Step 1: Measure
To ensure precise application, taking the cabinet measurement is the first step in kitchen cabinets refacing. You can easily do it by yourself or have a professional do it as part of the labor portion.
Step 2: Remove the doors and drawers
Next, you will have to remove the kitchen cabinet doors and drawers to give way to the veneer application. If they are still in good condition, you can simply set them aside for reinstallation.
But if you're also planning to replace them, it's best to donate them to recycling hubs.
Make sure to remove all the content of the kitchen cabinet before removing these to avoid the hassle. Depending on the size, this step typically takes one to two hours.
Step 3: Apply the veneer skins
The veneer application is the actual kitchen cabinets refacing step. It involves applying the new veneer skin of your choice to the cabinet face frame and box sides.
This step is time-consuming since it requires accuracy and keen attention to detail from cutting the veneer pieces to application.
There are generally two ways to apply veneer skins. One is through the use of adhesives like contact cement. Meanwhile, other veneers are available with a peel-and-stick function.
You will need to use a roller to ensure that the skin adheres to the cabinet surface.
Step 4: Reassemble the Drawers and Reinstall the Doors
After ensuring that the veneer skins are covering the entire frame and box sides, it's time to reassemble and reinstall.
Again, depending on their condition, you may need to install new drawers and doors or just reinstall the existing ones.
If the case is the former, then expect to adjust your budget for the project for purchasing the new hardware. If the case is the latter, you may also reface the doors and drawers with the same veneer skin.
Step 5: Add hardware and optional accessories
After securing the doors and drawers, don't forget to install the handles and pulls. Moreover, you can add optional accessories to further revamp your newly-refaced kitchen cabinets.
These accessories can include:
Glass panels
Lighting
Crown molding
Storage accessories
Step 6: Clean up
And for the final step of kitchen cabinets refacing, always make sure to clean up. The process of kitchen cabinets refacing can be a cause of leftover dust particles.
Make sure to use a vacuum to get rid of any dust particles and wipe the cabinet surface clean. For the best results, make sure to use a tack cloth along with a water and liquid detergent mixture.
Kitchen Cabinet Refacing Costs and Options
Kitchen cabinet refacing can transform your existing cabinets in a way like no other. While it is a smart and cost-efficient project, it's not for every kitchen and cabinet situation.
It is a smart and cost-effective way to refresh an outdated kitchen without breaking the bank. It offers a fast return on investment with a small upfront cost.
If you are looking at kitchen cabinets refacing costs and options, it means that you have already decided to redo your kitchen.
But how do you know if the cabinet refacing option is right for your situation? Let us help!
But there are many factors that go into deciding whether or not refacing makes sense for your home. Here we break down all of those factors so you can make the decision that's best for you!
How Much Does Kitchen Cabinet Refacing Cost?
Now, let's talk about the numbers. In essence, depending on the condition of your cabinet, you may end up paying less or more in a refacing project.
Typically, kitchen cabinet refacing costs half as much as installing new custom cabinets. And when compared to purchasing stock cabinets, you'll only spend around 70 to 80% of it when refacing.
The average cost of kitchen cabinet refacing plays around $6,000 to $20,000 depending on various factors. It includes the $250 per linear foot average of labor cost when you opt to hire a professional.
What Are The Best Kitchen Cabinet Refacing Options
Since there are different kitchen cabinet refacing options, it's helpful to have a clear idea of their feature and cost differences. There are many options for refacing kitchen cabinets.
You can do a major renovation or a quick and simple update. The most important thing is that the end result will have you feeling like you just built new cabinets!
Plastic laminates are a sturdy and durable option under certain conditions. If not exposed to moisture, it can live up to 40 years without replacing it.
It's also one of the most affordable choices, costing around $60 to $70 per linear foot.
Medium-Density Fiberboard (MDF)
MDF is one of the most popular options for cabinet refacing with its flexibility and price. It only costs around $70 per linear foot and comes with varying thicknesses.
However, note that it is inferior when it comes to quality among all other options.
For large coverage, a wood veneer is a way to go as it can cover large cabinet areas. It's also thick and doesn't require the use of nail holes.
However, you need to ensure that the application is seamless and precise. Wood veneers cost about $80 to $100 per linear foot.
At a price of $200 to $500 per linear foot, solid hardwood is the most expensive and difficult to work with.
It requires professional skill to properly apply to an existing kitchen cabinet for the best result. The good news is that you have many sizes, wood species, and grains to choose from.
Plywood is another popular option for kitchen cabinet refacing. It costs around $100 to $150 per linear foot and is applicable for all cabinet areas.
But because this veneer option is thin, there is a risk of delaminating when exposed to moisture.
3D laminate is becoming a popular refacing option for kitchen cabinets with its various benefits. Its price ranges from $80 to $100 per linear foot.
Aside from being very easy to install, it's also easy to maintain as it is scratch-resistant and has realistic grain. While it is on the pricey side, it can be a great investment to opt for 3D laminate in the long run.
The Pros and Cons of Kitchen Cabinet Refacing
Like with other projects, kitchen cabinet refacing comes with both pros and cons. Weighing these advantages and disadvantages will help you decide whether it is the right option for your kitchen remodeling.
Since there are lots of other ways to remodel kitchen cabinets, this will help you a lot in your choice. Furthermore, it will give you a clear picture of what to expect and prepare for in doing the project.
Without further ado, here are the pros and cons of a kitchen cabinet refacing project:
Pros
Refacing offers many options for styles and designs. You can choose from various options of veneers for both natural wood and laminate.

While it will still cost you some dime, refacing lessens the cost of purchasing brand new custom cabinets. In fact, you can save half as much with refacing so long as your current cabinets are still in mint condition.

It allows you to retain the layout of your kitchen if you wish to do so. It's perfect if the only aspect you want to switch up in your space is the cabinets.

It saves resources, especially if your current kitchen cabinet is still intact and in good condition. At the same time, it allows you to be flexible on how you want your cabinets to look like.
Cons
Refacing is not the best remodeling route if you want to change the layout of your kitchen. For example, you can't add an extra countertop space with refacing.

Note that refacing doesn't include remodeling other cabinet hardware. Hence, you will have to buy new doors, fronts, hinges, drawers, etc. separately. So you may or may not save as much depending on the scope and goal of your project.

It does not include other storage feature updates such as adding shelves. As such, you will need to pay for storage construction and addition separately.

Depending on your choice of veneer, it might need to undergo finishing. It also includes other processes such as staining or varnishing.

Unlike cabinet installation, it's quite challenging to reface kitchen cabinets by yourself without the proper skill. It's because veneering is a skill that you need training for.
Reface, Revamp, Remodel Your Kitchen Cabinets!
Kitchen cabinet refacing is undoubtedly one of the best cost-saving ways of remodeling your kitchen. Unlike complete kitchen renovation, you won't need to spend as much on this project.
As long as your current cabinets are in good shape, going this route can do wonders in revamping your space.
But before jumping onto the project, it's vital to have the right information in your hand.
We hope this article helped you decide if refacing is for you!