In the article below, we will discuss what kitchen cabinet refacing is and how it can be a very budget-friendly way to update your kitchen cabinets. We'll also touch on some of the benefits as well as provide an estimate for costs.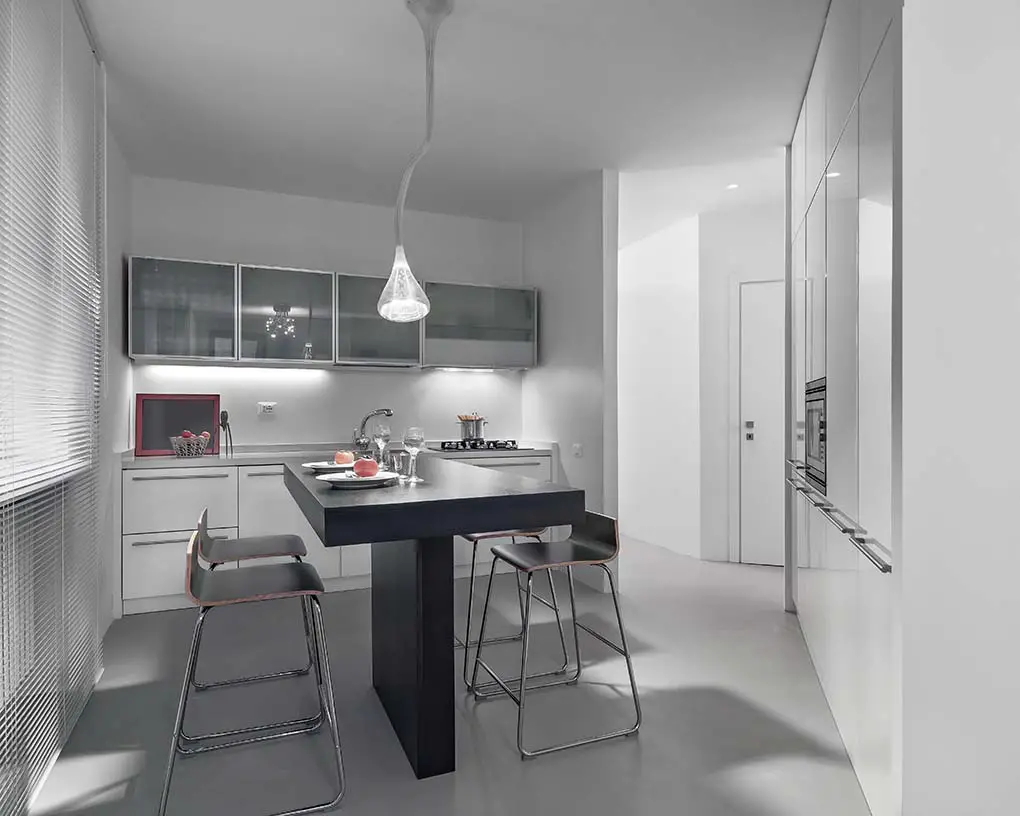 You might think it's time for a total renovation when your cabinets are old, worn-out, dated, or chipped. But there are actually cheaper options available.
When homeowners inquire about the difference between refacing kitchen cabinets and installing all new cabinetry, they are often shocked to hear that all materials used are completely new.
So what is kitchen cabinet refacing? Kitchen cabinet refacing is the process of replacing your existing kitchen cabinets with new ones that are made from the same materials.
This saves you money on installation costs and can also save you time if you lack the skills to do it yourself.
What is Kitchen Cabinet Refacing?
When remodeling kitchens, people often ask what is kitchen cabinet refacing or what is refacing kitchen cabinets?
Kitchen cabinet refacing is the process of removing the cabinet's exterior surface and parts, then reinstalling a new look. The cabinets' shape, dimensions, and placement do not change.
The process includes replacing the drawers, doors, and fixtures if necessary.
Refacing your kitchen cabinets will give them a fresh new look, paint, and finish, but it's better for people who are satisfied with the room's current layout.
If you want to change the floor plan or cabinet positions, it may not be the best idea because moving the cabinets around too much can do more harm than good.
The bright new surfaces can dramatically change the appearance of your kitchen in just two to four days, even though no walls are removed or windows are added.
You can also incorporate more modern features like wider and deeper drawers for a more drastic change in your kitchen.
Kitchen cabinet refacing, when performed properly, can be the most long-term and cost-effective solution.
Guidelines on Kitchen Cabinet Refacing
Kitchen refacing is exactly how it sounds like. It is replacing your kitchen with brand new doors, drawers, cabinets, and the like.
You have the freedom to change the look and feel of your kitchen according to your taste and of course, budget.
Despite retaining the kitchen layout, you will still be able to make your kitchen look brand new. There are plenty of design options to choose from too.
Here's a more detailed guideline process:
Your existing doors and drawers are removed to prepare for the refacing process. The other parts of the drawer will remain intact.

Natural wood veneer or RTF (Rigid Thermofoil) is a melamine-based product that can be used to cover the front portions of the cabinet boxes.

The cabinets will be laminated with laminate or wood veneer.

To perfectly fit your freshly refaced cabinet structure, you can add new doors and drawer fronts, or even optional drawer boxes.

The installation of fixtures like new handles and drawer pulls is popular. If the hardware is in good condition, it can also be reused.

You have the option to add other embellishments like glass panels, crown molding, or storage accessories that fit the design of your kitchen.
The end product can make the kitchen look entirely new despite only replacing some elements of it.
The kitchen cabinet frames as well as the boxes that house the shelves and drawers, will all stay.
But how you design and position the doors will also ultimately determine how your kitchen cabinets will look like.
What You Need to Know About Kitchen Cabinet Refacing
Along with the questions "What is kitchen cabinet refacing?" and "What is refacing kitchen cabinets?", many of you are also curious as to what kind of cabinets can be used for the refacing process.
If your existing cabinet boxes are still in excellent condition, refacing is a viable option. Kitchen cabinets that have been flooded, warped, or have broken frames are riskier to use.
Fasteners and adhesives are sometimes required for particle board cabinets to be absolutely certain that the veneer is secure.
You should also consider the age of your kitchen. According to cabinet craftsman Gary Reynolds, Don't spend money to front products that are truly worn out.
Kitchen cabinets made with low-quality materials from the beginning may also be replaced rather than refaced to make sure they last longer in the future.
How Much Does it Cost to Reface Kitchen Cabinets
In a 120-square-foot kitchen, cabinet refacing costs range from $1,000 to $3,000 for laminate cabinets. Wood veneer cabinets can cost anywhere from $7,000 to $9,000.
There are a lot of factors to consider before refacing your kitchen cabinets. Look into the materials, the number of cabinets you'll be refacing, the labor, extra parts, accessories, and the cost of hiring a professional.
When hiring a pro, here are some questions you may want to ask:
What type of products do you install?

What's your installation time?

How trained are your people? Who does the work, you or a subcontractor?

What outcome can I expect based on the shape of the cabinets?
What are The Benefits of Kitchen Cabinet Refacing
What is kitchen cabinet refacing and how can it benefit you? Kitchen refacing allows you to redesign your cabinets and give them a whole new look if you are looking to upgrade your style, wood, or color to something more modern or unique.
Cabinet refacing normally costs less than all brand-new kitchen cabinetry.
Refacing by an installation expert costs about half the price of a new custom piece and about 70-80% of the price of installing stock cabinets from actual stores.
If you want a step up on your kitchen design and material and want to retain your layout at the same time, refacing is a good option.
It can provide a different feel and look to your space, but it will not compromise comfort and functionality.
Refacing is the more environmentally friendly remodeling option. Many cabinet boxes are made of MDF, which contains formaldehyde, a dangerous chemical.
Refacing keeps them out of the landfill and will cause no harm to their surroundings.
If more and more people choose to reface their kitchen, it can also help lower demand for cutting down trees for building new cabinet boxes.
The possibilities for the final appearance of your cabinets are practically endless. Veneers come in a wide array of colors, textures, patterns, and other features that you can put together.
Plastic laminates are also inexpensive, long-lasting, and come in a wide range of colors and patterns. Real wood veneers are more expensive but have an extensive list of choices like options like oak and maple.
What Next Steps Should I Take if Trying to Reface Kitchen Cabinets?
Hopefully, we've answered your question on what is kitchen cabinet refacing and what is refacing kitchen cabinets?. Here are the next steps if you choose to go through with the process.
Contact a professional installer to come to your home to measure your cabinets and see how much veneer is needed, as well as the sizes and quantities of door and drawer fronts and hardware.
It's possible that newly ordered doors and drawer fronts will take at least one week before it arrives.
It's Time for Kitchen Cabinet Refacing
A housing study conducted by Harvard in 2019 showed that kitchen remodeling is the second-most popular interior home improvement.
For many families and even individual homeowners, the kitchen is the heart of the home.
A well-designed kitchen is more likely to improve your mood, encourage family bonding, and make it a more comfortable, communal, and functional space for everyone to use.
A lack of counter space and dated finishes can make all that time spent preparing meals and cleaning up tedious and boring.
Kitchen cabinets play an important role in the kitchen and take up a significant amount of space, helping to define both the room's appearance and functionality.
Your cabinets have the power to make or break your kitchen.
You can upgrade your cabinets in a cost-effective way to achieve high-impact results without the high cost and inconvenience of a major renovation.
So if someone asks you what is kitchen cabinet refacing or something along the lines of what is refacing kitchen cabinets, you can tell them about this cost-effective method to redesign a kitchen.
It's worth every penny!