With tons of appliances and essentials, it can get quickly cramped up in the kitchen. Nevertheless, there ways to declutter your counter space. One technique is by getting a kitchen cabinet garage door for your appliances.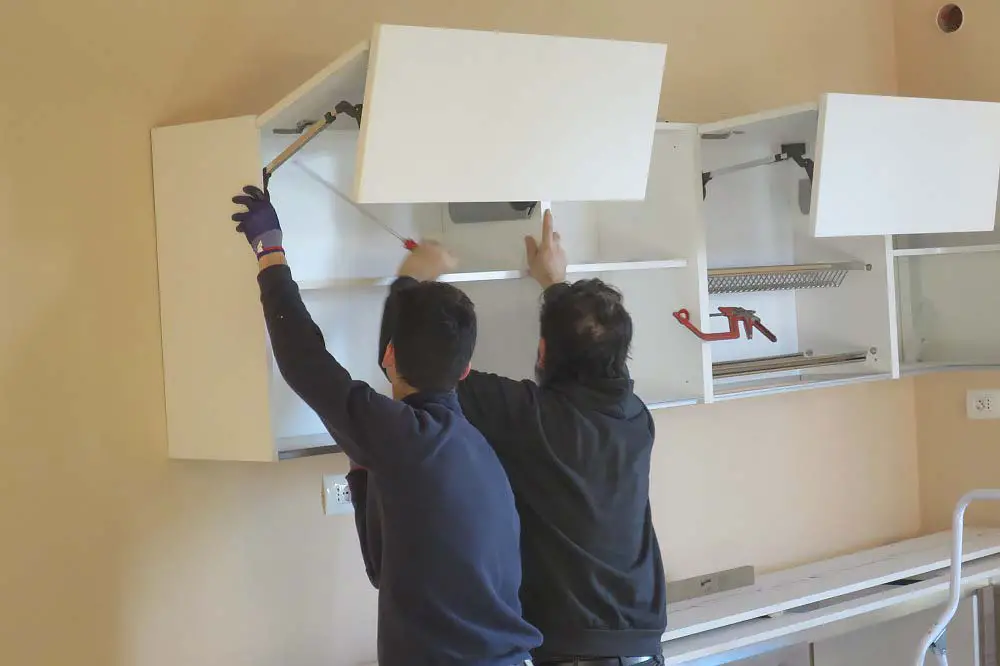 Without enough counter space, you may find it annoying to stay in the area. When this happens, cooking and baking in your kitchen no longer become fun.
Compared to traditional cabinets, these storage spaces can conceal electrical plugs and make your kitchen look organized.
In this guide, we'll discuss all the must-knows of a kitchen cabinet garage door. We'll also tackle the pros of getting this storage space at home.
Finally, we'll show you some of its best designs and a quick tutorial when purchasing one.
So to keep you from waiting, let's get started.
All About Kitchen Cabinet Garage Door
When talking about storage spaces, kitchen cabinets are the first that come to mind. They can house tons of essentials and make our kitchen look more organized.
But you can transform their simple designs into something more beautiful by installing a kitchen cabinet garage door.
A kitchen cabinet garage door is a compartment that stores electrical appliances in your kitchen.
It's best to have one when your space is starting to feel overwhelming. With these, you can save enough counter space for cooking and baking.
Kitchen cabinet garage doors conceal small and movable appliances. Usually, these items include coffee pots, toasters, microwaves, blenders, waffle irons, and many more.
They also contain an electrical outlet inside the space, hiding your messy electrical plugs.
These storage spaces also come in various sizes. Typically, you can install a small or a larger one in your kitchen.
All you need is to get your appliance's measurements and look for the perfect spot to house it.
Why Should You Get a Kitchen Cabinet Garage Door?
Getting a kitchen cabinet garage door is one of the best decisions you could ever make. This storage space can easily hide electrical outlets and plugs, making your area look more organized.
Besides this, it can also conceal appliances to give your place a clean and clutter-free look.
But aside from making your kitchen look clean and organized, these cabinet garage doors also make your space more aesthetically pleasing.
They come in various designs, which are perfect for meticulous homeowners and also easily blend with your other cabinets, so there's no need to worry about them not fitting in.
What Are The Different Designs of Kitchen Cabinet Garage Door?
If you're thinking about getting a kitchen cabinet door, you'll have plenty of options. You can pick among rising garages, sliders, tuck-in doors, and a lot more.
But whatever style you choose, each has its very own uniqueness and beauty. We'll discuss each design below.
Rising garages are one of the smartest and sleekest designs out there. They allow you to store heavy appliances that you'd usually place at the bottom of your cabinets.
They also have built-in electrical outlets, giving your kitchen a clutter-free look.
These rising garages rise when you need to use your appliance. Once you've finished using your item, it'll also pop back to its position.
Because of this design, it can give you back your valuable counter-top space.
Many homeowners consider tuck-in doors as a masterpiece. They also allow you to access heavy appliances like your espresso machine or cake mixer.
If needed, you can also install a second shelf inside it so you can place other items in your cupboard.
These tuck-in doors stay out of the way when you open them. They do this since they swing and tuck into your cabinets.
Because of this feature, they make your space less cluttered and your appliances more accessible.
Another excellent kitchen cabinet garage design is sliding doors. With this installed in your space, you won't need to clear away items on your counter-top.
You'll only need to slide the doors open to the sides of your cabinet. So getting this design will allow you to maximize your space and hide your appliances away from view.
But besides this benefit, you can easily continue your kitchen's original layout and design with this cabinet.
Thus, you can maintain your place's aesthetic without attracting much attention to your storage space.
The folding doors aesthetic is an old classic. It looks similar to your other kitchen cabinets. This uncomplicated and friendly design also blends well with your other cabinets.
Tips When Buying A Kitchen Cabinet Garage Door
When buying a kitchen cabinet garage door, you'll need to consider several essential factors. You'd need to check if you have enough budget and resources.
On top of that, you'd need to measure your space and determine your preferred style and quality. If not, you won't be able to get the kitchen of your dreams.
You'll also waste your time, energy, and money in case you purchase the wrong storage facility. But don't worry because we've listed a quick overview of what you need to look out for below.
Tip #1 – Consider your budget.
The first thing you need to consider before purchasing a kitchen garage is your budget.
Since these storage facilities are essential in your living space, you need to manage your money wisely.
On top of that, you may need to buy several of these depending on your preference. Some may come at an affordable price, while others can be quite costly.
But remember that whatever pricing you choose, your cabinet garage will make or break your kitchen's aesthetic.
Tip #2 – Measure your kitchen space.
Aside from managing your budget, you'll need to measure your kitchen space.
Make sure these measurements are accurate and precise so they'd fit your kitchen later on. Otherwise, you'll waste your time and money.
Measuring your kitchen space will also lessen possible errors and make your storage facilities functional.
You won't have to worry about clearing your counter-tops when you open these compartments. Additionally, you'll be able to visualize where to place your cabinet garage.
Tip #3 – Examine the style and quality.
Lastly, you need to be aware of what you want your kitchen to look like.
Since you can choose among rising garages, tuck-in doors, sliders, and many more, make sure that their design matches your kitchen's design.
Whether you're going a modern or rusty look, ensure that they blend well with the style of your original cabinets.
Apart from their style and design, make sure to consider their functionality. Remember that you'll be opening and closing these cabinets a lot.
So getting those that are sturdy, accessible, and user-friendly is the best option.
Achieve a Clean & Functional Kitchen with Kitchen Cabinet Garage Doors
Getting a kitchen cabinet garage door for your kitchen is an excellent investment. With these storage facilities, you can easily conceal your electrical appliances and outlets from sight.
They also blend well with your other cabinets, maintaining your kitchen layout and design.
But before purchasing these storage compartments for your kitchen space, make sure to follow the measures mentioned above.
Consider your budget and measurements, and examine the style and quality of your cabinet garage.
With these factors in mind, you wouldn't have to worry about getting the wrong item for your kitchen.