Should I paint my kitchen cabinets white? One of the main reasons why painting your cabinets white is necessary is because it emphasizes other colors inside the kitchen.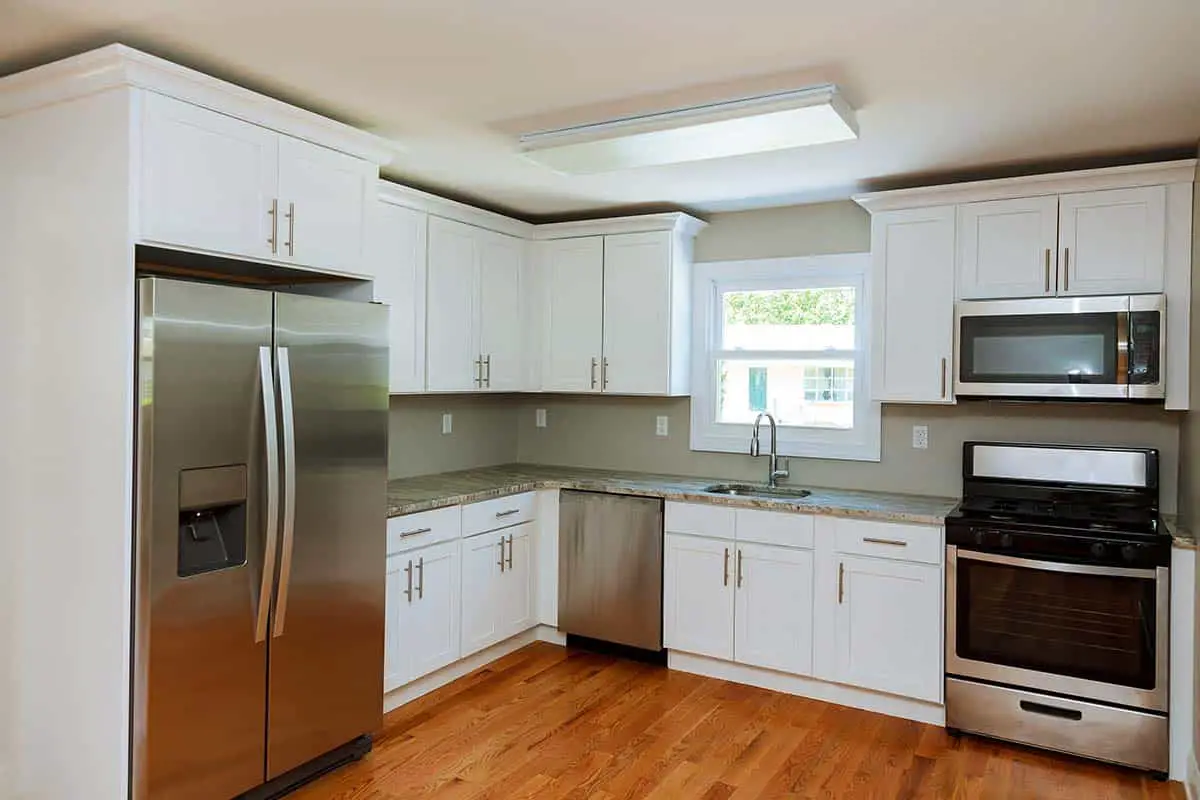 In this article, we will share with you the process on how to paint kitchen cabinets white.
Without further ado, let's go straight into the procedures and learn the best white kitchen cabinet paint.
How to Paint Kitchen Cabinets White | Step by Step
Painting your cabinets can help you achieve your desired look for the kitchen. Other than that, it gives a modern and up-to-date feeling.
Plus, it is more cost-efficient than purchasing a new kitchen cabinet that will fit the kitchen.
Before you paint your cabinets and update your kitchen look, it is vital to know how to paint kitchen cabinets white.
Choose The Right Shade of White. Yes, there is a lot of white paint available in the market. Make sure that the shade you will choose matches the color of the wall and other furniture.
Also, you need to learn the different types of paint and what finish to know what is the best white kitchen cabinet paint.

Determine your kitchen cabinet's overall condition. It is easier to paint on surfaces that are still in good condition. If it has old paint, you can easily remove them.

Prepare the kitchen cabinets. Make sure to empty the cabinets and clean it. You also need to remove the drawers so you can reach the inner parts of the cabinets.

Apply a primer. Without this product, the paint will definitely not stick quickly. Furthermore, it adds coverage and conceals the imperfections.

Paint the huge areas first. You can use rollers in coating the first layer. Before you paint the inner and intricate details, start in locations that are more accessible. After that, you can start with the next coating.
Best White Paint for Kitchen Cabinets
With the different shades and brands of white paint in the market, it will surely be confusing. We gathered the best paints to give you an idea about the best kitchen cabinet paints.
Know why these best white paint for kitchen cabinets stood out among the rest. Learn how to paint kitchen cabinets white using these paints.
Also, you will know how it can benefit your cabinets and if it will suit your preference.
Benjamin Moore – Simply White
The best white kitchen cabinet paint for a refreshing look is Benjamin Moore – Simply White.
It perfectly suits the ceilings, walls, trims, and especially kitchen cabinets and gives a clean look to the kitchen.
If you are searching on how to paint kitchen cabinets white on polished nickel and brass type of cabinets, this paint is the solution.
It provides an off-white color, making it not too bright. Its yellow undertone can give off a warm feeling.
If you are looking for a color that can give you warmth, this is a good option.
Dulux Quick Dry Pure Brilliant White Satinwood Paint
Satinwood Dulux Quick Dry Satinwood builds a lustrous ending, presenting and highlighting an alternative to gloss.
Are you looking for the best white kitchen cabinet paint, which is a water-based formula? Dulux Quick Dry Satinwood Pure Brilliant White is here.
This paint makes it more exemplary among other brands, which goes on in one to two layers but with high-coverage coats. This paint can offer a mid-sheen satin finish, making it more attractive.
This is the best white paint for kitchen cabinets because of its self-undercoating, easy-to-wipe, and non-yellowing features. It is also fit for use on interior wood and metal.
Thanks to its latex formula, you can seize its lifespan as expeditiously as possible, comfortable, and pleasing to use after staining your kitchen cabinets.
Know how to paint kitchen cabinets white with Dulux Quick Dry.
Antique White Shabby Chic Furniture Paint
The odd consideration of this white paint and chalky finish is more prevalent than ever in the market. You might be surprised that our best choice comes from a little paint manufacturer, which is Shabby Chic.
It produces an old-fashioned look, a nearly smooth ultra-matte finish. The rich pigmentation from this paint goes a long way.
Moreover, it is safe for kids because of its eco-friendly and volatile organic compounds.
Benjamin Moore – Decorators White
Decorators White from Benjamin Moore is also known as a soft version of Chantilly Lace.
This is one of our top choices because of its cool feeling. Decorators White has a touch of gray, which is perfect for trims and cabinets.
If you are looking for the best white paint for kitchen cabinets with cooler tint, then go for this.
It can highlight other features of the kitchen through this paint and can suit a diverse and unique variety of designs.
Ronseal One Coat Cupboard Paint White Gloss
If you want the best white paint for kitchen cabinets that offer a clean appearance, this Ronseal One Coat Pantry is for you.
The sparkle semblance it produces is one of the finest kitchen pantry finishes around.
As the title recommends, the tool is specialized for utilizing MDF and melamine cabinets, furniture, and fixtures. Thus, it is helpful to keep one tin of paint within the carports.
This paint gives a full-coverage, ensuring durability and scratch-resistance. More than that, it produces a smooth and illuminating finish in just one thin layer of white paint.
Moreover, once on, it can prevent the surface from scraping or scratching. Excellent kitchen pantry paint if you specifically want something white gleam, speedy to apply, and includes a smooth finish.
Farrow and Ball Estate No. 2005 All White Eggshell Paint
Nowadays, people are into eco-friendly materials. The best white kitchen cabinet paint that utilizes eco-friendly ingredients is Farrow & Ball's Bequest Eggshell.
This paint has less smell to fight with. Thus, it does not have a detrimental effect on children and pets.
Once applied, the paint is shockingly washable and wipeable. Besides white, you still have a wide selection of paint from 132 colors to fit your canvass.
Johnstone's One Coat Fast Dry Glossy Silk Paint Brilliant White
Do you want to start your kitchen renovation quickly? But you don't know which paint will suit the kitchen theme.
If you want to paint your cabinets with the color white, Johnstone's One Coat Fast Dry Glossy Silk Paint Brilliant White is a good option.
From the reviews online, it is highly recommended because it can cover the surface equally in one thin layer. Moreover, it dries easily in two hours.
The DIYers said this paint gives off a lustrous and illuminating effect. Plus, the paint is easy to clean and has a low odor.
V33 Renovation White Smooth Satin Kitchen Cupboard & Cabinet Paint
This paint is becoming popular in the market because it's ideal on multiple surfaces, making it suitable for your cabinets and furniture.
On top of that, it is also stain and household product-resistant. If you are looking for durable paint that lasts long, this one's for you.
It gets positive reviews because of the smooth formulation. You can easily apply this paint using a roller or brush.
After the application, you can recoat it after 12 hours. The small amount of paint goes a long way.
In fact, it can cover 24 square meters per liter. It also has washable properties, which means you can clean it without a burden.
Wilko Moonlight White Silk Satin Furniture and Cupboard Paint Quick Dry
Transform your overhead cabinets and kitchen pantries with assistance from this quick-dry cabinet paint.
One good thing about this product is that a tiny amount of paint goes a long way. And because of that, you will be only required to apply one layer of paint.
They offer various shades to compliment your kitchen color theme. The quick-dry formula of this paint is surprising because it can dry for two hours.
Good Home Brilliant White Flat Matt Furniture Paint
Are you trying to find the most excellent paint for kitchen cabinets on a budget?
Good Home Level Matt Furniture Paint can provide your kitchen cabinets a velvety and smooth surface. It's washable and easy-to-clean.
Before applying the paint, make sure to sand and clean the surface. This paint is also known for its durability and low-maintenance feature.
It can withstand acidic stains from household products. Additionally, there are multiple shades to select from, counting metallics and sparkle paints.
For best results from this paint, apply it on the surface with two layers.
Tips and Tricks in Painting Kitchen Cabinets
Maybe you have seen different painted cabinets, but it is not that easy. So before you start painting your cabinets, you should remember this step-by-step advice.
This way, you can transform the kitchen successfully and learn how to paint kitchen cabinets white.
Set realistic expectations and goals. Check out Pinterest pictures for inspiration looks and see if they will suit your cabinets.

Clean the cabinets before painting. The paint will not stick appropriately without proper cleaning.

Remove the doorknobs and hinges so you can reach each area and detail of the cabinets.

Utilize sandpapers to remove mill marks and dents. It would help if you also clean the debris before painting the cabinets.

Use a primer to seal, combine, and help the paint adhere properly. It serves as the foundation in painting interior and exterior surfaces.
Key Takeaways on Painting Kitchen Cabinets
How to paint kitchen cabinets white? Selecting the right cabinet that looks fine and perfect in our kitchen is quite challenging. To be unique, some people opt to customize furniture.
Conversely, some prefer to restore and transform their old cabinets.
To recreate these cabinets, painting is the best solution. You can design and paint it the way you want it to be.
But you need to personally prepare the materials, inspiration-look, and tools.
Also, some furniture and fixtures have an intricate and detailed design. It can be challenging to refurbish these items.
One of the things to take note of is cleaning before and after painting. Ensure to get rid of the sand or dust accumulation from sanding.
You can spray-paint your kitchen cabinets to avoid the streaks from brushes. It can also provide a smooth-looking surface.
In removing the old painting, you might opt to use Deglosser or utilize a bonding agent.