Painting kitchen cabinets is not an easy task, but with some kitchen cabinet painting tips, you can jumpstart your project. With patience, willingness, and some know-how, you can transform the look of your kitchen.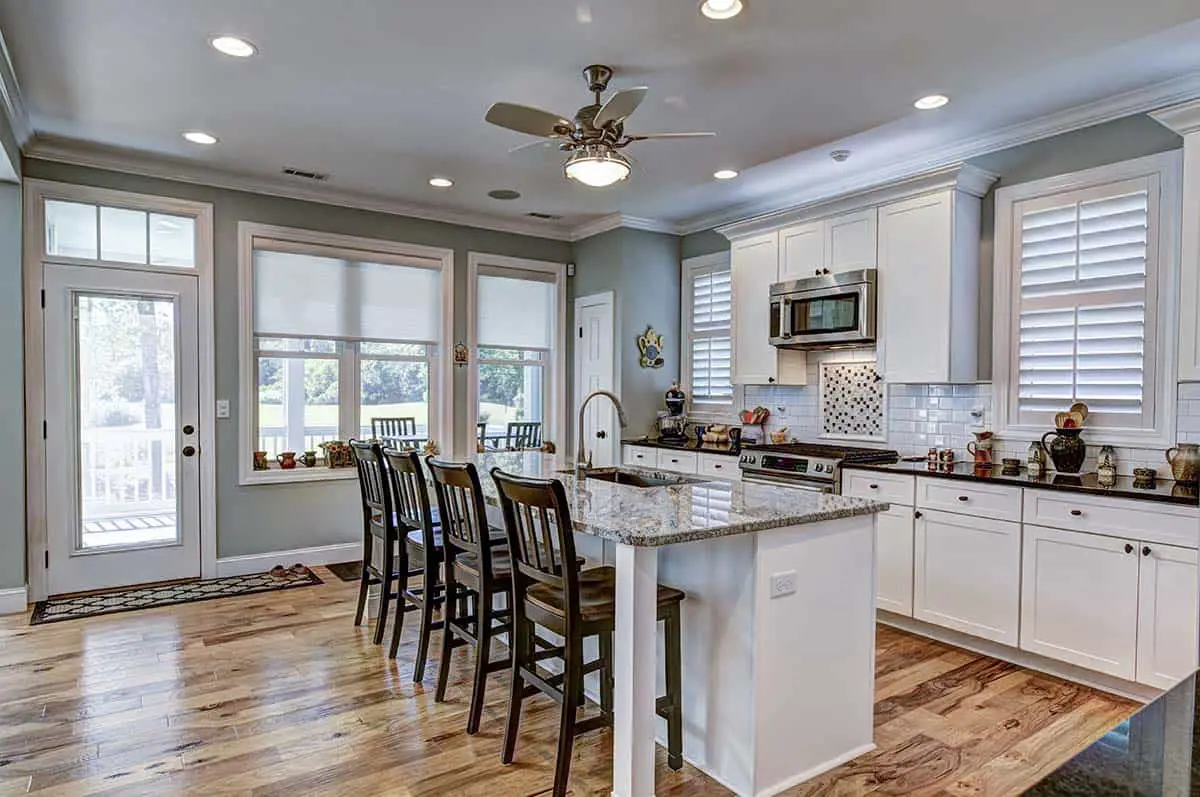 Once you look at the final result, you'll find that your effort and hard work have paid off.
Kitchen Cabinet Painting Tips
Are your kitchen cabinets looking bland and old? Or is it looking out of place from the overall theme of your kitchen?
Then, maybe it's time to repaint your kitchen cabinets. But while it seems like a simple project, it actually requires a ton of your patience and creativity.
To avoid impending chaos and disorder, you'll benefit from painting kitchen cabinets tips. This way, you can accomplish the project with pride and confidence.
Here are some painting kitchen cabinets tips that will help you transform your kitchen:
Choose the Right Paint
First off, not all types of paint are suited for kitchen cabinets' surfaces.
If you fail to choose a suitable paint, except that the paint will not hold and will easily chip. As such, the most critical painting kitchen cabinets tips is to choose the right paint.
Here are the best types of paints for painting kitchen cabinets:
Oil-based
Latex
Alkyd enamel
Eggshell
Chalk paint
The formulas of these types of paints leave a finish that can withstand repeated cleaning.
Aside from the type of paint, make sure to choose a color that will complement other elements in your kitchen.
Consider the color of your appliances, countertop, walls, floor, etc. Make sure that the color you paint your kitchen cabinets will not stand out like a sore thumb.
Grab the Right Materials
Now, what are the right materials for painting your kitchen cabinets?
Here are the things you need to purchase, along with some helpful painting kitchen cabinets tips:
You will need a handheld electric sander and plenty of 120-grit sandpapers. Sanding your kitchen cabinet's surfaces will ensure that the paint and primer will adhere to the material.

Prepare tack cloths for removing dust and particles after sanding.

Purchase disposable paint trays. It will come in handy to measure the right amount of paint as you move around while painting. It also supports an easy clean-up process since you can just throw it once you're done.

Always have extra brushes and paint rollers ready. Even if you clean them well, it's inevitable for bristles to go harder after some time.

Purchase different paint rollers for the primer and paint. Typically, the best rollers for oil-based primers are those with high-density foam. Meanwhile, low-nap rollers work best for painting.

Buy painter's tape for covering nooks and crannies that can get splashed around the kitchen.
Be Smart with Your Primer
For the primer, a secret is to use an oil-based primer. It is one of the painting kitchen cabinets tips that often gets ignored.
But with an oil-based primer, you can prevent the wood from bleeding through after some time. Also, if you're going for dark paint color, make sure to tint the primer.
It will save you money for buying primer because you won't need to coat thickly.
Paint Like a Pro
To make sure that your paint is seamless, you have to take note of these critical painting kitchen cabinets tips:
Don't apply heavy coats of paint. Instead, apply light coats for a smooth surface. Applying heavy coats at a time will leave you with an uneven surface full of drip marks.

Don't skip the polyurethane topcoat. It will ensure that the paint will last long.

Start painting from the cabinet door backsides and cabinet bases. Doing this will prevent risks of smudges and scratches because these areas make the most contact when painting.
Get a Helping Hand
Kitchen cabinet painting tips: don't refuse help; it will allow you to paint with more ease. Plus, someone can point out the areas you missed and need to work on.
Having someone help you is also very important for a safe and fast kitchen cabinet reinstallation.
Kitchen Cabinet Paint Ideas
Now, let's get your creative juices flowing with these kitchen cabinet paint ideas. These methods will give your cabinets a unique and appealing look.
Depending on your style and preference, you can apply these kitchen cabinet painting tips for revamping your kitchen.
Luscious black never goes out of style. Depending on the elements in your kitchen, painting your kitchen cabinet black can exude a sleek, modern, and chic vibe.
However, for the same reason, the color makes flaws more visible, unlike other colors. The trick here is to use milk paint for a smooth and silky finish.
Because black goes well with many colors, you will like these kitchen cabinet paint ideas if you want flexibility.
Antique kitchen cabinets create a classic and elegant vibe that nothing can compete with. You first have to choose a base wood color that will complement the theme of your kitchen.
But the key for this kitchen cabinet paint ideas is to paint the antique stain color right. You can create a genuine-looking dated vintage effect depending on how well you do this.
Going vintage is one of the top homeowner go-tos when it comes to painting kitchen cabinets.
If you're looking for an innovative twist in your kitchen cabinets, you'll like kitchen cabinet paint ideas using chalkboard paint.
It is easy to apply using a suitable paint roller and will revolutionize the look of your kitchen.
After a successful kitchen cabinet chalkboard painting, you'll be surprised with the things you can do.
Now, you can write your shopping list or leave notes to your family members directly in your kitchen cabinet! Additionally, chalkboard paint is also inexpensive and cleans easily.
To add a bright touch to your kitchen, the answer is kitchen cabinet paint ideas with pastel colors.
These colors are cool to the eyes and will do the job of adding a colorful depth to your kitchen. Moreover, you have a lot of color choices, with the assurance that it will have a gorgeous finish.
Even with dull-colored appliances, a cozy pastel can transform your kitchen into a fancy-looking space.
Preparing for the Kitchen Cabinet Painting Process
Even if you have the most innovative kitchen cabinets paint ideas, you can't accomplish the process properly without preparation.
The preparation process is just as necessary as the actual painting process. If done right, you'll find yourself finishing the project in no time since everything is organized and in place.
Since there are many things you need to note when painting kitchen cabinets, it's essential to stack up against your knowledge.
That said, here some kitchen cabinets paint ideas for preparing your kitchen cabinet painting process:
Allocate Enough Time
Note that you can't accomplish your kitchen cabinets paint ideas in one day. It is a common mistake for many homeowners who are looking to revamp their kitchens.
To give you an overview, it generally takes around four days to a week to paint kitchen cabinet ideas. It includes the preparation time and the actual painting time.
Kitchen cabinets paint ideas like these to help you grasp the time you'll spend on the project.
Clear Your Kitchen & Remove All Kitchen Cabinet Hardware
One of the most helpful kitchen cabinets paint ideas that will save you from huge trouble is clearing everything.
Below are some of the kitchen cabinet painting tips you need to take note of:
Remove all hinges, screws, magnets, and knobs on your kitchen cabinet. It will help you paint without the hassle and can significantly speed up the entire process.

Label everything you removed. You can use a pen and tape for numbering the hardware that goes to which cabinet frame. Place them in a Ziploc to ensure that you can find everything easily once you start reassembling.

Organize the content of your kitchen cabinets. You can put cookware, silverware, and ingredients on separate boxes or trays accordingly. It will ensure that you still have access to these essentials while the project is ongoing.

Clear the countertops and remove all curtains and rugs. Since you will be covering a lot of space, clearing everything will help prevent a messy headache.
Clean, Clean & Clean
No matter how clean your kitchen is, there is still grease buildup that you may not be seeing.
Hence, it is crucial to wipe every nook and cranny of your kitchen cabinet with a grease remover before painting.
Make sure to use a sponge that is delicate and will not scratch the surface material.
Furthermore, after sanding, make sure to vacuum any leftover dust particles. Even tiny dust pieces can ruin the finish when you paint over them.
Thus, make sure to be meticulous and pay attention to wiping down everything after sanding.
Properly Paint Your Kitchen Cabinets
Don't jump right in and paint without knowing some critical kitchen cabinet painting tips.
This know-how will save you from the hassle and headache of sloppy work.
Make sure to keep everything in this article in mind, from the preparation to the reinstallation process.
The results will surely surprise you!