If you're looking into revamping your kitchen, then the top on your list must be scouring for IKEA kitchen cabinets reviews.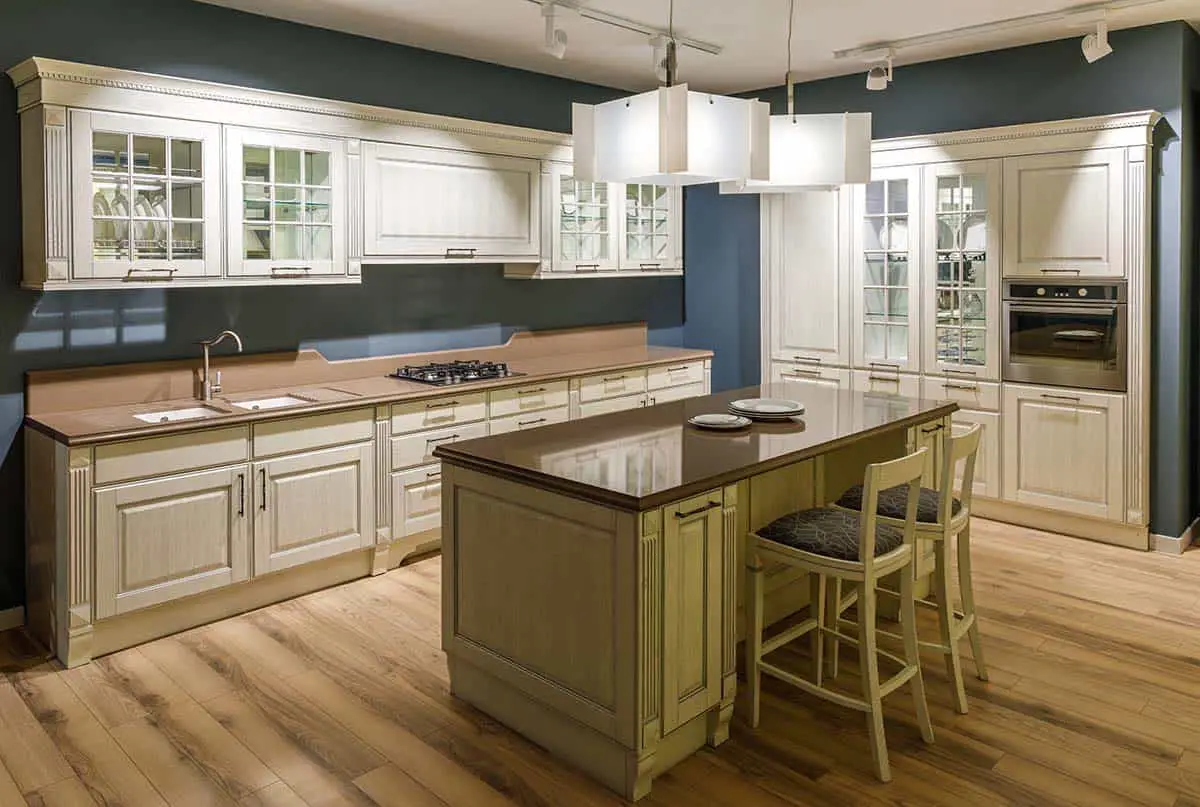 As the top retailer in furniture and home accessories, the company provides affordable and good-quality kitchen cabinets.
That said, read on to know whether IKEA's kitchen cabinet is suitable for your preference.
IKEA Kitchen Cabinets Reviews: An Overview
As you will know with IKEA kitchen cabinets reviews, each of their cabinet offerings come in various finishes and designs.
These come flat-packed and ready-to-assemble (RTA) as with other IKEA furniture. They come in a built-in look to ensure that they fit in against your sink and appliances.
SEKTION is IKEA's main kitchen cabinet offering for both wall cabinets and base cabinets. You can either get this shipped right at your front door or pick them up from the store.
Here's a comprehensive overview of IKEA's kitchen cabinet offerings:
Most IKEA kitchen cabinets have particle boards for their overall construction from the top, bottom, front, and sides. Meanwhile, the back part usually uses a thin fiberboard piece.
The base cabinets' drawers typically consist of a solid birch front and a particleboard base. On the other hand, it utilizes metal material for its sides and has soft-close slides and a side-mount.
Since you need to drill each piece on different holes for the shelves and drawers, it takes some time to finish its assembly.
You will also have to be mindful of the installation configurations and the proprietary assembly system. However, it's relatively easy to assemble once you get the complete hang of it.
Also, don't be surprised if you don't find pulls or knobs since these are usually not included in the package.
Hence, you will have to pick them according to your preference and do the installation yourself.
The measurements of IKEA kitchen cabinets varies for base and wall cabinets:
Base cabinets: 30 inches (4.5 inches legs)
Wall cabinets: Varies depending on the height
For the width, standard IKEA cabinets range from 12 to 47 inches wide.
With the scale of IKEA kitchen cabinets, as you will see from IKEA kitchen cabinets reviews, their pricing is unbelievable.
Their offerings are significantly more affordable than other cabinet options. It is even more so when you compare it to custom kitchen cabinets.
While the price will vary depending on the size and styling factors, you can guarantee that you're not paying for less.
Here are the factors that affect the total price of IKEA cabinets:
Size of your kitchen
Style
Storage options
Overall layout
Evaluating these factors will give you an estimate on how much you'll spend on your new kitchen cabinet.
IKEA offers a decent selection of colors, designs, and finishes for their kitchen cabinets. There are a variety of color selections and wood effects to choose from, depending on your preference.
These 23 color and finish options use either colored plastic or acrylic paint for these designs. For a solid-wood front, the only option available is natural ash.
If you look at IKEA kitchen cabinets reviews, you'll find that unlike mass-produced cabinets, IKEA has an eye on the trend.
Therefore, you won't settle for an outdated and dull-looking kitchen cabinet.
One of the biggest things about IKEA kitchen cabinets reviews is their free 3D online kitchen planner.
It is extremely easy to use, and it allows you to input the dimensions of your kitchen into the program accurately.
There, you can plan your design and customize the overall layout and storage options you want.
You can also work with an IKEA designer at their store for free when you bring your designs. Or, you can hire their designer to come to your house for a small fee.
Moreover, you will surely like the fact that you can install IKEA cabinets in various ways. It provides you the opportunity for maximum customization.
Since you will be using your cabinet for a long time, you can make it look new all the time by switching up some of its features.
For a customization guide for IKEA kitchen cabinets reviews, here are some accessories and extra features you can purchase separately:
Drawer pulls
Cabinet handles
Slow close drawers
Dishwasher or fridge panels
IKEA Kitchen Cabinet Guide
Now, let's get further into our IKEA kitchen cabinet guide to answer further questions you have in mind.
Kitchen cabinet on wheels IKEA? We will tackle everything from design, installation, and purchasing of the IKEA kitchen cabinet line.
You will also learn some IKEA kitchen cabinet tips that you must keep in mind once you own one.
As with all other things, the priority of our IKEA kitchen cabinet guide is quality. Luckily for you, IKEA kitchen cabinets are incredibly durable.
With warranties that last until 25 years, it guarantees the long-lastingness of each kitchen cabinet.
Next, our IKEA kitchen cabinet guide won't be complete without talking about the specific materials used.
As mentioned, the standard materials used for IKEA kitchen cabinets are particleboard and medium-density fibreboard (MDF).
These materials are relatively cheaper but stay true to the durability it provides.
The main body of IKEA cabinet boxes are: Particleboard & Laminated veer.
Cabinet Door and Drawer Fronts
Typically, you will purchase the cabinet door and drawer front separately from the cabinet's main body.
For our IKEA kitchen cabinets reviews, here are the four classes of IKEA cabinet door and drawer front:
Real wood and MDF
MDF and foil finish
MDF and paint
Glass or metal
Part of the important IKEA kitchen cabinet tips for those who like customizing is you can paint your IKEA cabinet.
However, you have to ensure that you sand and prime the surface properly before proceeding to paint.
Topping it with a durable topcoat is a crucial IKEA kitchen cabinet tips to prevent quick damage.
The installation part is crucial information in our IKEA kitchen cabinet guide and our IKEA kitchen cabinets tips.
You have two options for this: you can install them by yourself or hire someone for the store to install them for you.
Kitchen Cabinet on Wheels IKEA
Here are helpful IKEA kitchen cabinets tips. If you have a small space in your kitchen, you can get a kitchen cabinet on wheels IKEA.
This also provides you more storage and space to work on. Moreover, kitchen cabinet on wheels IKEA improves your mobility around the kitchen, especially when you're baking or using many ingredients.
Kitchen cabinet on wheels IKEA is also budget-friendly. As such, this tip can also save you money aside from convenience.
More IKEA Kitchen Cabinets Tips
When it comes to purchasing, one of the most critical tips is to wait for the Kitchen Event. In this event, they provide discounts and cashback from gift cards that you can take advantage of!

If you're installing your kitchen cabinet under lighting, an IKEA kitchen cabinets tips is to purchase deco strips. It will give a custom-finished look to your kitchen.

An IKEA kitchen cabinets tips that many homeowners forget is buying the right size. Make sure to measure your space adequately to ensure that the cabinet you'll buy is the right fit.
IKEA Kitchen Cabinets Cost Comparison
To complete our IKEA kitchen cabinets reviews, we will provide you with an IKEA kitchen cabinets cost comparison.
We will also compare the differences between kitchen cabinets IKEA vs Home Depot and kitchen cabinets like IKEA.
As an overview of the IKEA kitchen cabinets cost comparison, the average price of kitchen cabinets like IKEA is $160 to $380.
It varies depending on the size, linear foot, and customization. Meanwhile, you can spend an overall $3,200 to $8,500 for the complete materials and installation of kitchen cabinets.
If you opt for custom cabinets with high-end quality, you will spend even more. The price we're talking about here is a whopping $12,500 to $18,100.
Cost of IKEA Kitchen Cabinets
To start off our IKEA kitchen cabinets cost comparison, their standard offerings cost around $300 and $500. The installation cost will then vary depending on your overall purchase.
The bottom line is the more you spend, the higher the installation cost will be.
Kitchen Cabinets IKEA vs Home Depot: Which is Better?
Now that we know the IKEA kitchen cabinets cost comparison, let's proceed to a direct comparison from its competitor: Home Depot.
In this kitchen cabinets IKEA vs Home Depot comparison, we will focus on price, selections, shipping and delivery, and installation.
When it comes to price between kitchen cabinets IKEA vs Home Depot, the former is the more affordable pick.
You can purchase IKEA cabinets starting at $75, with the most expensive being $1,600. The average price for standard kitchen cabinets falls in the range of $200 to $300.
It is close to the cost of other kitchen cabinets like IKEA.
Meanwhile, Home Depot offers kitchen cabinets with prices starting at $100 and can go over $3,000.
Meanwhile, when it comes to selections between kitchen cabinets IKEA vs Home Depot, Home Depot has more.
The reason for this is that IKEA sells their own brand while Home Depot sells various kitchen cabinet brands.
The advantage of having fewer choices is that it eases the decision-making process for the buyer. With Home Depot, you will have to compare and contrast different brands.
IKEA also offers more flexibility for customization than its competitors and other kitchen cabinets like IKEA.
Upon comparing, Home Depot's shipping and delivery take longer than IKEA's. IKEA takes more or less seven weeks to deliver a package to your front door.
Meanwhile, it takes more than ten weeks to do the same for Home Depot. However, note that the shipping may take longer than usual if you're ordering a custom front.
For the installation, you'll expect kitchen cabinets like IKEA to be more challenging. It is due to the various parts, pieces, and configuration systems that may be hard for you to figure out.
On the other hand, Home Depot's kitchen cabinet doors are easier to install with fewer parts and standardized instructions.
Revamping Your Kitchen
If you're looking for affordable kitchen cabinets that don't compromise style and durability, IKEA is your best choice.
Overall, IKEA kitchen cabinets reviews reveal the quality that you can expect from the brand.
The primary thing to keep in mind is to make sure to check with their store expert.
They will help you come up with your ideal design and ensure that everything fits with your kitchen.