For the past years, we retained the natural-looking woods in our kitchen. But now, we are more into the colorful and vibrant vibe inside our kitchen. These days, you can also make your kitchen cabinets indulging in color.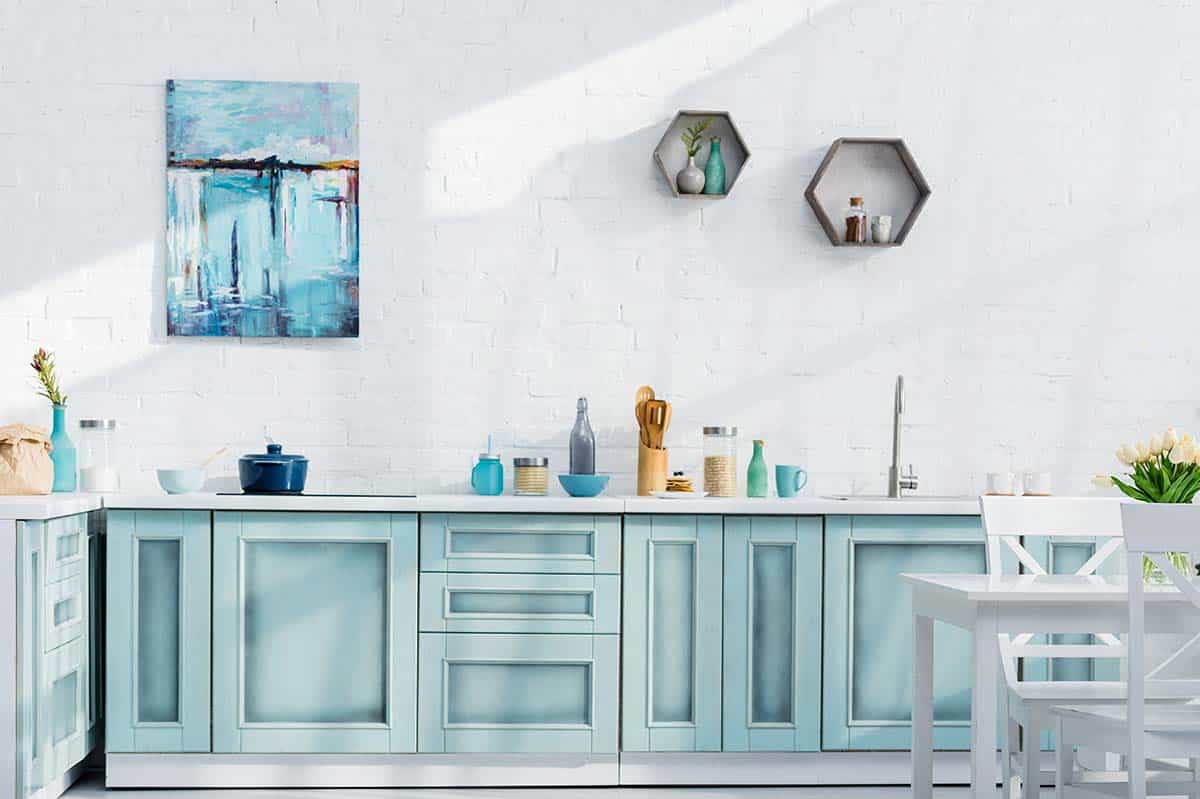 Kitchen natural wood-stained cabinets are still popular for traditional kitchens. However, more people are becoming bolder.
As a result, they try experimenting and adding a pop of color. Painting your kitchen cabinets can make it more welcoming.
In this article, we will share with you kitchen style trends and kitchen cabinet ideas color.
Kitchen Cabinet Color Ideas | What is The Latest Trend
Cool-toned and bright cabinets are dominating this year. You will notice most kitchens have yellow, white, gray, blue, green, and two-toned kitchen cabinets on the rise.
Here are the best pick colors to make your kitchen cabinets look trendy and fun.
For our first kitchen cabinet ideas color, we have white. Why do people always love white? Well, it's because they can turn your kitchen modern and sleek.
This color can also brighten your space and make the kitchen look bigger. On top of that, it can be easily paired well with different styles.
For some, white can be boring and plain. But it gives more flexibility with multiple designs. A kitchen with a white cabinet looks high-end or rustic.
If you are thinking, how long this white kitchen cabinet trend will last. Well, definitely, it will last for an extended period.
White paint becomes more popular because the mantra for a lot of homes is to keep the vibe alive and bright.
So that's our number one kitchen cabinet ideas color!
We want to keep our kitchens light and cool. There are various shades of blue that you can choose from, and blue is our second kitchen cabinet ideas color.
For a more neutral but a bit of fun color, you can pick a gray-based navy. If you want a bright mood, you can pick an arctic or electric shade of blue.
For an industrial look, go with a Prussian or royal blue. Blue kitchen cabinets can make the kitchen more relaxed or comfortable.
But with the latest kitchen trend, the most popular is the gray-based blues. Just make sure to match the vibe you want to generate with the shade of blue you choose.
From our list of kitchen cabinet color ideas trends, this color might be unexpected. Nowadays, the most known home renovation includes green cabinets.
We are talking more of the deep and calming shades of green, not the super bright colors.
Generally, the green color makes the kitchen a little dramatic and dynamic. But it keeps the space warm and calming.
You can easily pair this color with a contrasting backsplash. If you are worried that green will be outdated soon, green kitchen cabinets will last until the next decade.
If you are someone who wants a neutral color for the kitchen but is not a fan of white, your go-to color is gray. Nowadays, you will notice that dark and light gray dominated the kitchen home renovation.
More than that, this color trend keeps going strong. Thanks to its perfect contemporary look you can easily find gray paint colors in local hardware stores.
Two-toned or Multiple Colors
To complete our kitchen cabinet color idea here's multicolor or two-tone color cabinets.
Two-toned kitchen cabinets provide your kitchen the best of both worlds. It's a mixture or combination of white cabinets and darker color cabinets.
Gray and blue are commonly used for lower or under-counter cabinets. While cool-tone yellow, purple, and mint green are often used for base cabinets.
The overhead cabinets are usually white. The primary reason why white looks good near the ceiling is because it can widen the space.
Kitchen Cabinet Color Ideas | Choosing The Perfect Paint Finish
Colors have the power to enhance the beauty of everything. Carefully choose the best color which represents you and your kitchen.
For people who want to relax while in the kitchen, pastel cabinets are a perfect choice! It also corresponds with a retro style which can spice up your kitchen.
A striking blue pastel represents a cheery, vibrant, and happy atmosphere. This will be enhanced by partnering it up with a small touch of white.
The darker tone of green brings nostalgic memories from the past. It embraces the old-fashioned color scheme.
A glossy cabinet is also considered one of the top choices when it comes to choosing a fabulous kitchen cabinet design.
Its reflective elements make it a perfect choice for a cleaner look. It is easier for you to spot the accumulated grease and dirt in your kitchen cabinet.
Washed Cabinets are for people who prefer a vintage look for their kitchen. It has this antique look that exerts a welcoming, light, and visually larger space for your kitchen area.
There are so many things you need to consider when designing your kitchen cabinet. From color, style, and even placement. Everything must blend with one another.
And doing it personally gives you so much fun! Be creative and stylish!
Your kitchen cabinet is not only for decorative purposes, it also serves as storage. You must choose the perfect cabinet and make the best plan to maximize the space inside your kitchen.
Plus, the style and color should be cohesive. In this section, learn how to perfectly match the style and kitchen cabinet ideas color.
The corner cabinet is crucial for people who want to be space-efficient. The cabinet or drawers must have two handles for both sides.
It may look unusual and funny but practical as it allows you to have more storage and space under the kitchen counter.
For a fun look, you can refer to our kitchen cabinet ideas color.
High-Rise or Lifted Kitchen Cabinets
Sky-high cabinets can be found above the countertops or fridge. These cabinets can hold your pots and other big kitchenwares.
Colors will enhance the mood inside your kitchen. You can match your base cabinets with these lifted cabinets. It adds extra storage and simplifies the overall kitchen design.
Elevated Kitchen Cabinets
Raised or Elevated Cabinets, Floating Cubbies, and Display cabinets are the usual choices to efficiently store your small kitchen wares such as cups, mugs, bowls, and other condiments that are frequently used.
This is also a way to show off or display your precious kitchenware. There are a bunch of kitchen cabinet color ideas you can integrate into this style.
Multipurpose Kitchen Cabinets
If you want to hide your dishwasher, multipurpose cabinets are for you! Place a colored hardware cabinet that goes with the theme of your kitchen to gorgeously hide it.
Carefully place it to avoid breaking the line of cabinetry. Incorporate one of the kitchen cabinet's color ideas in this type of cabinet.
Choosing a Design for Kitchen Cabinet Door
Besides kitchen cabinet color ideas, we are here to provide designs for your door. It can be a great way to infuse some of the kitchen cabinet color ideas trends you have learned above.
Chicken Wire Kitchen Cabinet Door
For the door of your kitchen cabinet, you might want to use chicken wire cabinets to enhance the timeless and classic beauty of your kitchen.
It may become dull so make sure to add pattern and other details to it.
Diamond-patterned mesh is one of the top choices to make your cabinet door fun and interesting.
Glass Kitchen Cabinet Door
If you prefer to enhance your kitchen and make an illusion that it has a bigger area, check out the glass cupboard doors.
A good choice for someone who wants to reveal and display their kitchen collection such as glassware, dinnerware, and other things worth flaunting.
Metal Grate Kitchen Cabinet Door
Another design for your kitchen cabinet door is a metal grate cabinet. It is preferable to use than traditional glass because it lets you see everything inside the cabinet such as linings, screws, and nails.
While metal grates create the illusion and get your focus and attention on its design rather than what is inside the cabinet. It also has a limited view and a great design.
What is greater about this is you can customize it according to your preference.
Bring New Life to Your Kitchen
This year, let's be bolder and try something new. If you are thinking of a kitchen renovation, it must be challenging to decide on a color theme.
Hopefully, by following our tips, you can enjoy the new look and feel of your kitchen.