Undeniably, choosing a color for your kitchen cabinet is one of the crucial things to do. Your cabinet may represent you and the wholeness of your kitchen.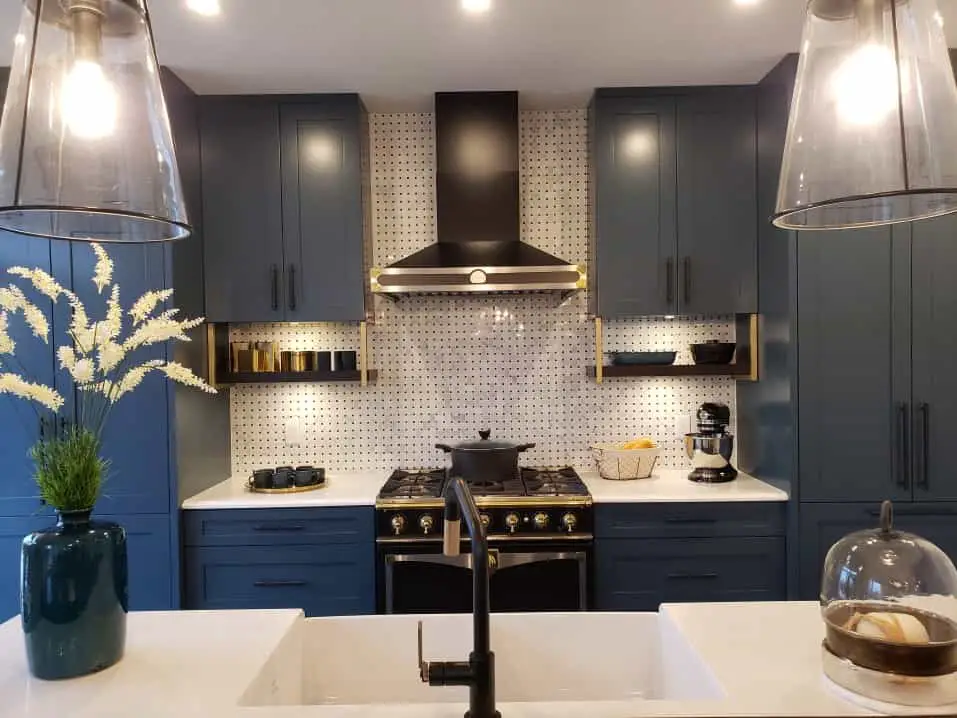 The color and design can indicate if you prefer a traditional, modern, or chic style for your kitchen.
In this article, we will help you choose kitchen cabinet colors that fit your personality and vibe.
Tips & Considerations on Picking Kitchen Cabinet colors
Kitchen cabinets usually consume half your kitchen renovation budget depending on what material and hardware you use and take up about 40 percent of the visual space in your kitchen.
When selecting a kitchen color scheme, there's a reason why cabinets should be your first consideration. Using your kitchen cabinets as the basis for potential color choices will be a smart idea.
Read on for tips on how to properly select the best kitchen cabinets colors:
Ask yourself this question, do I have a huge kitchen or a tiny kitchen? Is it illuminated well?
These questions are relevant because, in your kitchen, the color of your cabinets can either help or oppress you.
Depending on the size of your kitchen, the cabinet colors you choose can either improve or diminish the look of your kitchen.
Lighter kitchen cabinets will benefit from a small or under-lit kitchen, while dark cabinets in a larger, well-lit room will work perfectly.
Ideally, you would want to select a color of cabinetry that complements your current color scheme for the wall if you're planning to keep them the same.
To learn more about matching contrasting and complementary colors, using a color wheel will be a big help.
By using the design style of your cabinet as your reference, you can also make the decision simple for yourself.
For traditional kitchens, classic kitchen cabinet's colors like white and cream will almost always look gorgeous.
While bright whites and subdued creams would work well for the Shaker and Arts and Crafts models. Likewise, color pallets expand greatly in modern theme kitchens.
Bright colors and contrasting tones always look amazing in this style.
Mood or Vibe You Want to Generate
For your kitchen cabinets, the color you pick will help create a particular atmosphere in your kitchen.
To give you an example, light blue cabinets will help create a cool, comfortable mood while black cabinets will help create a dramatic and sophisticated mood.
To learn more about which colors are correlated with what moods, you can take a look at the concepts of color in Psychology.
Using Multiple or Two-Toned Colors
Two colors of kitchen cabinets can be fun and impactful. Choose only one bold color if you want to play it simple and then match it with a neutral cabinet color.
This also functions well when you sparingly use a bold hue.
For a fun but not an overpowering punch of color, consider painting just your kitchen island cabinets a different color from the rest of the kitchen.
Using Various Shades of One Color
If a neutral kitchen cabinet's colors are too bland for you but bold colors are too boring, use two shades of one color to find a balance.
Use dark shades of gray or brown on the upper cabinets while the lower cabinets use light shades of the same hue or vice versa.
This method keeps stuff neutral but adds an additional visual interest aspect.
Span of Time You'll Spend in Your Home
If you have plans on selling your home in the near future, then you may want to think less about your own personal interests and more about what your future buyer will want.
Even if you love bright colors for your cabinets and believe it would look fantastic in your kitchen, not all buyers are on board with such dramatic decor preferences.
It is recommended that you go with neutral colors such as white, gray, and brown to please the masses if you are planning on selling soon.
Readiness in Transforming Your Kitchen Cabinet Colors
Now that you've reached the last part of the article, it's time to reflect and think before changing the kitchen cabinet's colors. Your kitchen will have a whole new look before you know it.
Be sure to contemplate the listed tips and tricks and check for more home improvement blogs that will definitely suggest the best brands and materials that fit your needs.
What Is The Best Kitchen Cabinets Color Paints
Picking the right paint for kitchen cabinets can be a daunting task. To help you with the selection for your kitchen cabinet colors, we are here to provide the best paints.
Dulux Quick Dry
Who wouldn't want to have more choices? Dulux Quick Dry Paint is readily available in multiple colors.
Another good thing is it's accessible in various hardware stores. If you are into a clear and glossy finish, this paint can give you that transformation.
The advanced water-based formula has a thin consistency and high-coverage coats. Most consumers love the illuminating and smooth finish of this paint.
It also has a tough coating that can withstand the busy life of the kitchen. One of the highlights of this paint is its quick-dry formula.
This paint ensures that your kitchen cabinets color achieve the right finish. And, they ensure that you can quickly use the cabinet after the painting process.
Johnstone's One Coat Quick Dry Satin Paint
If you are looking for a kitchen cabinet color somewhere in between a chalk finish and gloss finish, go with a Johnstone's One Coat Quick Dry Satin Paint.
It usually dries for one to two hours. After that, you can easily recoat the kitchen cabinets.
Another thing why it is a consumer's favorite is because of its performance. As you can notice, it can cover the surface evenly with one coating.
It also has other benefits such as:
Low Odor
Rapid Drying
Durable Coating
Perfect Sheen and Non-Smudging Finish
Shabby Chic Chalk Based Furniture Paint
This paint has been in the industry for 30 years, and it is becoming more prevalent.
Thanks to its finish delivery and pastel colors, Shabby Chic Chalk Based Furniture Paint is popular. Plus, no primer is required to be used when applying this paint.
One of its best features is its convenience. It works well indoors and outdoors. The shabby chic look can be achieved by incorporating a few coats from Rust-Oleum Chalky Finish furniture paint.
No Intrusive Odors
Velvety Ultra Matte Finish
Vintage Look
Some consumers are concerned that this paint comes in small tin sizes, but along the way notice that a little paint goes a long way.
As a recommendation, you can check out Liquorice for ideal kitchen cabinet colors.
V33 Renovation Smooth Satin Kitchen Cupboard & Cabinet Paint
Are you looking for paint that can be applied even on a multi-surface? Then V33 Remodel Smooth Glossy silk paint is for you!
This paint is one of the most prevalent dyes in the market because it can be used directly without stripping and using undercoats.
Besides, it is stain and household-resistant. It can withstand exposure from vinegar, coffee stains, and diluted bleach. This water-based paint has a quick-dry formula.
For an easy application of these kitchen cabinets color, you can utilize a round-edged paintbrush or roller. It can be fully dried within 24 hours.
Behr Alkyd Semi-Gloss Enamel Paint
We all want to have a kitchen cabinet color that is durable, resilient, and washable.
Luckily, there is a mixture of oil-based paint's consistency and durability and water-based paint's comfort in BEHR Urethane Alkyd Semi-Gloss Enamel Paint.
It only takes two to four hours to dry the paint from the surface. After that, recoat it for around four to six hours.
If you want to have a reliable and durable cabinet, you can find this kitchen cabinet paint at all Home Depot stores. They offer different kitchen cabinet colors for more options.
Transform Your Kitchen Through Colors
Paint indeed can transform a space entirely. The kitchen cabinet's color is a big part of how the room will look and make you feel when you're contemplating the look of your kitchen.
It's crucial that the cabinets are a color that fits well with the rest of the decor since they take up a wide area of visual space.
However, the most important thing to consider is that your kitchen cabinets should be in colors you really love.