Switching to kitchen cabinets with glass doors can completely transform your kitchen's vibe. Unlike the standard way to go, you won't have to hide what's inside your cabinet. Instead, you have the chance to showcase your finest kitchen collections.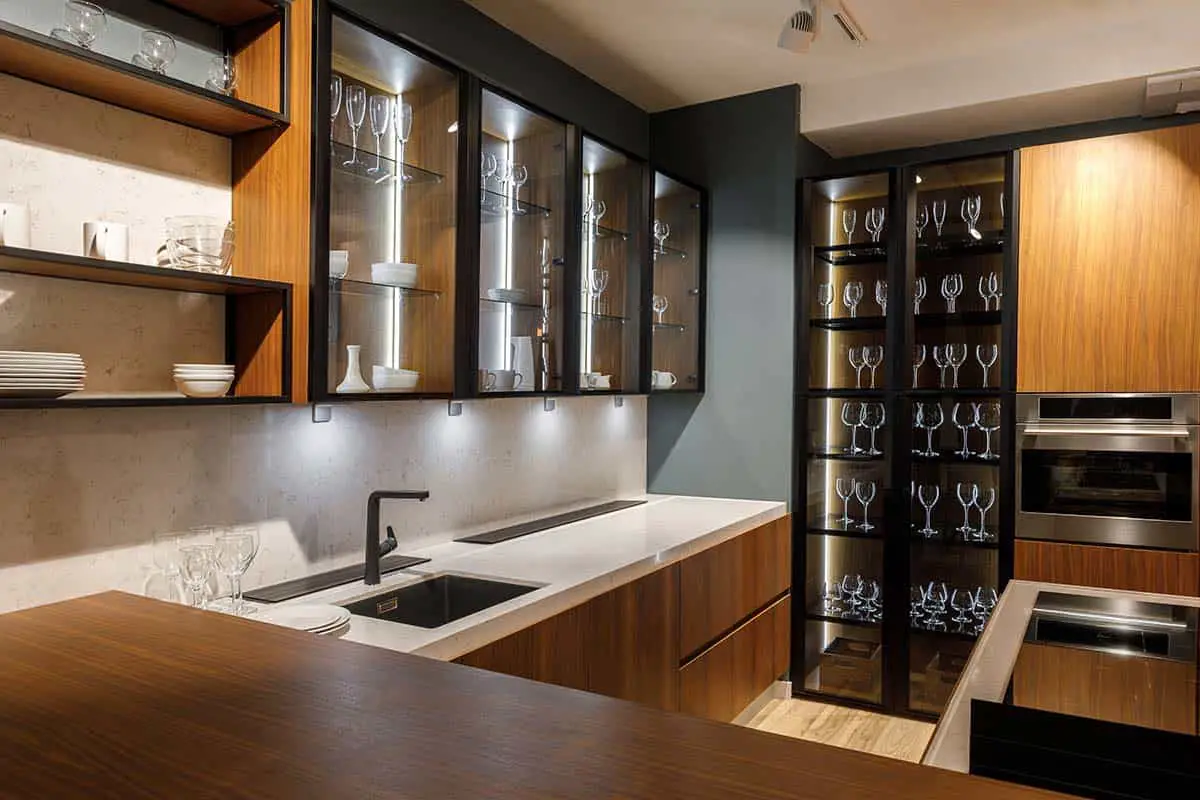 Why You Should Switch to Kitchen Cabinets with Glass Doors
At one point, you have probably thought of switching to kitchen cabinets doors with glass. They create a timeless and sophisticated look that adds depth to your kitchen's vibe.
Also, you have a variety of options with superior quality and durability. Especially if you have kitchen collections you want to show off, kitchen cabinet glass doors are perfect for your space.
But since this door style may be new to many, it is vital to first lay down the basics of kitchen cabinets' glass doors.
With that said, here are all the things you need to know on why you should make the switch to glass:
Kitchen Cabinet Glass Doors
With glass-front cabinets, you replace the center wood panel of the cabinet with glass. What it does is break up the monotony of dull and plain cabinet fronts.
Furthermore, it's also great for small kitchens as it creates an illusion to make your space larger.
For durability, the best wood frame for a kitchen cabinet with glass doors are high-quality 4-piece wood.
Kitchen Cabinet Glass Panel
The design of your kitchen cabinet will determine the number of glass panels you need. For instance, you can have 2, 4, or 6-panel kitchen cabinet glass doors.
These choices give you the more creative freedom to plan how you will showcase your dishware inside.
A designer tip is you can match the number of glass panels with your kitchen windows for uniformity.
What are The Advantages of Kitchen Cabinet with Glass Doors
More and more homeowners are opting for kitchen cabinet doors with glass fronts. The reason for this is because of its both aesthetic and functional benefits.
It makes a timeless look that fits most interior designs. But also, it's functional because you have a clear vision of where everything goes.
Besides these, here are some of the greatest advantages of kitchen cabinet doors with glass fronts:
You have an extensive variety of kitchen cabinet doors with glass styles to choose from, from transparent to stained glasses.
Or, you can also opt for glass doors with intricate accents and designs. It's because most glass companies cater to fully-customized styles of glass doors.
It gives you a chance to customize your cabinet door to your heart's desire. If you like it, after the project, you'll own a kitchen cabinet that is unlike no other.
Display Your Glassware and Tableware
If you're into collecting beautiful glassware and tableware, chances are you want to show them off. It's a bit of a waste if you only bring them out for special occasions.
Thanks to the quality of kitchen cabinets with glass doors, you can display your most valued kitchen collections.
Now, you can turn heads with your beautiful wine glasses, plates, bowls, and other collectibles. Since you also have the freedom to paint the interior, you can make them stand out even more.
You can also put LED lighting inside to highlight your cabinetry even more and to easily find items.
Creates a Sleek and Unique Look
Over time, wood fronts in cabinets can appear dull and boring. To spice things up, you'll have to repaint them over and over again to switch up their look.
That's not a problem with the kitchen cabinet with glass doors. It creates a brighter and cleaner look, making it sleek and unique to look at.
It's also a way to showcase your personality and character in your kitchen space.
As mentioned, kitchen cabinets with glass doors can make small spaces appear and feel bigger. It's because the visible cabinet content creates an illusion of full spatial dimension.
Simply using glass for your cabinet door front can switch up the whole dynamic of your kitchen space.
What are Kitchen Cabinets with Glass Doors on Top
What you need for kitchen cabinets with glass doors on top are glass inserts. What exactly do glass inserts do? It replaces the wooden panel in your kitchen cabinet door, creating an open and polished look.
It works in two ways:
Existing Cabinet Doors
For this project option, you won't have to purchase new cabinet doors. If your current cabinet doors are in good condition, you can simply remove the solid wood panel.
Then, you'll replace them with glass inserts. You can either do this by yourself with some help or get professional help.
Furthermore, depending on your preference, there are two ways to incorporate glass inserts in your cabinets.
You can either switch all cabinet panels to glass or focus on only one to two cabinets.
Cabinet Doors
The second option is to purchase a kitchen cabinet with glass doors on top. The construction of these cabinet doors is specially designed to hold glass inserts.
You won't have to remove the wooden panels anymore. Instead, you can install the glass insert replacements effortlessly in no time once you deem it necessary.
Glass vs. Plexiglass
Glass and plexiglass are the two most used panels for kitchen cabinets with glass doors on top. To know which one suits your preference more,
here are their differences:
Glass
Heavyweight
Sturdy
Can break with force
Expensive
Plexiglass
Lightweight
Does not break with force
Budget-friendly
Easier to work with
Make sure to accurately measure the frame of your cabinet door to get an accurate size of glass inserts. The key is to measure them in a way that the glass would overlap around ¼ to ½ by the frame.
Steps on Adding Glass Inserts on Kitchen Cabinet Glass Doors on Top
Adding glass inserts to the cabinet doors is a great way of making your kitchen feel more modern. Glass inserts provide an elegant look and are quite simple to install.
Here is the step-by-step process on how you can customize kitchen cabinets with glass doors on top:
Remove all the hardware from the cabinet door you're inserting glass on.

Once you remove the cabinet door, position it with the front up on a workbench.

Drill onto the bottom and top left corner of the door panel. Repeat drilling in the bottom and top right corner of the door panel.

Following the drilled holes and the frame outline, use the jigsaw blade to cut the door panel.

Once you reach the drilled hole on the top left corner, turn the jigsaw off and pull the blade.

Repeat the process for all the drilled holes until you cut the entire door panel, leaving only the frame.

Sand the frame's inner rim gently using sandpaper and then position it upside down.

Apply the caulk along the frame's perimeter and then lay the glass insert. Make sure to press it down for good adhesion.

Let the caulk dry for around 30 minutes.

Attach four or more glass fasteners to the frame and glass insert using the screw and secure it using a screwdriver.

Reinstall your glass-front to the cabinet frame.
Materials for Adding Glass Inserts Into Kitchen Cabinet Doors
Adding glass inserts to kitchen cabinet doors is a great way to add an element of style and elegance into your home. This project requires some careful planning, so be sure you have the right materials on hand before starting!
Glass
Drill and drill bit
Screwdriver
Glass fastener
Jigsaw
Caulk
Sandpaper
What are The Types of Kitchen Cabinet Glass Door Replacement
Depending on your style, you can choose your preferred type of kitchen cabinet glass door replacement. Different types have different specifications that create different looks and appeals.
These vary in appearance, texture, weight, and thickness. To help you decide, here are various types of kitchen cabinet glass door replacement:
Transparent Glass
Transparent glass is perhaps the most popular choice of kitchen cabinet glass door replacement.
Not only is it sturdy but it also has a lot of variants. Furthermore, it is simple and elegant and works well with most styles of kitchen.
When choosing transparent glass, make sure to opt for toughened glass for durability. A single-flat panel is also great for a sleek and clean look
The only downside with transparent glass is that they are prone to grease. It also makes smears and splashes easily visible. Thus, you have to wipe its surface every now and then.
Textured Glass
Textured glass has a more translucent look for a traditional vibe. You have many options of patterns and designs for textured kitchen cabinet glass door replacement.
Here are some ideas:
Wavy
Arctic
Aquatic
Fluted
Floral
Pebbled
Reeded
Yacare
These patterns and designs are an excellent accent for kitchen aesthetics. It also gives you more creative freedom in choosing different styles.
Frosted Glass
For a beautiful distorted interior perspective, the best option is frosted kitchen cabinet glass door replacement. Its translucent quality shows the colors and shapes inside the cabinet.
It creates an elegant and sleek look that is best for metal cabinet finishes. To add more sophistication, you can also mount light in the interior to make the cabinet content more visible.
Another advantage of using frosted glasses is they can mask splashes and smears.
Seeded Glass – for perfect vintage expression
Like textured glass, seeded glass has a textured surface that creates a traditional look. It has the name "seeded" because of the grains or bubbles on its surface.
It allows you to see the cabinet content either very clearly or slightly secreted depending on the bubble size and density. Like with frosted glass, mounting a light in the interior can add appeal to seeded glass front doors.
Leaded Glass
Leaded glass or crystal glass has multiple pieces of enjoined glasses. It creates a modern artsy look that is best for showcasing your unique character.
The leaded glass looks best with colored tints as it highlights its contemporary look. The best thing about this type of glass is you have the freedom to design it according to your preferences.
Sumiglass
Sumiglass is a type of layered glass consisting of compressed materials. Apart from its stylish decorative look, Sumiglass is also highly sturdy.
In fact, it uses advanced technology for bonding each glass pane ensuring its secure adhesion.
Show Off Your Kitchen Cabinet
Kitchen cabinet with glass doors continues to revolutionize kitchen aesthetics. Unlike hiding the elements in your kitchen, this kitchen cabinet door style makes them stand out.
This quality allows you to be creative and use the content of your cabinet as unique decors.
Whether you want a completely clear glass door or go with a subtle style, there are many varieties to choose from.
We hope this article helped you make a decision on whether to make the switch or not!