One of the first concerns when revamping a kitchen space is how much are custom kitchen cabinets. Custom cabinets can elevate not only the aesthetics but the function of your kitchen.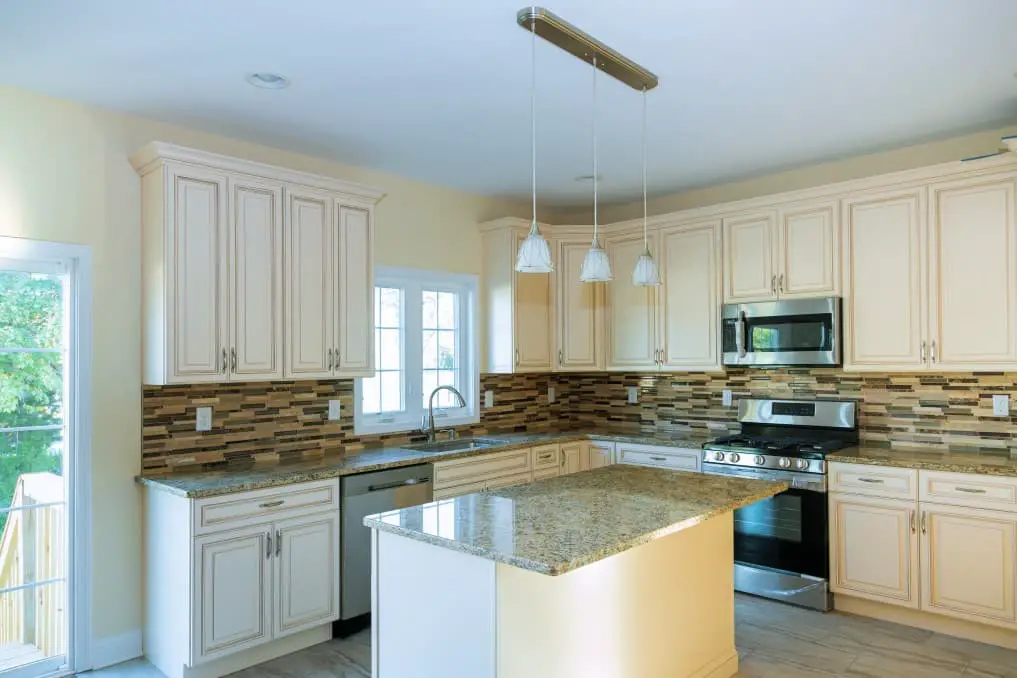 Custom Kitchen Cabinets are made to fit your exact specifications. This is the best option if you have a specific design and layout in mind for your kitchen.
However, they may be more expensive than semi-custom cabinets because of all the customization involved.
Semi-custom cabinets are prefabricated kitchens that come with many standard features such as drawers, shelves, and doors already installed.
If you're looking for a more cost-effective way to remodel your kitchen or just want something 'off the shelf,' this would be the cabinet type for you!
How Much are Custom Kitchen Cabinets
Unlike stock cabinets, the cost of how much for custom kitchen cabinets is quite different. It's because, with custom cabinets, you will handpick everything from the style, material, finish, etc.
The construction and measurement of these cabinets are also built to fit your unique kitchen space.
That said, if it's up to your preference, be ready to spend more on how much for custom kitchen cabinets. It will ensure that everything is according to your taste and style.
To give you an idea of the estimate of how much are custom kitchen cabinets, take a look below:
The average cost for how much for custom kitchen cabinets ranges from $15,000 to $36,000.
It typically includes both the upper and lower kitchen cabinets as well as features like racks, pull-out organizers, appliance panels, etc.
As such, it is a huge jump from standard cabinetry without specialized items.
The average cost of how much for custom kitchen cabinets is made up primarily by the labor and materials. The labor in itself can cost anywhere from $7,000 up to $20,000.
Another way to estimate how much for custom kitchen cabinets is per linear foot. For this, the average cost of custom kitchen cabinets per linear foot ranges from around $550 to $570.
It comes up to this price because the cabinet itself alone can cost $400 per linear foot. This price doesn't include the cost for the doors, moldings, and finish, which adds around $150 to $170 per linear foot.
The highlight of custom kitchen cabinets is the enhancements and special items you can add. These improvements can superbly elevate the function and design of your kitchen cabinets.
At the same time, they also affect the cost of how much for custom kitchen cabinets. For these reasons, it's crucial to factor these things in when planning for your kitchen renovation project.
Especially for base kitchen cabinets, one of the most crucial decisions you will make is for the countertop.
There is a range of materials used for constructing countertops, from wood, stone, concrete, laminate, glass, quartz, or metal.
Depending on your chosen material, the cost of countertops can cost around $500 to $1,500.
Another important enhancement that you might want to simultaneously add to your custom kitchen cabinets is the sink. You can choose a new sink that will perfectly match your cabinets.
You have several choices of sinks from material, size, shape, and configuration that cost anywhere from $200 to $1,000.
To elevate your kitchen cabinet aesthetic and function of your cabinetry, you might want to install under-cabinet lighting. The cost of cabinetry lighting and installation typically starts at $200.
If you have a small kitchen space, it's smart to integrate appliance storage in your cabinets. It can house small appliances like microwaves, dishwashers, mini ovens, etc.
While these are not as expensive as custom kitchen cabinets, they would still cost you around $300 per linear foot.
What Are The Differences Between Stock vs. Semi-Custom vs. Custom
The cost of how much for custom kitchen cabinets is primarily because you can customize every material and construction process.
So what are the differences between custom, semi-custom, and stock kitchen cabinets?
Stock: These are pre-fabricated standard models that cost between $60 to $100 for every linear foot.

Semi-custom: These are cabinets that use pre-built templates with options for customization that cost about $100 to $650 every linear foot.

Custom: These are customized cabinets with exact specifications that cost around $500 to $1,200 every linear foot.
Custom Kitchen Cabinets vs. Semi-Custom Kitchen Cabinets
Since there is customization involved in both custom vs. semi-custom cabinets, what are their differences?
Custom Kitchen Cabinets are a great way to get exactly what you want for your kitchen space. The cost of the cabinets is higher but the custom design will more than makeup for it in the long run.
Semi-custom cabinets are cheaper and can be customized to a certain extent, but not as much as custom cabinets.
Semi-custom cabinet's drawbacks include the limited number of choices available when choosing sizes or styles, less variety of materials on offer, and fewer options with regard to hardware placement.
Custom Kitchen Cabinets allow you to choose from over 20 different types of wood species so that you can find something that matches your decor and style perfectly!
They also come in many different styles like traditional, contemporary, rustic, or country
To help you determine which type of cabinet is best for you, look at their pros and cons below:
Custom Kitchen Cabinets
Pros
The sky is the limit with customization

Guaranteed durability
Cons
Takes a long time to construct

The overall cost may is pricey
Semi-Custom Kitchen Cabinets
Pros
Provides you with more options than stock cabinets

Typically has 1-inch increment size modification for flexible customization
Cons
Additional costs for various options
Cost of Custom Kitchen Cabinets by Material
Since it makes up the entire cabinet, the materials used have a significant impact on how much are custom kitchen cabinets. Each of these materials has a varying price point and cost range.
Some materials are more expensive than others, especially if they are high-quality wood that is difficult to work with.
Generally, kitchen cabinetry uses solid wood or hardwood plywood. However, some models also use MDF or stainless steel.
The guide below will give you an idea of how much are custom kitchen cabinets by the material.
Medium-density fiberboard or MDF is a combination of wood pulp and resins. You might know it from its other name "laminate" cabinets.
MDF custom kitchen cabinets cost around $10 to $15 per linear foot. And it is the most affordable and commonly used material for kitchen cabinets.
The only downside with this material is its limited options and difficulty to repair when necessary. Nonetheless, its surface has good paint adhesion if that's your preference.
This type of wood has a naturally appealing bluish and grayish undertone. Homeowners who want a unique-looking cabinet prefer it over red oak, which has a pink undertone.
Other than that, the wood surface is also easy to work with and is best for staining. Custom kitchen cabinets made of a white oak range around $15 to $22 per linear foot.
For light-colored kitchen cabinets, maple is the way to go with its range of colors. It's available in light golden brown to a rich honey color.
Maple is also a medium-density hardwood that makes it sturdy and long-lasting. The cost of custom maple kitchen cabinets ranges from around $13 to $19 per linear foot.
Cherry wood is popular for its red hue that gets richer with sunlight, humidity, and as time goes by. It's an excellent choice if your kitchen is exposed to direct sunlight.
Moreover, the even grains on its surface are best for staining a wide range of hues. Custom cherry wood kitchen cabinets are around $16 to $23 per linear foot.
With its solid color and even grain, birch is one of the most popular kitchen cabinet materials. Not only is it easy to work with for cabinet makers but it's also long-lasting and can stand against time.
With an affordable price of around $13 to $19 per linear foot, it can elevate your kitchen without costing too much.
Finally, we have steel material which costs around $1,000 to $1,500 a linear foot. Obviously, it's the most expensive choice of material on how much are custom kitchen cabinets.
It's because of its construction and thickness regulation that impacts its final price. While you can opt for thinner steels for your cabinets, it will not serve you well in the long run.
Choose the Right Kitchen Cabinet Design Style for Your Home
Knowing how much are custom kitchen cabinets will save you from the shock once you decide to push through with your project.
While it is not the cheapest renovation, being able to custom fit them to your style brings many benefits.
You can ensure that it uses high-quality materials and the manufacturing process goes as seamlessly as possible.
As the center of your kitchen, it's best to make your spending worth it for your kitchen cabinets.