Homeowners often ask the question, Can I install kitchen cabinets myself? You may be looking for a way to save money, or you merely want to try a fun DIY project. Whatever your goal is, read on to know more!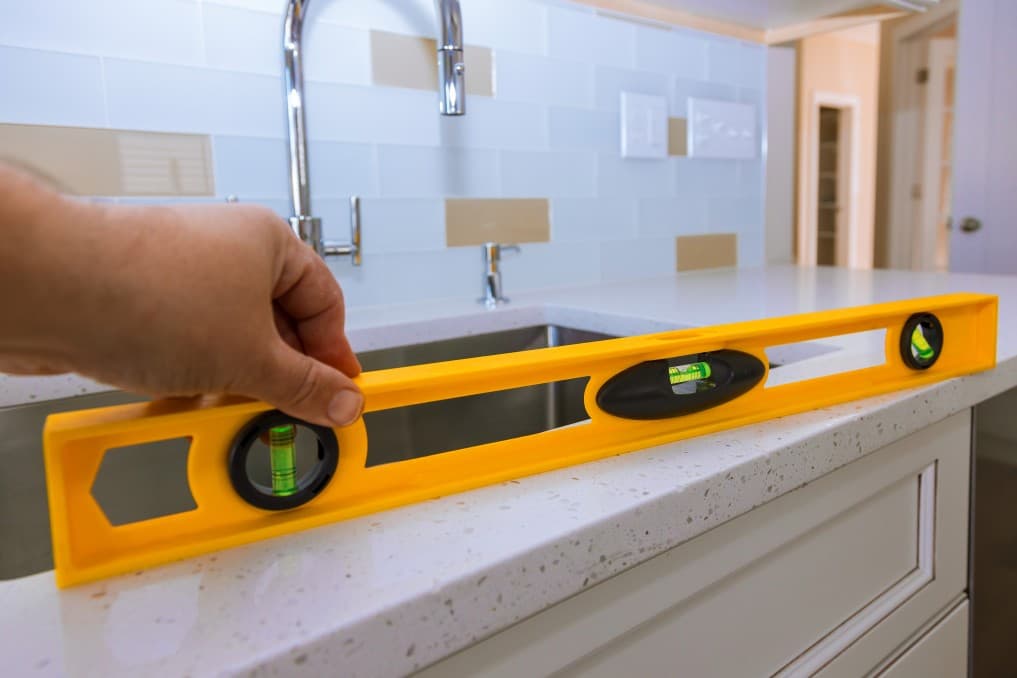 The kitchen is the heart of the home and where most food preparation takes place.
Whether you're a seasoned pro or just starting out, installing your own cabinets can seem like a daunting task, but it doesn't have to be.
Can I install kitchen cabinets myself?
The answer to that question is yes! You may install kitchen cabinets without the help of a building contractor. This feat is ambitious yet achievable.
It may come with several risks, but completing this task can be rewarding. Can I install kitchen cabinets myself?
To get into that further, here are some of its pros and cons.
One of the main pros of DIY kitchen cabinet installation is that you will have control over everything. You are in charge of choosing what materials to use during installation.
You have complete control over the design of the kitchen cabinets. You will do everything your way, and whatever you want to do is on the table.
Furthermore, installing kitchen cabinets yourself will help you save on labor costs. Since you will be doing and facilitating the work, you do not have to outsource the project anymore.
DIY will allow you to save resources and funds that you may allocate to other renovation projects instead.
After reading all those pros, you may have been motivated to do all the work yourself. After all, how difficult could it be?
Assembling parts and putting them where the old cabinets were is simple, right? We are sorry to burst your bubble; there is more to it than that.
You have many factors to consider, such as your skill, the tools available, and your speed. You will also have to take note of your physical capabilities.
First, you must consider that assembly will require specific tools that you must use. A contractor already has these tools at hand, but you might still have to buy them from the hardware.
A skilled contractor may take two to three days to finish an installation job. For an inexperienced woodworker, this seemingly simple job might be intimidating.
Since you are less experienced, it would probably take you a longer time than that.
Everything becomes a domino effect from there. Since it would take you a long time to finish the installation, you cannot use your kitchen during that period.
Keep these things in mind when answering the question Can I install kitchen cabinets myself?.
Furthermore, you have to remember those kitchen cabinets are heavy. Because of this, cabinet installation is a physically tedious task.
Also, you must do this while ensuring that all measurements you made are accurate. The installed cabinets must be plumb and level, and a single miscalculation may cause you to start over again.
Lastly, if you mess up the installation, you will inevitably have to contact a professional contractor to finish the job.
By that time, the installation cost has increased since the contractor has to undo the damage you caused.
In some cases, it will cost you more to undo the failed installation attempt than to hire a contractor in the first place. Not only did you lose time, but you also wasted your money.
Can I install kitchen cabinets myself? You must reevaluate.
How much do kitchen cabinets alone cost?
According to CostHelper, kitchen cabinets are very costly on their own. For example, stock and pre-made cabinets can cost you $4,000-$5,000 for the most basic designs.
Keep in mind that cabinets come in different styles, finishes, and shapes, and their price will be dependent on those details.
The cost mentioned above does not include the amount needed for countertops and installation.
Moreover, if you want semi-custom cabinets with more options, you will have to pay double the price.
According to CostHelper, semi-custom cabinets may cost $8,000-$10,000 excluding countertops and installation fees. These amounts are still to increase based on your add-ons.
Opting for hand-crafted finishes, intricate trim patterns, glass fronts, or exotic woods may add thousands of dollars to your cost.
Lastly, fully custom-made cabinets may cost four times the price of the stock kitchen cabinets. These are the type of cabinets custom made to fit in a specific layout or conform to a particular design.
If you opt for this type of kitchen cabinet, you may have to spend $16,000-$20,000. That amount is for the cabinet alone and includes neither countertops nor installation fees.
Our main point is that the kitchen cabinets alone will already cost you thousands of dollars.
Can I install kitchen cabinets myself?  If you want to save every dollar you have and are confident in your building skills, our answer is yes.
What is the importance of cabinets in the kitchen?
The kitchen cabinet is the star of a good kitchen design. These pieces of furniture provide the basis of your kitchen's structural foundation.
Kitchen cabinets can make or break your kitchen design. Cabinets are the most expensive and thus crucial investments in the kitchen, according to Bob Vila.
Homeowners must consider their cabinets first before following through with the rest of the kitchen to ensure a cohesive layout.
If you plan on staying in your home for the years to come, your cabinets will define your kitchen experience.
They will make everyday tasks easier, such as cooking, cleaning, and home organization.
Furthermore, if you plan on selling your home in the future, keep in mind that the kitchen is a huge selling point. Thus, your kitchen cabinets need to make an excellent first impression.
If you are reading this article, you might be devising a plan for the kitchen of your soon-to-be home.
On the other hand, you might be planning an update or an upgrade for your existing kitchen.
However, if you are still unsure, here are some reasons that might make you consider installing new kitchen cabinets.
Your current kitchen cabinets are damaged and deteriorated.

Your existing kitchen cabinets do not fit your current lifestyle.

Your kitchen cabinets do not meet the particular needs of your family members.

Your kitchen cabinets are outdated and are not trendy anymore.

You merely crave a change of scenery in your kitchen.
If ever you find yourself agreeing to any of the statements listed above, congratulations! We believe it is indeed time for you to install new kitchen cabinets.
In installing kitchen cabinets, you have two options. The first choice is to hire a contractor to accomplish the job for you, which can be kind of pricey.
The less expensive option is to DIY your kitchen cabinet installation. Now, time for the question we all have been itching to ask: Can I install kitchen cabinets myself?
Decision Time. Should I Install Kitchen Cabinets Myself?
Are you still unsure? Answer these yes or no questions to help you assess the answer to Can I install kitchen cabinets myself?
Do you have the proper equipment for kitchen cabinet installation?

If not, are you willing to buy the necessary equipment and tools?

Have you had prior experience in woodwork?

Are you physically capable of lifting heavy weights?

Do you have the patience for trial and error in case something goes wrong?

Will you be able to finish the installation job in a short period?
Can I install kitchen cabinets myself? If you answered yes to all these, then you most definitely can!
We wish you all the best in your installation endeavor.