If you're looking for a change in your kitchen, you must be wondering if can you paint kitchen cabinets. It is the best way to spice up your kitchen space without spending tons purchasing brand new cabinets.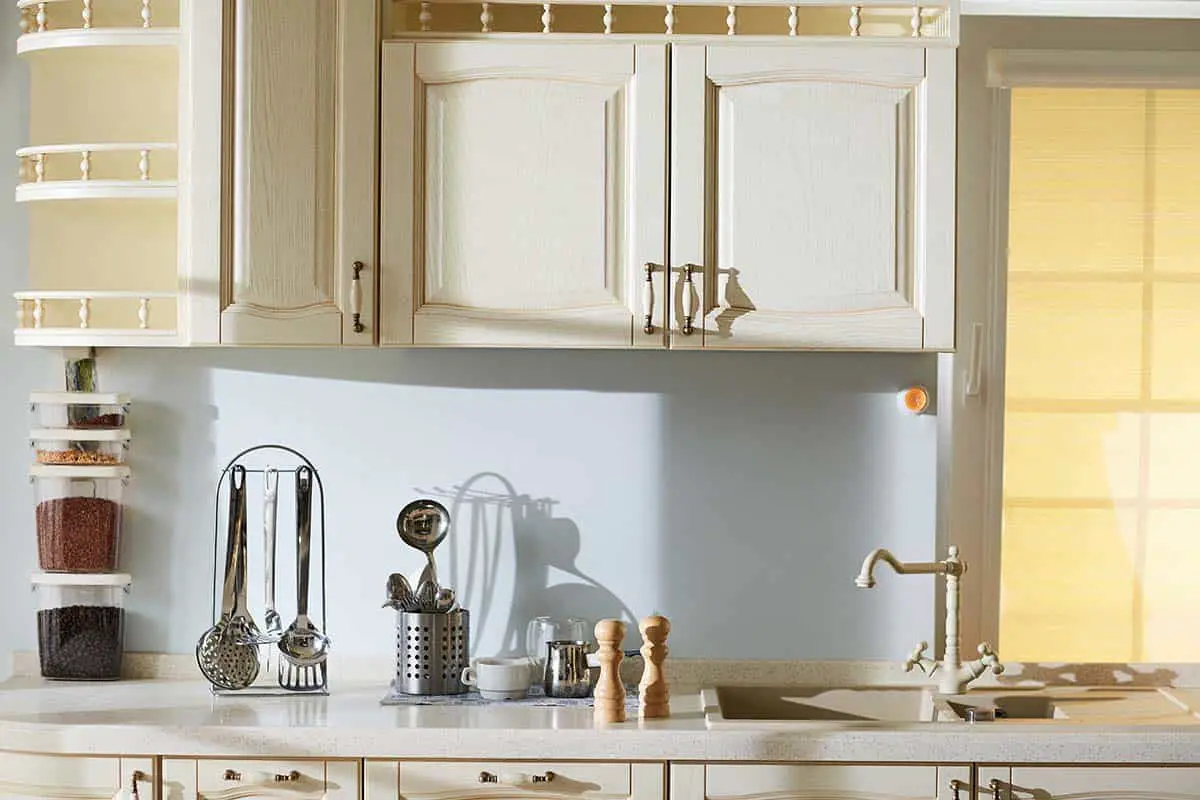 If you're ready to get started, here are the things you need to know:
Can You Paint Kitchen Cabinets: Unfold the Secrets to Transformation
The answer to the big question, can kitchen cabinets be painted, is a resounding yes. When you do this project properly, you can completely change your kitchen's look with a minimal budget.
While it may seem like a simple job, there's a lot to know about can kitchen cabinets be painted. You can use some pro tips to guide you from start to finish.
That said, here are some of the secrets to ensure a successful kitchen cabinet repainting.
If you're wondering can kitchen cabinets be painted, you have to consider the material of your cabinets. The best material for repainting kitchen cabinets is undeniably wood.
It can be all sorts of wood variants — MDF, compressed wood, painted wood, unfinished wood, stained wood, etc.
The reason for this is because, unlike other materials, you can easily scuff up wooden material with sandpaper. This process ensures that the paint will adhere to the surface.
For painted wood, the key is to de-gloss the surface using thorough wood.
Before jumping in on the can kitchen cabinets be painted process, you first have to clean. And when we say cleaning, it's not just mindlessly wiping and dusting the surface.
Instead, you have to clean the cabinets' surface in and out thoroughly. The best companions for this task are high-quality degreasers and a gentle sponge.
This combination will remove any grease, spills, and residue that have accumulated on your cabinet over time.
Don't Forget to Label Each Cabinet Panel
No, you can't just take off all the drawers and door hinges out of their slots. It will turn the reinstallation part into a big mess.
Instead, make sure to label each piece according to its designated cabinet panel. This system will make the job easier once you're ready to reassemble the cabinet.
Coming Back to a Lighter Shade
After knowing can kitchen cabinets be painted, you'll probably be excited to paint your cabinets with dark and trendy shades. However, at some point, you'll get bored of it.
Luckily for you, it's possible to come back to a lighter cabinet shade. The secret here is utilizing the primer. Here, you have to tint the primer to match your desired results.
If you're going from a very dark shade to a very light shade, you can apply a thick coat of underbody and then tint it.
For the finish of can kitchen cabinets be painted, it's best to go for hard finishes like gloss, semi-gloss, and satin. These surfaces are easy to clean as it is wipeable.
They are also highly durable compared to other finishes, ensuring that they will last for years to come.
Get a Fine-Bristled Brush
You may be tempted to use a roller on can kitchen cabinets be painted. However, to get the best finish, the best material to use is a brush with fine bristles.
Ideally, you should get a brush with 2 to 2 ½ inches that can brush smoothly on tiny crevices and corners. If you must use a roller, get a small one so it can still go over smaller areas.
To remove the roller marks, you can go over them using a brush.
Painting Glass-Fronted Cabinets
Unlike kitchen cabinets with solid fronts, you must be extra careful with painting interiors of glass-fronted cabinets.
It is because, along with the utensils, you'll be displaying the interior paint through the visible glass.
You can either go with the same color as the exterior or choose a different interior shade for elevated style.
If you're looking for a more convenient option than a paintbrush and roller, you can also use a paint sprayer.
The only difference with using a paint sprayer for the job is you have to be extra detailed in masking.
It means that you have to pay extra attention to covering everything else in your kitchen to avoid accidental spraying.
What are the Pros & Cons of Painting Kitchen Cabinets
You know that the answer to can you paint kitchen cabinets is one of the easiest ways to revamp your kitchen cabinets.
However, along with this fact, it's also a tedious process that needs attention to details.
With that said, let's look at the pros and cons of painting kitchen cabinets:
Pros
Of course, the cost is the number one benefit of painting over replacing kitchen cabinets. It will cost you more than half as much as when you purchase and install new ones.
This economical choice will leave you with more money to spend on upgrading other elements in your kitchen.
Makes Your Kitchen Cabinets Look New
Painting kitchen cabinets create a miracle that will exceed your expectations.
If done correctly, you'll be stunned by how fresh and new your kitchen cabinets will look. At first glance, visitors will not notice that they're repainted and not replaced!
Cons
The process of can you paint kitchen cabinets is a long procedure. It can take days up to a full week to accomplish all the necessary steps.
The general kitchen cabinet painting process involves:
Removing doors off hinges
Taking drawers out
Labeling all removed parts
Deep cleaning the parts to be painted
Sanding to prepare the paint surface
Priming
Multiple coating of paint
Reinstallation
If you miss any of these steps, you will be in on the horror of sub-par or messy results.
Not Suitable for All Cabinets
Note that answering the question, can you paint kitchen cabinets, starts with reviewing their condition. The present shape your kitchen cabinets are in will determine if they're apt for repainting.
If repairing will not solve the damages it has, it's best to go for replacement. If you still paint them regardless of condition, you'll only get disappointed with the results.
Since chances are you're not a professional, using a paintbrush may leave unwanted brush marks. It will take you skill and training to use the paintbrush and produce a smooth and flawless result.
While you can use a paint sprayer, it may be harder to rent, borrow, or purchase one.
Additional Tips on Painting Kitchen Cabinets
To give you more background on can you paint kitchen cabinets, we will answer some frequently asked questions for you.
It will provide you with the final notes before you head on to the project.
Can you just proceed to paint over the cabinets?
So can you paint kitchen cabinets as it is? The safest answer for this is no. Generally, the best way to ensure excellent adhesion upon painting is to strip or sand.
These courses of action will ensure that the cabinet surface can hold the primer and paint. Also, while you might think that it's best to strip down to the bare wood, it's not always the case.
Often, a light sanding is enough to prep the cabinet surface to hold the new paint.
What's the purpose of sanding?
The sanding process will save you from potential bumps and dings once you apply the paint coating. And as mentioned, it also ensures that there will be a strong grip between the new paint and the surface.
What is the best type of primer and paint for kitchen cabinets?
Note that not all types of primer and paint are suitable for kitchen cabinet surfaces. You'll have to opt for variants made to create good adhesion between the primer and paint and the surface.
For starters, you can opt for a multisurface primer and latex paint for your project.
A good primer coating ensures that the final paint results will be flake-free. If you're familiar with the standard wall primers, that's not your best choice for priming cabinets.
You have to choose a bonding primer with a chemical grip. As such, it will adhere excellently to any cabinet finish.
Latex paint is one of the best paint options for painting kitchen cabinets. Not only is it easy to apply, but it's also easy to clean upon application.
For the best results, choose a water-based latex paint with a feature similar to that of an oil-based coating.
If you're short on budget, your best choice is to invest in high-quality brushes. You'll need a 2 to 2½-inch wide brush along with a 3 to 4-inch wide rush.
But if you're ready to spend some money for a smoother option, go with a paint sprayer.
Cost-Effective Makeover of Your Kitchen Cabinets
In this article, we answered the question — can you paint kitchen cabinets? Painting kitchen cabinets is a cost-effective way to give your cherished kitchen space a makeover.
However, since it is a major project, you have to consider the pros and cons before jumping in on it.
The best tips and tricks can be a great help if you don't have the budget for professional painting.
Make sure to keep this article in mind once you set your heart out for the project!